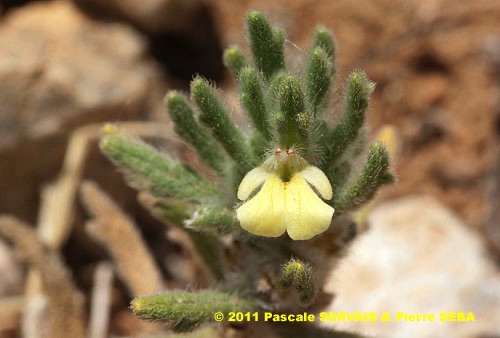 © Pascale SERVAIS & Pierre SEBA, 2018. Tilo Botanica: Flore de Tilos et du Dodécanèse / Flora of Tilos and of the Dodecanese
English translation by Brenda Bradbury, Howard Bradbury and Stéphane Léonard
Plante herbacée, souvent ligneuse à la base, hermaphrodite, en touffe étalée à rampante, à tiges couvertes de longs poils doux et blancs.
Feuilles opposées, simples, linéaires à oblongues, de 14 à 35 mm de long et de 3 à 7 mm de large, poilues, sessiles, entières ou à 2 à 6 lobes courts, serrées les unes au-dessus des autres.
Fleurs à symétrie bilatérale, jaunes à jaune pâle, de 10 à 15 mm de long, réunies par 2 à 4 en grappes étagées au sommet des rameaux. Corolle poilue, dépassant à peine les bractées, à tube droit, à lèvre supérieure minuscule, entière, à lèvre inférieure trilobée (le lobe central plus grand et échancré). Calice à 5 sépales subégaux à poils doux. 4 étamines dont 2 plus longues, saillantes, à filet poilu. Style saillant. Ovaire supère.
Fruits, 4 akènes.
___________________________
Plant herbaceous, often woody at the base, hermaphrodite, spread out to trailing, tufted. Stems covered in long soft and white hairs.
Leaves opposite, simple, linear to oblong, from 14 to 35 mm long and from 3 to 7 mm across, hairy, sessile, entire or with 2 to 6 short lobes, tightened above one another.
Flowers bilaterally symmetrical, yellow to pale yellow, from 10 to 15 mm long, joined together by 2 to 4 in tiered racemes at the top of the branches. Corolla hairy, scarcely exceeding the bracts, with a straight tube, with an upper lip tiny, entire, with a lower lip three-lobed (the central lobe larger and indented). Calyx with 5 subequal sepals, with soft hairs. 4 stamens including 2 longer, protruding, with hairy filament. Style protruding. Ovary superior.
Fruits, 4 achenes.
Descripteurs / Identifying features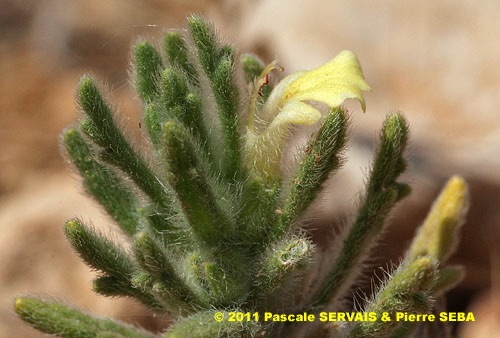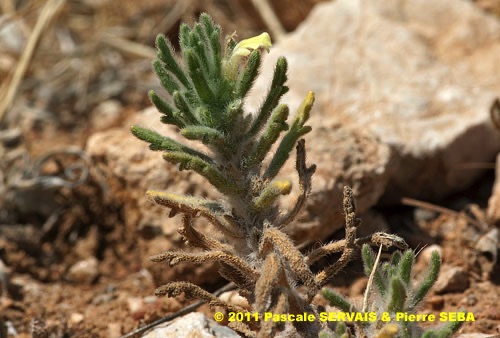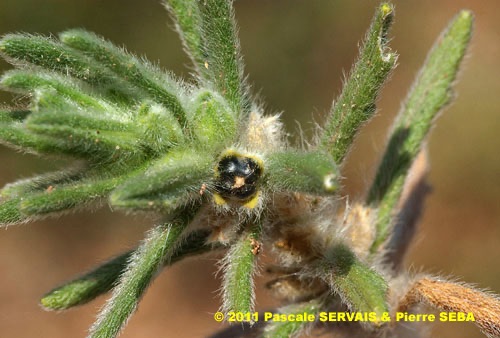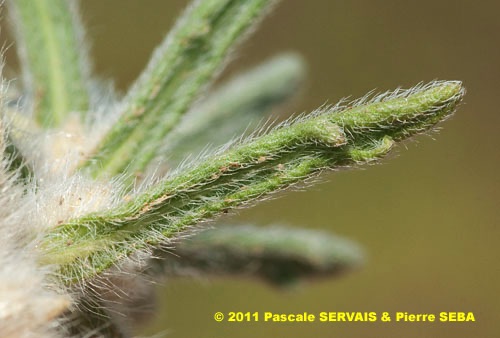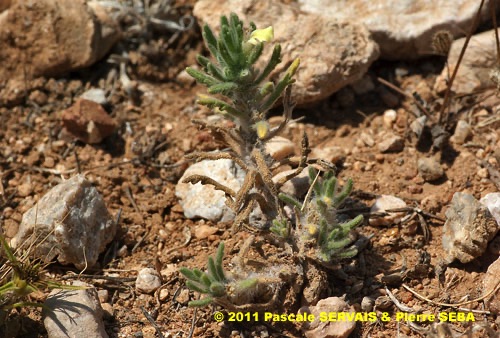 Étymologie / Etymology :
Ajuga : emprunt du grec ancien α- (α privatif) = sans
et du latin jugum, -i (nom) = le joug. Ajuga = qui n'a pas de joug,
en référence à sa corolle sans lèvre supérieure développée.
Iva : terme de botanique dont l'origine est inconnue.
Ce mot est à rapprocher de l'anglais ivy (= le lierre) et de
l'ancien haut allemand iwa (= l'if).
Ajuga : borrowed from Classical Greek α- (α privative) = without
and from Latin jugum, -i (noun) = yoke. Ajuga = without yoke,
referring to its corolla without developed upper lip.
Iva : botanical term whose origin is unknown.
This word is to be put in keeping with English ivy and with
Old High German iwa (= yew).
Synonymes / Synonyms :
Abiga cistifolia St.-Lag.
Ajuga moschata Schreb.
Bugula moschata Bubani
Bulga iva (L.) Kuntze
Moscharia arabica Vitman
Moscharia asperifolia Forssk.
Moscharia forsskalii J.F.Gmel.
Teucrium iva L.
Teucrium moschatum Lam.
Teucrium moschatum Mill.
Noms vernaculaires / Common names :
Nom français / French name :
Bugle fausse ivette.
Nom grec / Greek name :
Λιβανόχορτο.
Nom anglais / English name :
Musk bugle.
Noms allemands / German names :
Iva-Günsel — Moschus-Günsel — Schmalblättriger Günsel.
Noms espagnols / Spanish names :
Iva — Iva menor — Pinillo almizclado — Pinillo oloroso.
Nom italien / Italian name :
Iva moscata.
Habitat :
Lieux pierreux - Lieux incultes - Chemins.
Stony places - Waste ground - Waysides.
Île / Island :
Tilos.
Hauteur / Height range :
De 5 cm à 30 cm.
From 5 cm to 30 cm.
Floraison / Flowering time :
D'avril à octobre.
From April to October.
Groupe / Classification :
Dicotylédones.
Dicotyledons.
Pérennité / Lifespan :
Vivace.
Perennial.
Description :
Photo 1 :
Localisation / Location : Tilos, Megalochorio, Chemin de Skafi
Date : 06/06/2011
GPS : Lat. 36,46815° N / Long. 27,34964° E / Alt. 82 m
Type : Photographie numérique / Digital Photograph (10 mégapixels)
Photo 2 :
Localisation / Location : Tilos, Megalochorio, Chemin de Skafi
Date : 06/06/2011
GPS : Lat. 36,46815° N / Long. 27,34964° E / Alt. 82 m
Type : Photographie numérique / Digital Photograph (10 mégapixels)
Photo 3 :
Localisation / Location : Tilos, Megalochorio, Chemin de Skafi
Date : 06/06/2011
GPS : Lat. 36,46815° N / Long. 27,34964° E / Alt. 82 m
Type : Photographie numérique / Digital Photograph (10 mégapixels)
Photo 4 :
Localisation / Location : Tilos, Megalochorio, Chemin de Skafi
Date : 06/06/2011
GPS : Lat. 36,46815° N / Long. 27,34964° E / Alt. 82 m
Type : Photographie numérique / Digital Photograph (10 mégapixels)
Photo 5 :
Localisation / Location : Tilos, Megalochorio, Chemin de Skafi
Date : 06/06/2011
GPS : Lat. 36,46815° N / Long. 27,34964° E / Alt. 82 m
Type : Photographie numérique / Digital Photograph (10 mégapixels)
Photo 6 :
Localisation / Location : Tilos, Megalochorio, Chemin de Skafi
Date : 06/06/2011
GPS : Lat. 36,46815° N / Long. 27,34964° E / Alt. 82 m
Type : Photographie numérique / Digital Photograph (10 mégapixels)