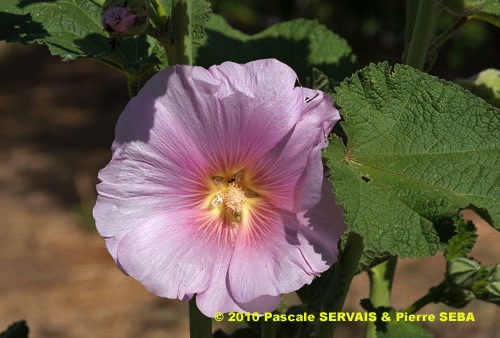 © Pascale SERVAIS & Pierre SEBA, 2018. Tilo Botanica: Flore de Tilos et du Dodécanèse / Flora of Tilos and of the Dodecanese
English translation by Brenda Bradbury, Howard Bradbury and Stéphane Léonard
Plante herbacée, hermaphrodite, à souche ligneuse, à tiges dressées, glabres dans la partie inférieure et faiblement poilues dans la partie supérieure. Plante cultivée dans les jardins et localement naturalisée.
Feuilles alternes, simples, dentées, réniformes à cordiformes, longuement pétiolées, de 35 cm de large au plus.
Fleurs à symétrie radiaire, rose pâle à rose foncé, parfois pourpres, blanches ou jaunes, ordinairement à centre jaune, de 6 à 12 cm de diamètre, réunies en grappes de 15 cm à 1 m de long. Corolle à 5 pétales à peine soudés à la base et se recouvrant sur les bords. Calice à 5 sépales verts, soudés à la base, assez larges. Calicule à 7 bractées étroites, poilues, plus courtes que les sépales. Ovaire supère.
Fruits, capsules avec un profond sillon au dos.
___________________________
Plant herbaceous, hermaphrodite, with a woody stock. Stems erect, glabrous in the lower part and slightly hairy in the upper part. Plant cultivated in the gardens and locally naturalized.
Leaves alternate, simple, toothed, kidney-shaped to heart-shaped, lengthily petiolate, 35 cm across at most.
Flowers radially symmetrical, pale pink to dark pink, sometimes purple, white or yellow, usually with a yellow centre, from 6 to 12 cm in diameter, joined together in racemes from 15 cm to 1 m long. Corolla with 5 scarcely partly fused petals, overlapping on the edges. Calyx with 5 green, partly fused, rather broad sepals. Epicalyx with 7 narrow, hairy bracts, shorter than the sepals. Ovary superior.
Fruits, capsules with a deep furrow on the back.
Descripteurs / Identifying features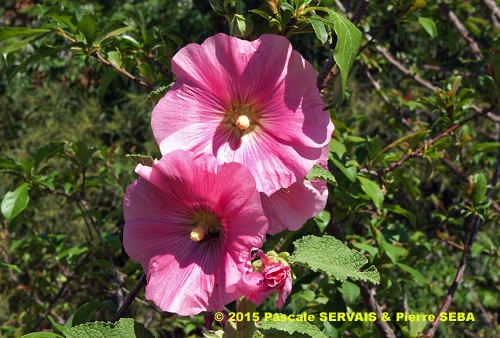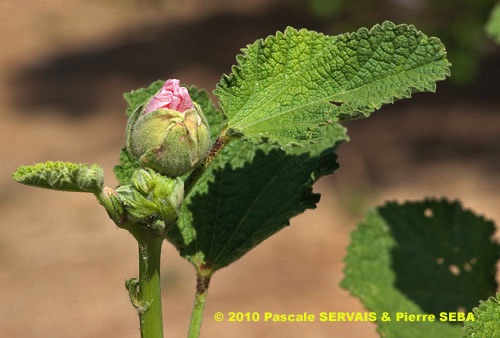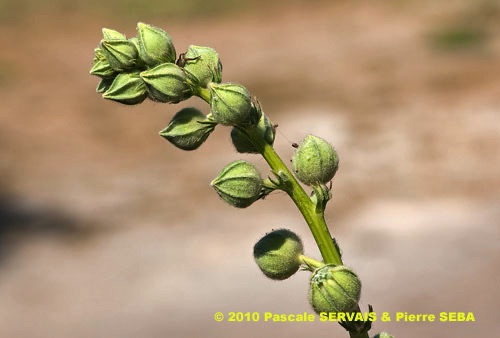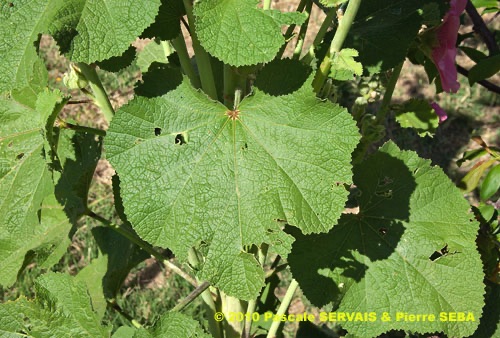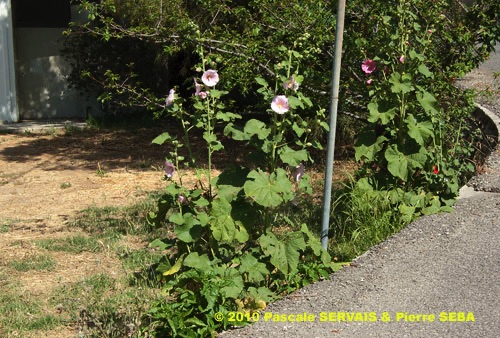 Étymologie / Etymology :
Alcea : forme latinisée du grec ancien ἀλκέα, -ας (nom)
= la mauve. Nom donné à la plante par Pline, naturaliste latin mort
en 79 apr. J.-C.
Rosea : emprunt du latin roseus, -a, -um (adj.)
[ < rosa, -ae (nom) = la rose ] = qui a l'apparence de la rose, qui a la
couleur de la rose.
Alcea : Latinised form of the Classical Greek ἀλκέα, -ας (noun)
= mallow. Name given to the plant by Plinius, Latin naturalist died
in 79 AD.
Rosea : borrowed from Latin roseus, -a, - um (adj)
[ < rosa, -ae (noun) = rose ] = which has the appearance of the
rose, rose colored, rosy.
Synonymes / Synonyms :
Alcea ficifolia L.
Althaea caribaea Sims
Althaea chinensis Wall.
Althaea coromandeliana Cav.
Althaea ficifolia (L.) Cav.
Althaea rosea (L.) Cav.
Althaea sinensis Blanco
Althaea x cultorum Bergmans
Malva florida Salisb.
Malva rosea (L.) E.H.L.Krause
Noms vernaculaires / Common names :
Noms français / French names :
Passe-rose — Passerose — Rose papale — Rose trémière.
Noms grecs / Greek names :
Δενδρομολόχα — Μολόχα.
Noms anglais / English names :
Garden hollyhock — Hollyhock.
Noms allemands / German names :
Baumrose — Garten-Stockrose — Gewöhnliche Stockrose.
Noms espagnols / Spanish names :
Malva de la reina — Malva de los jardines — Malva del príncipe —
Malva doncella — Malva Isabela — Malva loca — Malva real —
Malva reial — Malvarrosa — Malvón.
Noms italiens / Italian names :
Malvarosa — Malvone roseo — Rosone.
Habitat :
Jardins - Lieux incultes.
Gardens - Waste ground.
Île / Island :
Tilos.
Hauteur / Height range :
De 1 m à 2,50 m.
From 1 m to 2.50 m.
Floraison / Flowering time :
De mai à août.
From May to August.
Groupe / Classification :
Dicotylédones.
Dicotyledons.
Pérennité / Lifespan :
Bisannuelle.
Biennial.
Description :
Photo 1 :
Localisation / Location : Tilos, Megalochorio, Village
Date : 12/05/2010
GPS : Lat. 36,45332° N / Long. 27,34703° E / Alt. 58 m
Type : Photographie numérique / Digital Photograph (10 mégapixels)
Photo 2 :
Localisation / Location : Tilos, Megalochorio, Village
Date : 12/05/2010
GPS : Lat. 36,45332° N / Long. 27,34703° E / Alt. 58 m
Type : Photographie numérique / Digital Photograph (10 mégapixels)
Photo 3 :
Localisation / Location : Tilos, Megalochorio, Village
Date : 12/05/2010
GPS : Lat. 36,45332° N / Long. 27,34703° E / Alt. 58 m
Type : Photographie numérique / Digital Photograph (10 mégapixels)
Photo 4 :
Localisation / Location : Tilos, Megalochorio, Village
Date : 12/05/2010
GPS : Lat. 36,45332° N / Long. 27,34703° E / Alt. 58 m
Type : Photographie numérique / Digital Photograph (10 mégapixels)
Photo 5 :
Localisation / Location : Tilos, Megalochorio, Village
Date : 12/05/2010
GPS : Lat. 36,45332° N / Long. 27,34703° E / Alt. 58 m
Type : Photographie numérique / Digital Photograph (10 mégapixels)
Photo 6 :
Localisation / Location : Tilos, Megalochorio, Village
Date : 12/05/2010
GPS : Lat. 36,45332° N / Long. 27,34703° E / Alt. 58 m
Type : Photographie numérique / Digital Photograph (10 mégapixels)