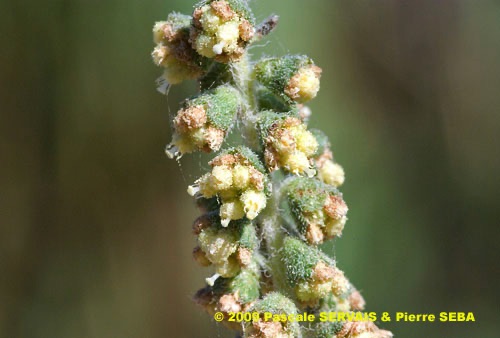 © Pascale SERVAIS & Pierre SEBA, 2018. Tilo Botanica: Flore de Tilos et du Dodécanèse / Flora of Tilos and of the Dodecanese
English translation by Brenda Bradbury, Howard Bradbury and Stéphane Léonard
Plante herbacée, monoïque, à tiges rameuses, souvent ligneuses à la base, densément poilues, à odeur forte.
Feuilles inférieures opposées, divisées pennatiséquées, pétiolées, velues, vert foncé dessus, blanchâtres dessous, à 2 à 7 divisions latérales obtuses, dentées ou lobées. Feuilles supérieures alternes, simples, linéaires à lancéolées, entières, sessiles, velues.
Fleurs jaunâtres, réunies en capitules unisexués: capitules des fleurons mâles formant des épis de 2 à 8 cm de long au sommet des tiges, capitules des fleurons femelles de 2 à 3 mm de diamètre, étant situés à l'aisselle des feuilles. Ovaire infère.
Fruits, akènes non plumeux de 4 mm, presque aussi larges que longs, un peu tronqués au sommet, terminés en bec bifide, munis vers le milieu d'un verticille de 4 à 6 courtes épines, enfermés dans un involucre semblable à une noisette.
___________________________
Plant herbaceous, monoecious. Stems branched, often woody at the base, densely hairy, with a strong smell.
Leaves opposite, dissected pinnatisect, petiolate, hairy, dark green on the upper surface, whitish on the lower surface, with 2 to 7 blunt, toothed or lobed lateral divisions. Higher leaves alternate, simple, linear to lanceolate, entire, sessile, hairy.
Flowers yellowish, joined together in unisexual capitula: capitula of the male florets forming spikes from 2 to 8 cm long at the top of the stems, capitula of the female florets from 2 to 3 mm in diameter, located at the axil of the leaves. Ovary inferior.
Fruits, nonfeathery achenes of 4 mm, almost as broad as long, a little truncate at the top, finished by a bifid beak, provided towards the centre with a whorl from 4 to 6 short thorns, enclosed in a nut-like involucre.
Descripteurs / Identifying features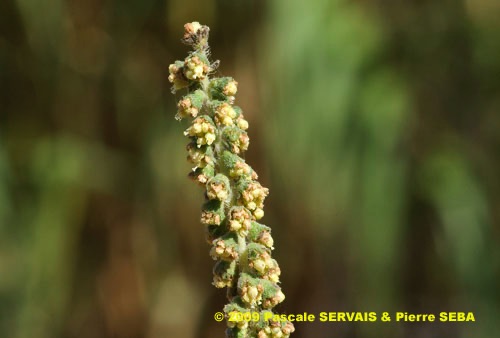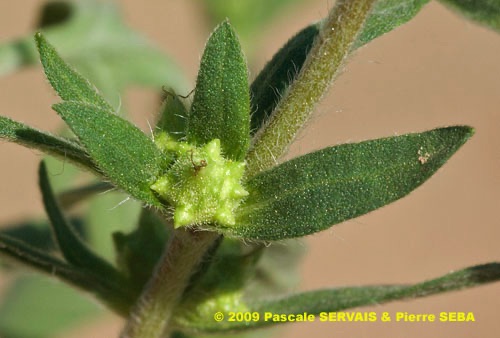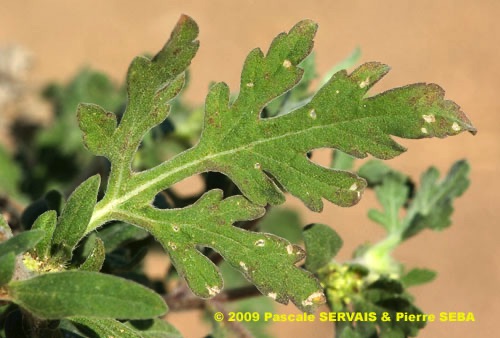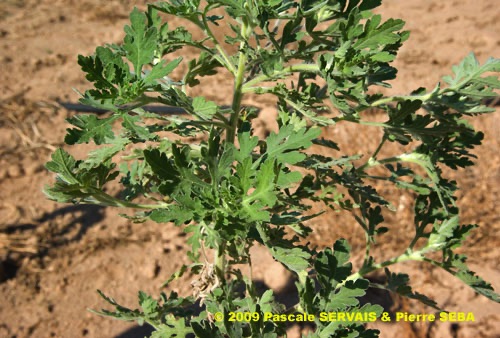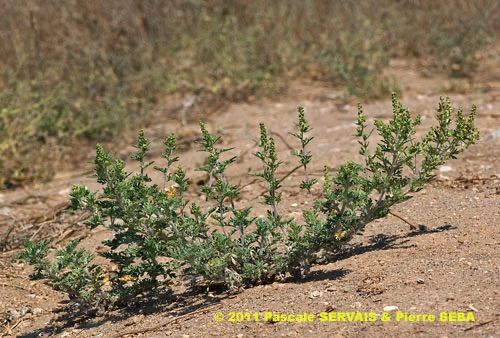 Étymologie / Etymology :
Ambrosia : emprunt du latin ambrosia, -ae (nom), forme latinisée
du grec ancien ἀμβροσία, -ας (nom) = l'ambroisie (nourriture qui
confère aux dieux leur immortalité).
Maritima : emprunt du latin maritimus, -a, -um (adj.)
[ < mare, -is (nom) = la mer ] = maritime, qui provient de la mer
ou des régions en bord de mer.
Ambrosia : borrowed from Latin ambrosia, -ae (noun), Latinized
form of the Classical Greek ἀμβροσία, -ας (noun) = ambrosia
(food which confers on the gods their immortality).
Maritima : borrowed from Latin maritimus, -a, -um (adj)
[ < mare, -is (noun) = sea ] = maritime, which comes from the sea
or from the sea-coasts.
Synonyme / Synonym :
Ambrosia senegalensis DC.
Noms vernaculaires / Common names :
Nom français / French name :
Ambroisie maritime.
Nom grec / Greek name :
Βρωμούσα.
Noms anglais / English names :
Coastal ragweed — Sea ragwood.
Noms allemands / German names :
Küsten-Traubenkraut — Strand-Ambrosie.
Nom italien / Italian name :
Ambrosia marittima.
Habitat :
Sols sableux - Chemins.
Sandy soils - Waysides.
Îles / Islands :
Rhodos - Tilos.
Hauteur / Height range :
De 20 cm à 1,25 m.
From 20 cm to 1.25 m.
Floraison / Flowering time :
De juin à novembre.
From June to November.
Groupe / Classification :
Dicotylédones.
Dicotyledons.
Pérennité / Lifespan :
Annuelle.
Annual.
Description :
Photo 1 :
Localisation / Location : Tilos, Megalochorio, Erystos
Date : 11/10/2009
GPS : Lat. 36,43385° N / Long. 27,34762° E / Alt. 3 m
Type : Photographie numérique / Digital Photograph (10 mégapixels)
Photo 2 :
Localisation / Location : Tilos, Megalochorio, Erystos
Date : 11/10/2009
GPS : Lat. 36,43385° N / Long. 27,34762° E / Alt. 3 m
Type : Photographie numérique / Digital Photograph (10 mégapixels)
Photo 3 :
Localisation / Location : Tilos, Megalochorio, Erystos
Date : 11/10/2009
GPS : Lat. 36,43385° N / Long. 27,34762° E / Alt. 3 m
Type : Photographie numérique / Digital Photograph (10 mégapixels)
Photo 4 :
Localisation / Location : Tilos, Megalochorio, Erystos
Date : 11/10/2009
GPS : Lat. 36,43385° N / Long. 27,34762° E / Alt. 3 m
Type : Photographie numérique / Digital Photograph (10 mégapixels)
Photo 5 :
Localisation / Location : Tilos, Megalochorio, Erystos
Date : 11/10/2009
GPS : Lat. 36,43385° N / Long. 27,34762° E / Alt. 3 m
Type : Photographie numérique / Digital Photograph (10 mégapixels)
Photo 6 :
Localisation / Location : Tilos, Megalochorio, Erystos
Date : 29/09/2011
GPS : Lat. 36,43385° N / Long. 27,34762° E / Alt. 3 m
Type : Photographie numérique / Digital Photograph (10 mégapixels)