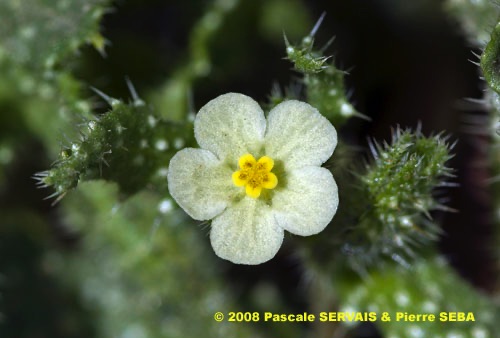 Anchusa aegyptiaca (L.) A.DC.
© Pascale SERVAIS & Pierre SEBA, 2018. Tilo Botanica: Flore de Tilos et du Dodécanèse / Flora of Tilos and of the Dodecanese
English translation by Brenda Bradbury, Howard Bradbury and Stéphane Léonard
Plante herbacée, hermaphrodite, à poils rudes, à tiges prostrées à ascendantes.
Feuilles alternes, simples, ovales à lancéolées, à bords dentés et un peu ondulés, les inférieures à pétiole sillonné, les supérieures sessiles et semi-embrassantes.
Fleurs à symétrie radiaire, jaune pâle, de 4 à 6 mm, paraissant solitaires. Pédicelles presque aussi longs que les sépales. Corolle à 5 pétales soudés à la base en tube droit et à lobes étalés, avec des écailles velues fermant la gorge.
Inflorescences très clairsemées avec des bractées. Étamines non saillantes. Calice divisé presque jusqu'à la base. Ovaire supère.
Fruits, groupe de 4 akènes ovoïdes, rugueux, avec un anneau basal épais.
___________________________
Plant herbaceous, hermaphrodite, with hard hairs. Stems prostrate to ascending.
Leaves alternate, simple, ovate to lanceolate, with toothed and a little undulate edges, the lower ones with a furrowed petiole, the higher ones sessile and semi-clasping.
Flowers radially symmetrical, pale yellow, from 4 to 6 mm, appearing solitary. Pedicels almost as long as sepals. Corolla with 5 petals partly fused in a right tube and with spread out lobes, with hairy scales closing the throat. Very sparse inflorescences with bracts. Nonprotruding stamens. Calyx divided almost to the base. Ovary superior.
Fruits, group of 4 ovoid achenes, rough, with a thick basal ring.
Descripteurs / Identifying features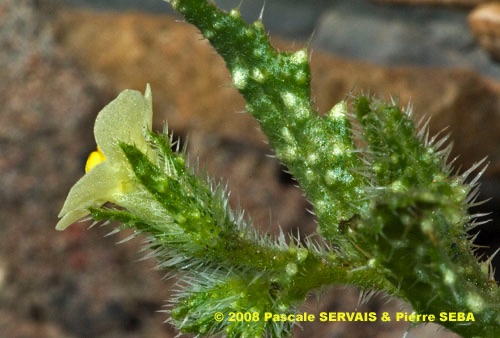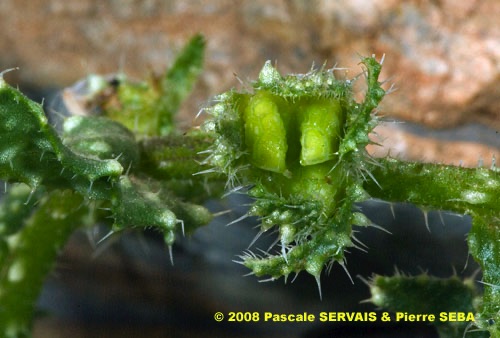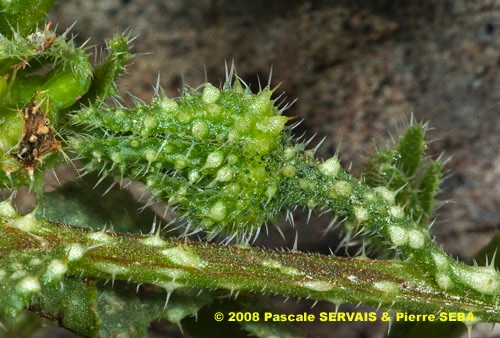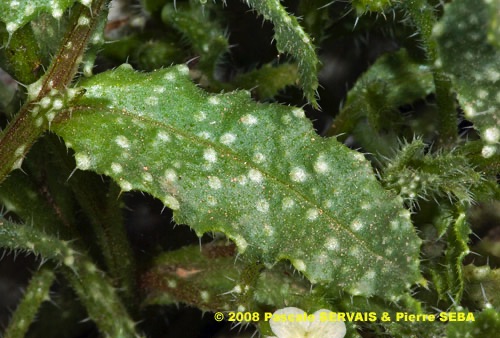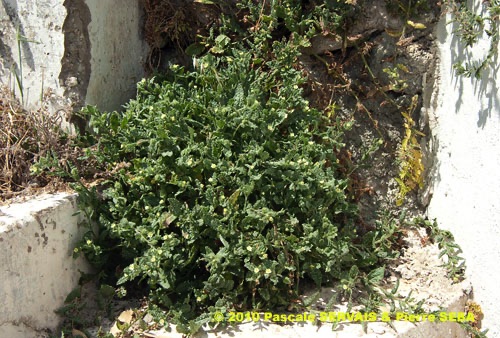 Étymologie / Etymology :
Anchusa : forme latinisée du grec ancien ἄγχουσα, -ης (nom)
= anchuse, plante à racine rouge employée comme cosmétique;
nom donné à la plante par Pline, naturaliste latin mort en 79 apr. J.-C.
Aegyptiaca : emprunt du latin aegyptiacus, -a, -um (adj.)
[ < Aegyptus, -i (nom propre) = l'Égypte ] = égyptien, d'Égypte,
qui vient d'Égypte.
Anchusa : Latinized form of the Classical Greek ἄγχουσα, -ης (noun)
= Alkanet, plant with red root used for cosmetic; name given to the
plant by Plinius, Latin naturalist died in 79 AD.
Aegyptiaca : borrowed from Latin aegyptiacus, -a, -um (adj)
[ < Aegyptus, -i (proper noun) = Egypt ] = Egyptian, of or from Egypt,
which comes from Egypt.
Synonymes / Synonyms :
Anchusa flava Forssk.
Lycopsis aegyptiaca L.
Noms vernaculaires / Common names :
Nom français / French name :
Buglosse d'Égypte.
Nom grec / Greek name :
Άγχουσα η Αιγυπτιακή.
Noms anglais / English names :
Eastern anchusa — Egyptian alkanet.
Noms allemands / German names :
Ägyptische Ochsenzunge — Gelbe Ochsenzunge.
Nom italien / Italian name :
Buglossa egiziana.
Habitat :
Cultures - Lieux pierreux - Lieux incultes - Sols sableux.
Cultivated places - Stony places - Waste ground - Sandy soils.
Île / Island :
Tilos.
Hauteur / Height range :
De 5 cm à 50 cm.
From 5 cm to 50 cm.
Floraison / Flowering time :
De janvier à mai.
From January to May.
Groupe / Classification :
Dicotylédones.
Dicotyledons.
Pérennité / Lifespan :
Annuelle.
Annual.
Description :
Clés dichotomiques et descripteurs distinctifs des 3 espèces / Dichotomous keys and distinctive identifying features of the 3 species
Photo 1 :
Localisation / Location : Tilos, Livadia, Village
Date : 20/04/2008
GPS : Lat. 36,41035° N / Long. 27,39272° E / Alt. 1 m
Type : Photographie numérique / Digital Photograph (10 mégapixels)
Photo 2 :
Localisation / Location : Tilos, Livadia, Village
Date : 20/04/2008
GPS : Lat. 36,41035° N / Long. 27,39272° E / Alt. 1 m
Type : Photographie numérique / Digital Photograph (10 mégapixels)
Photo 3 :
Localisation / Location : Tilos, Livadia, Village
Date : 20/04/2008
GPS : Lat. 36,41035° N / Long. 27,39272° E / Alt. 1 m
Type : Photographie numérique / Digital Photograph (10 mégapixels)
Photo 4 :
Localisation / Location : Tilos, Livadia, Village
Date : 20/04/2008
GPS : Lat. 36,41035° N / Long. 27,39272° E / Alt. 1 m
Type : Photographie numérique / Digital Photograph (10 mégapixels)
Photo 5 :
Localisation / Location : Tilos, Livadia, Village
Date : 20/04/2008
GPS : Lat. 36,41035° N / Long. 27,39272° E / Alt. 1 m
Type : Photographie numérique / Digital Photograph (10 mégapixels)
Photo 6 :
Localisation / Location : Tilos, Megalochorio, Village
Date : 28/04/2010
GPS : Lat. 36,45438° N / Long. 27,34477° E / Alt. 77 m
Type : Photographie numérique / Digital Photograph (10 mégapixels)