Ballota acetabulosa (L.) Benth.
© Pascale SERVAIS & Pierre SEBA, 2018. Tilo Botanica: Flore de Tilos et du Dodécanèse / Flora of Tilos and of the Dodecanese
English translation by Brenda Bradbury, Howard Bradbury and Stéphane Léonard
Plante herbacée, hermaphrodite, à souche ligneuse, à duvet gris, à tiges dressées à ascendantes, laineuses, ramifiées à la base.
Feuilles opposées décussées, simples, rondes à ovales, à base tronquée, de 50 mm de long au plus, épaisses et laineuses, bordées de dents émoussées, à pétiole court.
Fleurs à symétrie bilatérale, blanches à lèvres rayées de pourpre, de 15 à 18 mm de long, groupées par 6 à 12 en verticilles denses, compacts et séparés les uns des autres sur la tige florale. Calice très élargi à la fructification, jusqu'à 20 mm de large, en gobelet terminé par une aile marquante en forme de parapluie. 4 étamines soudées sur le tube de la corolle. Ovaire supère.
Fruits, 4 akènes trigones.
___________________________
Plant herbaceous, hermaphrodite, with a woody stock, with a grey hairiness. Stems erect to ascending, woolly, branched at the base.
Leaves opposite decussate, simple, round to ovate, with a truncated base, 50 mm long at most, thick and woolly, bordered by blunted teeth, with a short petiole.
Flowers bilaterally symmetrical, white with lips with purple veins, from 15 to 18 mm long, grouped by 6 to 12 in dense, compact whorls separated from each other on the floral stem. Calyx very widened at fructification, up to 20 mm across, cup-shaped, finished by an umbrella-shaped wing. 4 stamens fused on the tube of the corolla. Ovary superior.
Fruits, 4 trigonous achenes.
Descripteurs / Identifying features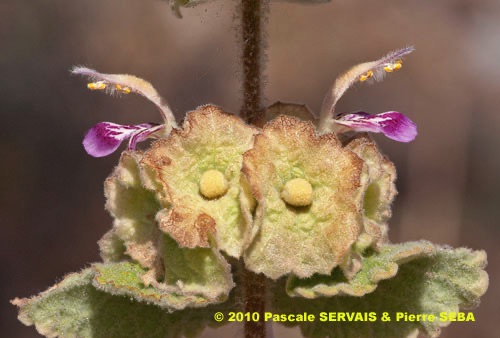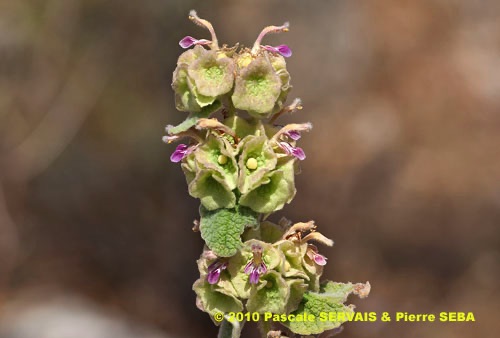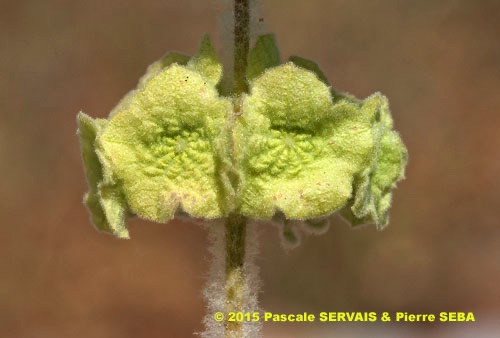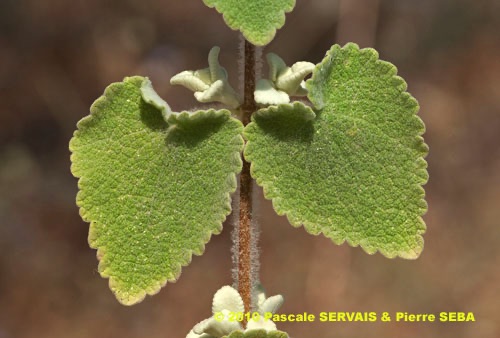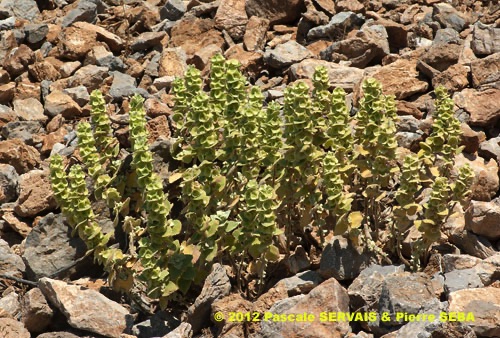 Étymologie / Etymology :
Ballota : emprunt du latin ballote, -es (nom), nom donné à la
plante par Pline, naturaliste latin mort en 79 apr. J.-C., forme latinisée
du grec ancien βαλλωτή, -ής (nom), nom donné à la plante par
Dioscoride, médecin et botaniste grec mort en 90 apr. J.-C.
Acetabulosa : adjectif créé par les botanistes [ < acetabulum, -i (nom)
= le vase à vinaigre, le bol ] = en forme de vase, en forme de bol,
en référence à son grand calice en forme de vase.
Ballota : borrowed from Latin ballote, -es (noun), name given to
the plant by Plinius, Latin naturalist died in 79 AD, Latinized form of
the Classical Greek βαλλωτή, -ής (noun), name given to the plant
by Dioscorides, Greek doctor and botanist died in 90 AD.
Acetabulosa : adjective created by botanists [ < acetabulum, -i
(noun) = vase for vinegar, bowl ] = bowl-shaped,
referring to its large vase-shaped calyx.
Synonyme / Synonym :
Marrubium acetabulosum L.
Noms vernaculaires / Common names :
Nom français / French name :
Ballote à calice.
Noms grecs / Greek names :
Αλουμινάκι — Αναμεφωλιά — Ανεμοφωλιά — Αποπουλιά — Βαλλώτα —
Βαλλωτή η οξυβαφώδης — Καντηλαναύτρα — Λουμίνη — Λουμίνια —
Λυχναράκι — Μπαλλότα η κρατηροειδής — Φάσσα — Φυτιλάκι.
Nom anglais / English name :
False dittany.
Noms allemands / German names :
Napf-Schwarznessel — Napfschwarznessel.
Habitat :
Lieux pierreux - Lieux incultes - Chemins.
Stony places - Waste ground - Waysides.
Îles / Islands :
Patmos - Tilos.
Hauteur / Height range :
De 30 cm à 70 cm.
From 30 cm to 70 cm.
Floraison / Flowering time :
D'avril à juillet.
From April to July.
Groupe / Classification :
Dicotylédones.
Dicotyledons.
Pérennité / Lifespan :
Vivace.
Perennial.
Description :
Photo 1 :
Localisation / Location : Tilos, Livadia, Village
Date : 08/05/2010
GPS : Lat. 36,40965° N / Long. 27,38842° E / Alt. 22 m
Type : Photographie numérique / Digital Photograph (10 mégapixels)
Photo 2 :
Localisation / Location : Tilos, Livadia, Village
Date : 08/05/2010
GPS : Lat. 36,40965° N / Long. 27,38842° E / Alt. 22 m
Type : Photographie numérique / Digital Photograph (10 mégapixels)
Photo 3 :
Localisation / Location : Tilos, Livadia, Village
Date : 08/05/2010
GPS : Lat. 36,40965° N / Long. 27,38842° E / Alt. 22 m
Type : Photographie numérique / Digital Photograph (10 mégapixels)
Photo 4 :
Localisation / Location : Tilos, Livadia, Village
Date : 08/05/2010
GPS : Lat. 36,40965° N / Long. 27,38842° E / Alt. 22 m
Type : Photographie numérique / Digital Photograph (10 mégapixels)
Photo 5 :
Localisation / Location : Tilos, Livadia, Village
Date : 08/05/2010
GPS : Lat. 36,40965° N / Long. 27,38842° E / Alt. 22 m
Type : Photographie numérique / Digital Photograph (10 mégapixels)
Photo 6 :
Localisation / Location : Tilos, Livadia, Pano Meri
Date : 01/06/2012
GPS : Lat. 36,39631° N / Long. 27,39937° E / Alt. 250 m
Type : Photographie numérique / Digital Photograph (10 mégapixels)