© Pascale SERVAIS & Pierre SEBA, 2018. Tilo Botanica: Flore de Tilos et du Dodécanèse / Flora of Tilos and of the Dodecanese
English translation by Brenda Bradbury, Howard Bradbury and Stéphane Léonard
Plante herbacée, hermaphrodite, à tiges dressées, glabres, non ramifiées.
Feuilles alternes, simples, linéaires, entières, de 10 à 20 cm de long et de 2 à 4 mm de large, glabres, pointues, à base prolongée par une gaine avec une longue stipule.
Fleurs d'abord blanchâtres puis brunâtres, en épillets aplatis, ovales, membraneux, de 12 à 20 mm de long, de 7 à 10 mm de large. Glumes de taille égale, en forme de barque. Épillets solitaires ou groupés par 2 à 12 en panicules lâches, tournés d'un même côté. Ovaire supère.
Fruits, caryopses à graines soudées à la paroi interne, à 1 face arrondie et 1 face aplatie.
___________________________
Plant herbaceous, hermaphrodite. Stems erect, glabrous, unbranched.
Leaves alternate, simple, linear, entire, from 10 to 20 cm long and from 2 to 4 mm across, glabrous, pointed, with a base prolonged by a sheath with a long stipule.
Flowers initially whitish then brownish, grouped in flattened, ovate, membranous spikelets from 12 to 20 mm long, from 7 to 10 mm across. Glumes of equal size, in the shape of a boat. Spikelets solitary or grouped by 2 to 12 in loose panicles, turned on the same side. Ovary superior.
Fruits, caryopsis with seeds fused with the internal wall, 1 rounded face and 1 flattened face.
Descripteurs / Identifying features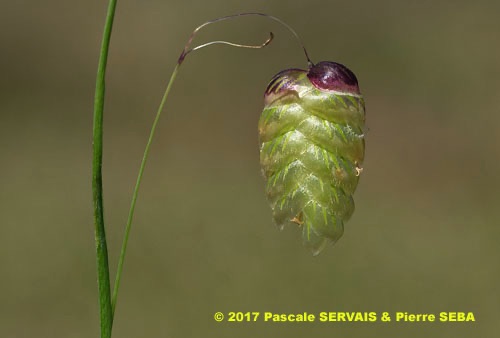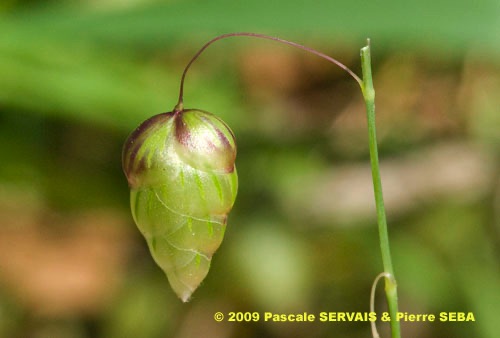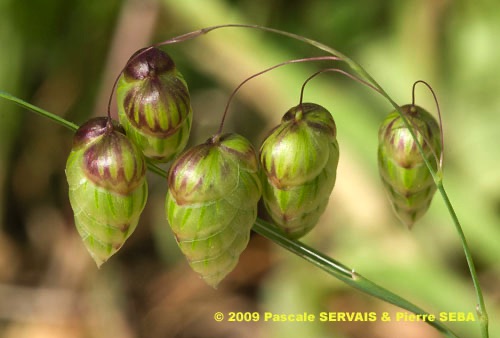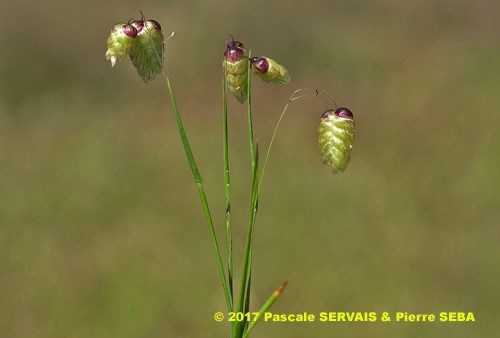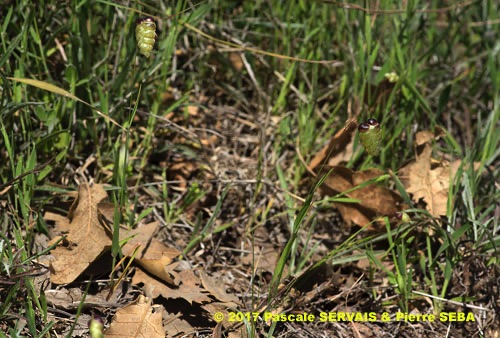 Étymologie / Etymology :
Briza : emprunt du grec ancien βρίζα, -ης (nom)
[ < βρίζω (verbe) = être somnolent ] = le blé, le seigle, en référence
aux épillets qui semblent somnoler en se balançant au gré du vent.
Maxima : emprunt du latin maximus, -a, -um (superl.)
[ < magnus, -a, -um (adj.) = grand ] = le plus grand, très grand.
Briza : borrowed from Classical Greek βρίζα, -ης (noun)
[ < βρίζω (verb) = to be sleepy, to doze ] = the wheat, the rye,
referring to the spikelets which seem to drowse swaying in the wind.
Maxima : borrowed from Latin maximus, -a, -um (superl)
[ < magnus, -a, -um (adj) = large, great ] = largest, very large.
Synonymes / Synonyms :
Briza dalmatica Gand.
Briza gracilescens Gand.
Briza grandis Salisb.
Briza maxima var. fusca Merino
Briza maxima var. glabriflora Rohlena
Briza maxima var. hirsuta Doum.
Briza maxima var. monspessulana (Gouan) Steud.
Briza maxima var. pubescens Mutel
Briza maxima var. rubra (L.) Asch. & Graebn.
Briza microclada Gand.
Briza monspessulana Gouan
Briza montana Brouss.
Briza portenschlagii Gand.
Briza rubra Lam.
Poa maxima (L.) Cav.
Noms vernaculaires / Common names :
Noms français / French names :
Grande amourette — Grande brize.
Noms grecs / Greek names :
Βρίζα η μεγάλη — Βρίζα η μεγίστη — Καρδιές.
Noms anglais / English names :
Big quakinggrass — Greater quaking-grass —
Large rattlesnake grass.
Nom allemand / German name :
Großes Zittergras.
Noms espagnols / Spanish names :
Lágrimas — Pendientes — Tembladera — Zarcillitos.
Nom italien / Italian name :
Sonaglini maggiori.
Habitat :
Cultures - Jardins - Lieux incultes - Chemins.
Cultivated places - Gardens - Waste ground - Waysides.
Îles / Islands :
Patmos - Tilos.
Hauteur / Height range :
De 10 cm à 70 cm.
From 10 cm to 70 cm.
Floraison / Flowering time :
De mars à juin.
From March to June.
Groupe / Classification :
Monocotylédones.
Monocotyledons.
Pérennité / Lifespan :
Annuelle.
Annual.
Description :
Photo 1 :
Localisation / Location : Tilos, Megalochorio, Plaine d'Erystos
Date : 26/03/2017
GPS : Lat. 36,44724° N / Long. 27,34477° E / Alt. 34 m
Type : Photographie numérique / Digital Photograph (24 mégapixels)
Photo 2 :
Localisation / Location : Tilos, Megalochorio, Plaine d'Erystos
Date : 26/03/2017
GPS : Lat. 36,44724° N / Long. 27,34477° E / Alt. 34 m
Type : Photographie numérique / Digital Photograph (24 mégapixels)
Photo 3 :
Localisation / Location : Tilos, Megalochorio, Chemin de Skafi
Date : 02/04/2009
GPS : Lat. 36,45505° N / Long. 27,34969° E / Alt. 58 m
Type : Photographie numérique / Digital Photograph (10 mégapixels)
Photo 4 :
Localisation / Location : Tilos, Megalochorio, Chemin de Skafi
Date : 02/04/2009
GPS : Lat. 36,45505° N / Long. 27,34969° E / Alt. 58 m
Type : Photographie numérique / Digital Photograph (10 mégapixels)
Photo 5 :
Localisation / Location : Tilos, Megalochorio, Plaine d'Erystos
Date : 26/03/2017
GPS : Lat. 36,44724° N / Long. 27,34477° E / Alt. 34 m
Type : Photographie numérique / Digital Photograph (24 mégapixels)
Photo 6 :
Localisation / Location : Tilos, Megalochorio, Plaine d'Erystos
Date : 26/03/2017
GPS : Lat. 36,44724° N / Long. 27,34477° E / Alt. 34 m
Type : Photographie numérique / Digital Photograph (24 mégapixels)