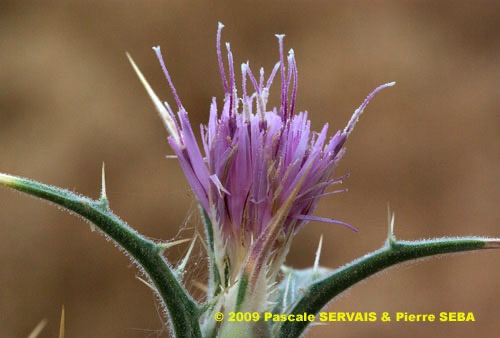 Carthamus dentatus subsp. ruber (Link) Hanelt
© Pascale SERVAIS & Pierre SEBA, 2018. Tilo Botanica: Flore de Tilos et du Dodécanèse / Flora of Tilos and of the Dodecanese
English translation by Brenda Bradbury, Howard Bradbury and Stéphane Léonard
Plante herbacée, hermaphrodite, rappelant le chardon, poilue, très ramifiée.
Feuilles alternes et en rosette à la base, simples, elliptiques ou lancéolées à ovales, divisées pennatipartites, à bords épineux, les basilaires généralement flétries à la floraison.
Fleurs violettes à pourpre rosâtre, toutes tubulées, réunies en capitules de 8 à 13 mm de diamètre, entourés de bractées à longues épines étalées ou réfléchies et recouvertes d'un duvet laineux. Ovaire infère.
Fruits, akènes à pappus réduit.
___________________________
Plant herbaceous, hermaphrodite, reminding the thistle, hairy, very branched.
Leaves alternate and in a rosette at the base, simple, elliptic or lanceolate to ovate, dissected pinnatipartite, with spiny edges, the basilar ones generally faded at flowering.
Flowers violet to pinkish purple, joined together in capitula from 8 à 13 mm in diameter, with only disk-florets, surrounded by bracts with long thorns spread out or resupinate and covered in a woolly, hoary pubescence. Ovary inferior.
Fruits, achenes with a reduced pappus.
Descripteurs / Identifying features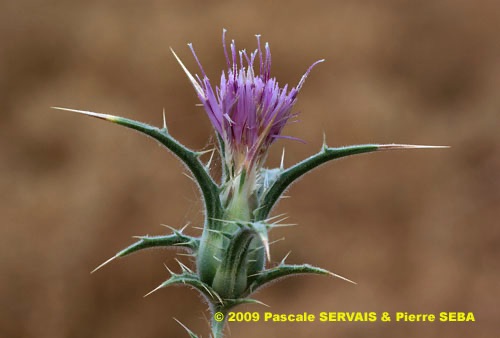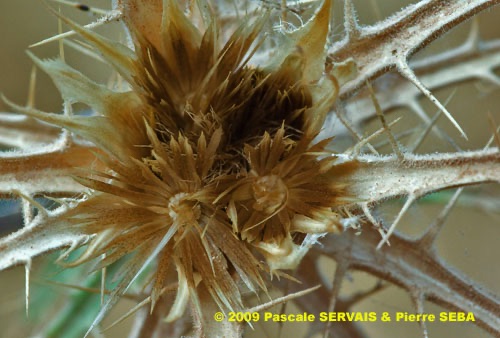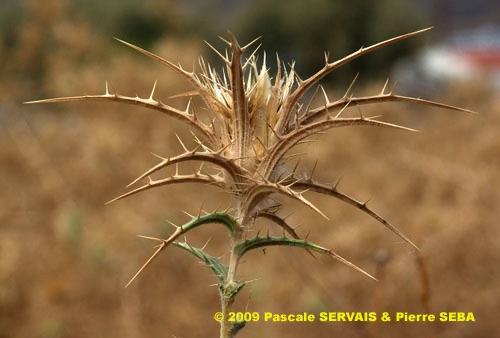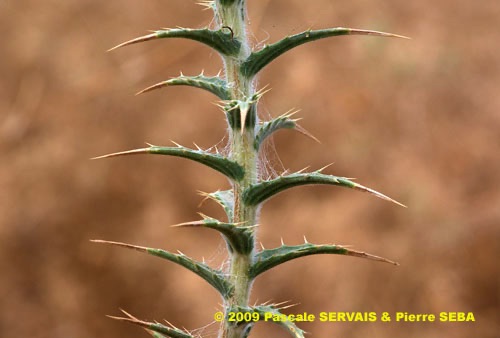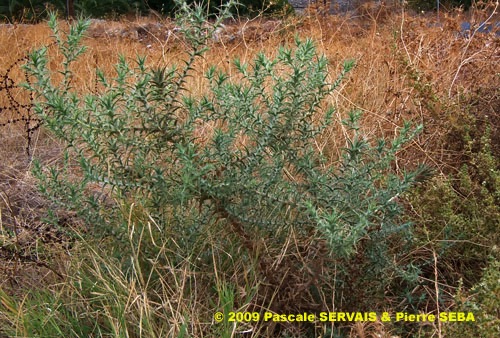 Étymologie / Etymology :
Carthamus : emprunt du latin médiéval carthamus, -i (nom)
[ dérivé de l'hébreu kartami = teindre ], en référence à ses propriétés
tinctoriales.
Dentatus : emprunt du latin dentatus, -a, -um (adj.)
[ < dens, -ntis (nom) = la dent ] = qui a des dents, denté,
en référence aux feuilles à bords dentés.
Ruber : emprunt du latin ruber, -bra, -brum (adj.) = rouge.
Carthamus : borrowed from medieval Latin carthamus, -i (noun)
[ derived from Hebrew kartami = to dye ], referring to its dyeing
properties.
Dentatus : borrowed from Latin dentatus, -a, -um (adj)
[ < dens, -ntis (noun) = tooth ] = which has teeth, toothed,
referring to the toothed-margined leaves.
Ruber : borrowed from Latin ruber, -bra, -brum (adj) = red.
Synonyme / Synonym :
—
Noms vernaculaires / Common names :
Nom français / French name :
Carthame denté.
Nom grec / Greek name :
Κάρθαμος ο ερυθρός.
Nom anglais / English name :
Red toothed star-thistle.
Nom allemand / German name :
Rote Gezähnte Färberdistel.
Nom italien / Italian name :
Cartamo dentato.
Habitat :
Cultures - Prairies - Lieux pierreux - Lieux incultes.
Cultivated places - Meadows - Stony places - Waste ground.
Île / Island :
Tilos.
Hauteur / Height range :
De 50 cm à 1 m.
From 50 cm to 1 m.
Floraison / Flowering time :
De mai à octobre.
From May to October.
Groupe / Classification :
Dicotylédones.
Dicotyledons.
Pérennité / Lifespan :
Annuelle.
Annual.
Description :
Clés dichotomiques et descripteurs distinctifs des 3 espèces / Dichotomous keys and distinctive identifying features of the 3 species
Photo 1 :
Localisation / Location : Tilos, Aghios Stephanos
Date : 15/10/2009
GPS : Lat. 36,40940° N / Long. 27,39393° E / Alt. 4 m
Type : Photographie numérique / Digital Photograph (10 mégapixels)
Photo 2 :
Localisation / Location : Tilos, Aghios Stephanos
Date : 15/10/2009
GPS : Lat. 36,40940° N / Long. 27,39393° E / Alt. 4 m
Type : Photographie numérique / Digital Photograph (10 mégapixels)
Photo 3 :
Localisation / Location : Tilos, Aghios Stephanos
Date : 15/10/2009
GPS : Lat. 36,40940° N / Long. 27,39393° E / Alt. 4 m
Type : Photographie numérique / Digital Photograph (10 mégapixels)
Photo 4 :
Localisation / Location : Tilos, Aghios Stephanos
Date : 15/10/2009
GPS : Lat. 36,40940° N / Long. 27,39393° E / Alt. 4 m
Type : Photographie numérique / Digital Photograph (10 mégapixels)
Photo 5 :
Localisation / Location : Tilos, Aghios Stephanos
Date : 15/10/2009
GPS : Lat. 36,40940° N / Long. 27,39393° E / Alt. 4 m
Type : Photographie numérique / Digital Photograph (10 mégapixels)
Photo 6 :
Localisation / Location : Tilos, Aghios Stephanos
Date : 15/10/2009
GPS : Lat. 36,40940° N / Long. 27,39393° E / Alt. 4 m
Type : Photographie numérique / Digital Photograph (10 mégapixels)