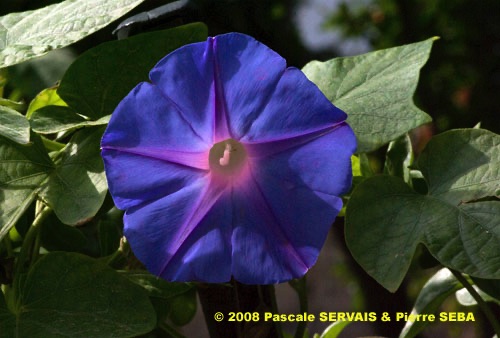 Ipomoea purpurea (L.) Roth
© Pascale SERVAIS & Pierre SEBA, 2018. Tilo Botanica: Flore de Tilos et du Dodécanèse / Flora of Tilos and of the Dodecanese
English translation by Brenda Bradbury, Howard Bradbury and Stéphane Léonard
Plante herbacée, hermaphrodite, souvent plantée pour l'ornement. Tiges volubiles, poilues.
Feuilles alternes, simples, cordiformes, entières, pétiolées.
Fleurs à symétrie radiaire, bleues, pourpres ou roses, parfois blanches, de 40 à 100 mm de diamètre, réunies par 2 ou en petits bouquets. Corolle à 5 pétales soudés, veinée de rose ou de mauve. Ovaire supère.
Fruits, capsules.
___________________________
Plant herbaceous, hermaphrodite, often planted for ornament. Stems twining, hairy.
Leaves alternate, simple, cordate, entire, petiolate.
Flowers radially symmetrical, blue, purple or pink, sometimes white, from 40 to 100 mm in diameter, joined together by 2 or in small clusters. Corolla with 5 fused petals, with pink or mauve veins. Ovary superior.
Fruits, capsules.
Descripteurs / Identifying features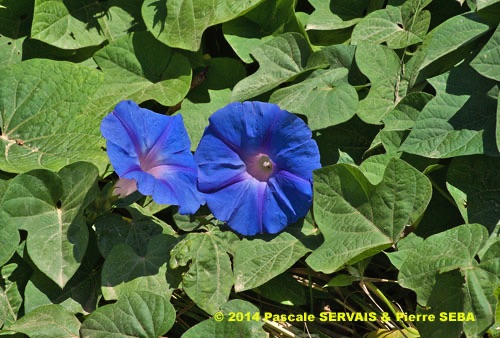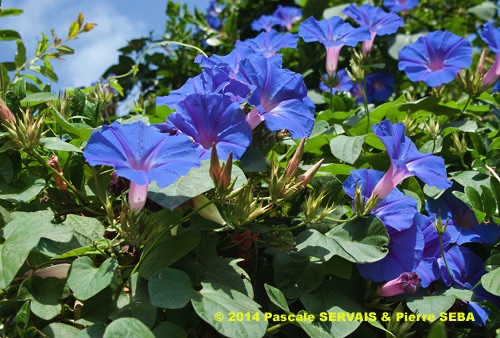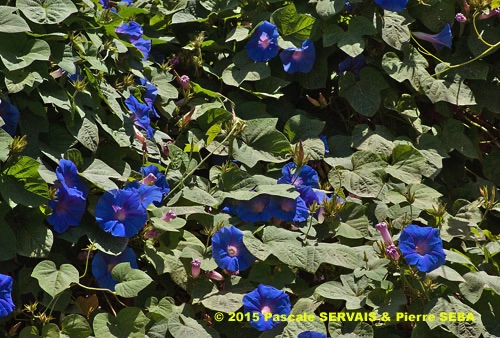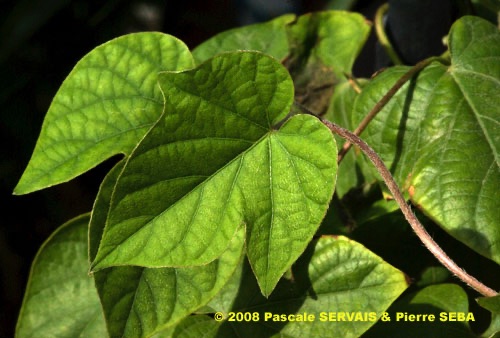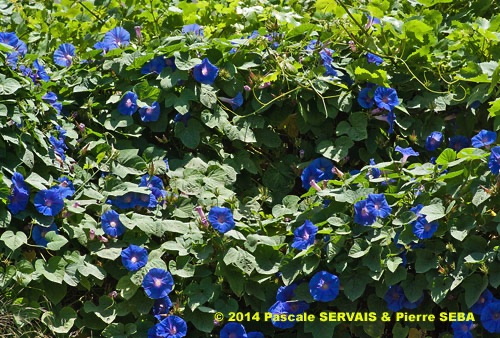 Étymologie / Etymology :
Ipomoea : nom créé par les botanistes [ < ἶψ, ἰπος (nom) = le ver
+ ὄμοιος, -α, -ον (adj.) = semblable ] = semblable à un ver de terre,
en référence à l'aspect rampant de la tige de certaines espèces ou
en raison de l'entortillement des tiges.
Purpurea : emprunt du latin purpureus, -a, -um (adj.)
[ < purpura, -ae (nom) = le murex (coquillage qui produit la pourpre) ]
= de couleur pourpre, pourpré.
Ipomoea : name created by botanists [ < ἶψ, ἰπος (noun) = worm
+ ὄμοιος, -α, -ον (adj) = similar ] = similar to a worm, referring to the
crawling aspect of the stem of some species or because of the twisting
of the stems.
Purpurea : borrowed from Latin purpureus, -a, -um (adj)
[ < purpura, -ae (noun) = murex (shell which produces purple) ]
= purple coloured, purplish.
Synonymes / Synonyms :
Convolvuloides leucosperma Moench
Convolvuloides purpurea (L.) Moench
Convolvulus mutabilis Salisb.
Convolvulus purpureus L.
Diatrema purpurea (L.) Raf.
Ipomoea diversifolia Lindl.
Ipomoea hispida Zuccagni
Ipomoea mexicana A.Gray
Pharbitis hispida (Zuccagni) Choisy
Pharbitis purpurea (L.) Voigt
Noms vernaculaires / Common names :
Noms français / French names :
Liseron pourpre — Volubilis.
Noms grecs / Greek names :
Ιπομαία — Ιπομέα — Καμπανούλα — Πρωινή χαρά — Χωνάκια.
Noms anglais / English names :
Common morning glory — Tall morning-glory.
Noms allemands / German names :
Bunte Gartenwinde — Purpur-Prunkwinde.
Nom espagnol / Spanish name :
Campanilla morada.
Nom italien / Italian name :
Campanella turchina.
Habitat :
Jardins - Lieux incultes.
Gardens - Waste ground.
Île / Island :
Tilos.
Hauteur / Height range :
De 1,50 m à 5 m.
From 1.50 m to 5 m.
Floraison / Flowering time :
De septembre à février.
From September to February.
Groupe / Classification :
Dicotylédones.
Dicotyledons.
Pérennité / Lifespan :
Vivace.
Perennial.
Description :
Clés dichotomiques et descripteurs distinctifs des 2 espèces / Dichotomous keys and distinctive identifying features of the 2 species
Photo 1 :
Localisation / Location : Tilos, Livadia
Date : 01/10/2008
GPS : Lat. 36,41471° N / Long. 27,38613° E / Alt. 4 m
Type : Photographie numérique / Digital Photograph (10 mégapixels)
Photo 2 :
Localisation / Location : Tilos, Livadia
Date : 31/05/2014
GPS : Lat. 36,41476° N / Long. 27,38621° E / Alt. 3 m
Type : Photographie numérique / Digital Photograph (10 mégapixels)
Photo 3 :
Localisation / Location : Tilos, Livadia
Date : 30/05/2014
GPS : Lat. 36,41502° N / Long. 27,38513° E / Alt. 9 m
Type : Photographie numérique / Digital Photograph (10 mégapixels)
Photo 4 :
Localisation / Location : Tilos, Livadia
Date : 31/05/2014
GPS : Lat. 36,41476° N / Long. 27,38621° E / Alt. 3 m
Type : Photographie numérique / Digital Photograph (10 mégapixels)
Photo 5 :
Localisation / Location : Tilos, Livadia
Date : 01/10/2008
GPS : Lat. 36,41471° N / Long. 27,38613° E / Alt. 4 m
Type : Photographie numérique / Digital Photograph (10 mégapixels)
Photo 6 :
Localisation / Location : Tilos, Livadia
Date : 31/05/2014
GPS : Lat. 36,41476° N / Long. 27,38621° E / Alt. 3 m
Type : Photographie numérique / Digital Photograph (10 mégapixels)