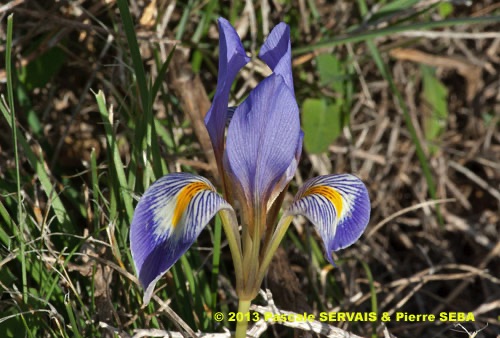 Iris unguicularis subsp. cretensis (Janka) A.P.Davis & Jury
© Pascale SERVAIS & Pierre SEBA, 2018. Tilo Botanica: Flore de Tilos et du Dodécanèse / Flora of Tilos and of the Dodecanese
English translation by Brenda Bradbury, Howard Bradbury and Stéphane Léonard
Plante herbacée, hermaphrodite, parfumée, érigée, à rhizome, sans tige aérienne.
Feuilles toutes à la base, simples, linéaires, d'environ 20 cm de long et 3 mm de large, entières, glabres, canaliculées, persistantes une fois flétries.
Fleurs à symétrie radiaire, de 4 à 6 cm de diamètre, solitaires, terminales, à 6 tépales soudés en tube de 10 à 20 cm de long ressemblant à un pédoncule. 3 tépales internes dressés, mauve lilas et 3 tépales externes recourbés, mauves avec une tache jaune orange vif entourée d'une zone blanche. Tépales de même longueur, mais tépales internes plus étroits (± 12 mm) que les externes (± 17 mm). Ovaire infère, situé au niveau du sol ou juste en dessous.
Fruits, capsules avec des graines dispersées par les fourmis.
___________________________
Plant herbaceous, hermaphrodite, fragrant, erect, rhizomatous, without an aerial stem.
Leaves all at the base, simple, linear, approximately 20 cm long and 3 mm across, entire, glabrous, canaliculate, persistent when faded.
Flowers radially symmetrical, from 4 to 6 cm in diameter, solitary, terminal, with 6 tepals fused in tube from 10 to 20 cm long resembling a peduncle. 3 internal tepals erect, mauve lilac and 3 external tepals curved, mauve with an orange bright yellow mark surrounded by a white area. Tepals of the same length, but the internal ones narrower (± 12 mm) than the external ones (± 17 mm). Ovary inferior, located at the level of the ground or just below.
Fruits, capsules with seeds dispersed by the ants.
Descripteurs / Identifying features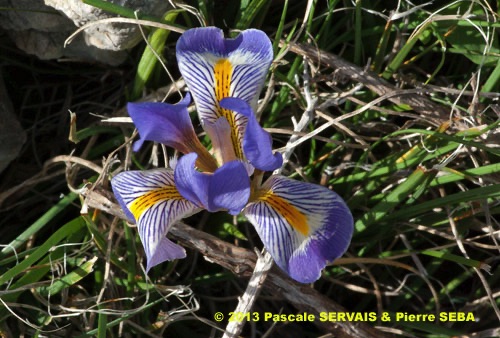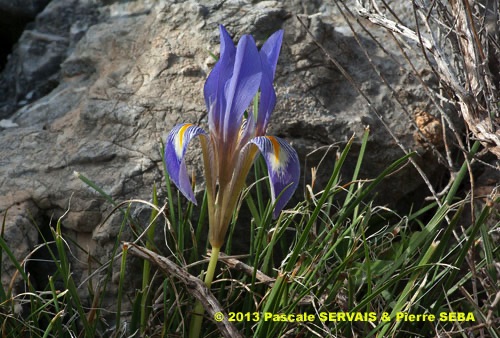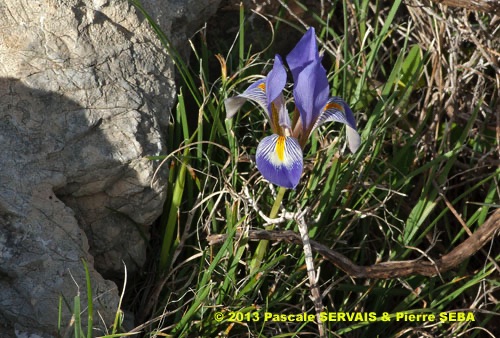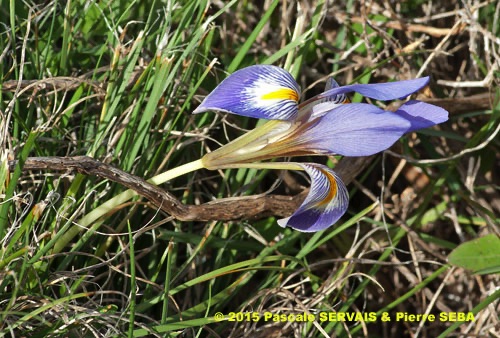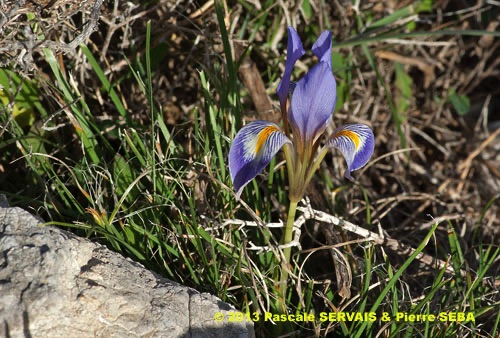 Étymologie / Etymology :
Iris : emprunt du grec ancien ἶρις, -ιδος (nom) = l'arc-en-ciel, l'iris,
nom donné à la plante par Théophraste, philosophe péripatéticien,
disciple d'Aristote, botaniste et naturaliste, mort vers 288 av. J.-C.,
en référence aux couleurs vives et variées des pétales.
Unguicularis : adjectif créé par les botanistes [ < unguis, -is (nom)
= l'ongle, la griffe + -ulus (suffixe) = petit, un peu ] = le petit ongle,
la petite griffe. L'adjectif latin unguicularis, -is, -e signifie: avec une
petite griffe.
Cretensis : emprunt du latin cretensis, -is, -e (adj.)
[ < Creta, -ae (nom propre) = la Crète ] = de Crète, qui vient de Crète.
Iris : borrowed from Classical Greek ἶρις, -ιδος (noun) = rainbow, iris,
name given to the plant by Theophrastus, peripatetic philosopher,
disciple of Aristotle, botanist and naturalist, died towards 288 BC,
referring to the bright and varied colours of the petals.
Unguicularis : adjective created by botanists [ < unguis, -is (noun)
= nail, claw + -ulus (suffix) = small, a little ] = small nail, small claw.
The Latin adjective unguicularis, -is, -e means: with a small claw.
Cretensis : borrowed from Latin cretensis, -is, -e (adj)
[ < Creta, -ae  (proper noun) = Crete ] = of or from Crete, which comes
from Crete.
Synonymes / Synonyms :
Iris cretensis Janka
Iris cretica Herb. ex Baker
Iris humilis Sieber ex Baker
Iris humilis subsp. cretensis (Janka) Nyman
Siphonostylis cretensis (Janka) Wern.Schulze
Noms vernaculaires / Common names :
Noms français / French names :
Iris d'Algérie — Iris de Provence.
Noms grecs / Greek names :
Ίριδα η κρητική — Ίρις η κρητική — Ίρις η ονυχοφόρος —
Κρίνος — Κρίνος κίτρινος Κρήτης.
Noms anglais / English names :
Algerian iris — Winter iris.
Nom espagnol / Spanish name :
Lirio de Argelia.
Habitat :
Lieux pierreux - Lieux incultes - Chemins.
Stony places - Waste ground - Waysides.
Île / Island :
Tilos.
Hauteur / Height range :
De 10 cm à 20 cm.
From 10 cm to 20 cm.
Floraison / Flowering time :
De décembre à avril.
From December to April.
Groupe / Classification :
Monocotylédones.
Monocotyledons.
Pérennité / Lifespan :
Vivace.
Perennial.
Description :
Clés dichotomiques et descripteurs distinctifs des 2 espèces / Dichotomous keys and distinctive identifying features of the 2 species
Photo 1 :
Localisation / Location : Tilos, Chemin de Skafi / Path to Skafi
Date : 21/01/2013
GPS : Lat. 36,46811° N / Long. 27,34963° E / Alt. 85 m
Type : Photographie numérique / Digital Photograph (10 mégapixels)
Photo 2 :
Localisation / Location : Tilos, Chemin de Skafi / Path to Skafi
Date : 21/01/2013
GPS : Lat. 36,46811° N / Long. 27,34963° E / Alt. 85 m
Type : Photographie numérique / Digital Photograph (10 mégapixels)
Photo 3 :
Localisation / Location : Tilos, Chemin de Skafi / Path to Skafi
Date : 21/01/2013
GPS : Lat. 36,46811° N / Long. 27,34963° E / Alt. 85 m
Type : Photographie numérique / Digital Photograph (10 mégapixels)
Photo 4 :
Localisation / Location : Tilos, Chemin de Skafi / Path to Skafi
Date : 21/01/2013
GPS : Lat. 36,46811° N / Long. 27,34963° E / Alt. 85 m
Type : Photographie numérique / Digital Photograph (10 mégapixels)
Photo 5 :
Localisation / Location : Tilos, Chemin de Skafi / Path to Skafi
Date : 21/01/2013
GPS : Lat. 36,46811° N / Long. 27,34963° E / Alt. 85 m
Type : Photographie numérique / Digital Photograph (10 mégapixels)
Photo 6 :
Localisation / Location : Tilos, Chemin de Skafi / Path to Skafi
Date : 21/01/2013
GPS : Lat. 36,46811° N / Long. 27,34963° E / Alt. 85 m
Type : Photographie numérique / Digital Photograph (10 mégapixels)