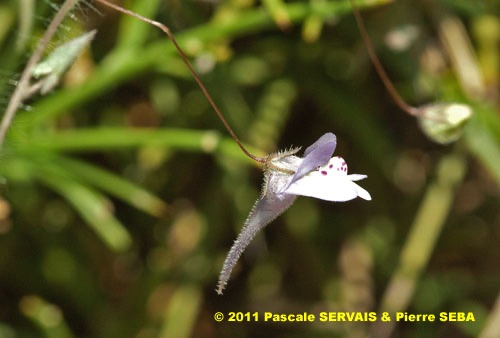 Kickxia commutata (Bernh. ex Rchb.) Fritsch
© Pascale SERVAIS & Pierre SEBA, 2018. Tilo Botanica: Flore de Tilos et du Dodécanèse / Flora of Tilos and of the Dodecanese
English translation by Brenda Bradbury, Howard Bradbury and Stéphane Léonard
Plante herbacée, hermaphrodite, à tiges étalées, frêles, à longs poils blancs.
Feuilles alternes, simples, sagittées, de 6 à 16 mm de long, pointues, à pétiole court, à longs poils blancs.
Fleurs à symétrie bilatérale, blanchâtres à mauve pâle, de 10 à 15 mm de long (avec l'éperon), solitaires à l'aisselle des feuilles, portées par un pédoncule de 15 à 25 mm de long, glabre sur toute sa longueur, plus long que la feuille sous-jacente. Corolle jaunâtre en bouton, à 2 lèvres rapprochées, la lèvre inférieure trilobée, blanchâtre à taches pourpres, la lèvre supérieure bilobée, violet clair. Éperon arqué, violet clair, de 6 à 8 mm de long. Calice à 5 sépales libres, brun vert, unis, pointus, poilus. Ovaire supère.
Fruits, capsules sphériques, vertes, de 2 à 3 mm de diamètre, à poils courts. Graines couvertes de tubercules.
___________________________
Plant herbaceous, hermaphrodite. Stems spread out, delicate, with long white hairs.
Leaves alternate, simple, sagittate, from 6 to 16 mm long, pointed, with a short petiole, with long white hairs.
Flowers bilaterally symmetrical, whitish to pale mauve, from 10 to 15 mm long (with the spur), solitary at the axil of the leaves, carried by a peduncle from 15 to 25 mm long, glabrous on all its length, longer than the underlying leaf. Corolla yellowish budding, with 2 brought closer lips, the lower lip three-lobed, whitish with purple marks, the upper lip two-lobed, pale violet. Spur curved, pale violet, from 6 to 8 mm long. Calyx with 5 free, green brown, self-coloured, pointed, hairy sepals. Ovary superior.
Fruits, spherical, green capsules, from 2 to 3 mm in diameter, with short hairs. Seeds covered in tubers.
Descripteurs / Identifying features: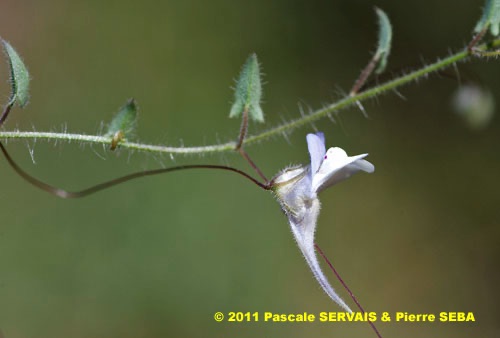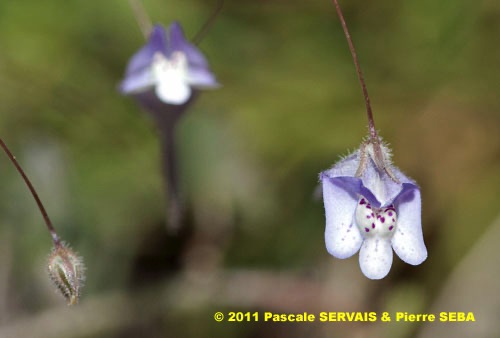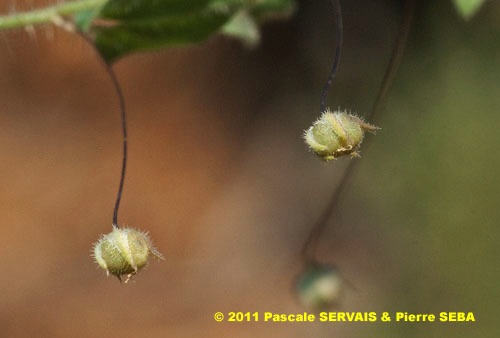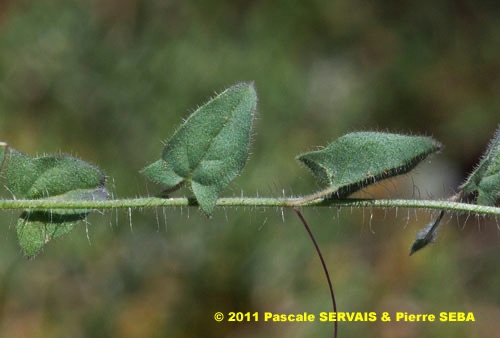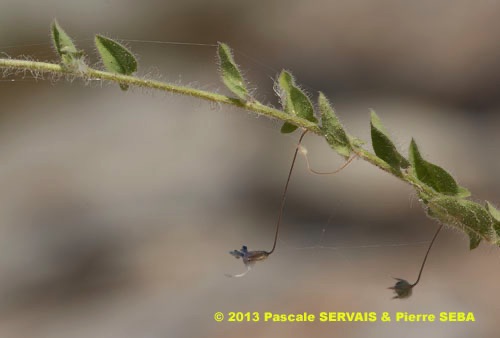 Étymologie / Etymology :
Kickxia : nom donné en l'honneur de Jean Kickx (1775-1831), né à
Bruxelles, professeur de botanique, de pharmacie et de minéralogie,
auteur de l'ouvrage "Flora Bruxellensis " (1812).
Commutata : emprunt du latin commutatus, -a, -um (part. passé)
[ < commuto, -as, -are (verbe) = changer complètement ]
= changeant, variable.
Kickxia : name given in honour of Jean Kickx (1775-1831), born
in Brussels, professor of botany, pharmacy and mineralogy, author
of "Flora Bruxellensis " (1812).
Commutata : borrowed from Latin commutatus, -a, -um (past participle)
[ < commuto, -as, -are (verb) = to change, to alter ] = changeable.
Synonymes / Synonyms :
Elatinoides commutata (Rchb.) Wettst.
Linaria commutata Bernh. ex Rchb.
Noms vernaculaires / Common names :
Noms français / French names :
Linaire changée — Linaire grecque.
Nom anglais / English name :
Perennial cancerwort.
Nom allemand / German name :
Ausdauerndes Tännelkraut.
Nom italien / Italian name :
Cencio perennante.
Habitat :
Cultures - Lieux pierreux - Lieux incultes - Chemins.
Cultivated places - Stony places - Waste ground - Waysides.
Île / Island :
Tilos.
Hauteur / Height range :
De 5 cm à 20 cm.
From 5 cm to 20 cm.
Floraison / Flowering time :
D'avril à septembre.
From April to September.
Groupe / Classification :
Dicotylédones.
Dicotyledons.
Pérennité / Lifespan :
Annuelle ou vivace.
Annual or perennial.
Description :
Descripteurs distinctifs des 2 espèces / Distinctive identifying features of the 2 species
Photo 1 :
Localisation / Location : Tilos, Aghios Stephanos
Date : 31/05/2011
GPS : Lat. 36,41400° N / Long. 27,40276° E / Alt. 2 m
Type : Photographie numérique / Digital Photograph (10 mégapixels)
Photo 2 :
Localisation / Location : Tilos, Aghios Stephanos
Date : 31/05/2011
GPS : Lat. 36,41400° N / Long. 27,40276° E / Alt. 2 m
Type : Photographie numérique / Digital Photograph (10 mégapixels)
Photo 3 :
Localisation / Location : Tilos, Aghios Stephanos
Date : 31/05/2011
GPS : Lat. 36,41400° N / Long. 27,40276° E / Alt. 2 m
Type : Photographie numérique / Digital Photograph (10 mégapixels)
Photo 4 :
Localisation / Location : Tilos, Aghios Stephanos
Date : 31/05/2011
GPS : Lat. 36,41400° N / Long. 27,40276° E / Alt. 2 m
Type : Photographie numérique / Digital Photograph (10 mégapixels)
Photo 5 :
Localisation / Location : Tilos, Aghios Stephanos
Date : 31/05/2011
GPS : Lat. 36,41400° N / Long. 27,40276° E / Alt. 2 m
Type : Photographie numérique / Digital Photograph (10 mégapixels)
Photo 6 :
Localisation / Location : Tilos, Aghios Stephanos
Date : 03/05/2013
GPS : Lat. 36,41424° N / Long. 27,40282° E / Alt. 2 m
Type : Photographie numérique / Digital Photograph (10 mégapixels)