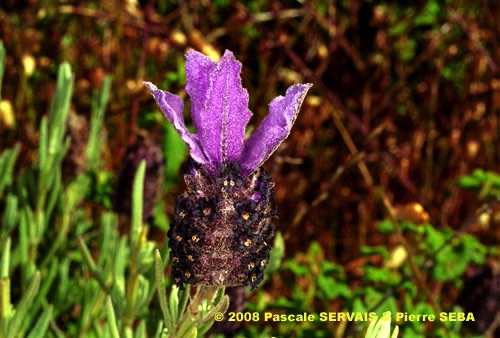 © Pascale SERVAIS & Pierre SEBA, 2018. Tilo Botanica: Flore de Tilos et du Dodécanèse / Flora of Tilos and of the Dodecanese
English translation by Brenda Bradbury, Howard Bradbury and Stéphane Léonard
Arbrisseau hermaphrodite, très aromatique, à rameaux fleuris herbacés, à poils grisâtres, à tiges ramifiées et feuillées jusqu'aux inflorescences.
Feuilles opposées, simples, linéaires, lancéolées, entières, cotonneuses-blanchâtres sur les 2 faces, de 40 mm de long au plus, étroites, persistantes, à bords enroulés dessous.
Fleurs à symétrie bilatérale, pourpre noirâtre, de 6 à 8 mm de long, insérées à l'aisselle de courtes bractées membraneuses de même couleur, réunies en denses épis terminaux de 2 à 3 cm de long, surmontés de grandes bractées oblongues, pourpre vif, de 10 à 50 mm de long. Pédoncule de l'inflorescence plus court que l'épi. Corolle à 2 lèvres en entonnoir. Calice à 5 sépales à dents inégales dont la supérieure, plus grande, est surmontée par un appendice en cœur. Ovaire supère.
Fruits, 4 akènes ovales, trigones, lisses, luisants et bruns.
___________________________
Shrub hermaphrodite, very aromatic, with flowered branches herbaceous, with greyish hairs. Stems branched and leafy until the inflorescences.
Leaves opposite, simple, linear, lanceolate, entire, downy-whitish on the 2 faces, 40 mm long at most, narrow, persistent, with edges coiled below.
Flowers bilaterally symmetrical, blackish purple, from 6 to 8 mm long, inserted at the axil of short membranous bracts of the same colour, joined together in dense terminal spikes from 2 to 3 cm long, surmounted by large, oblong, bright purple bracts, from 10 to 50 mm long. Peduncle of the inflorescence shorter than spike. Corolla with 2 funnel-shaped lips. Calyx with 5 sepals with unequal teeth among which the higher one, larger, is surmounted by an appendix in heart. Ovary superior.
Fruits, 4 ovate, trigonous, smooth, shiny and brown achenes.
Descripteurs / Identifying features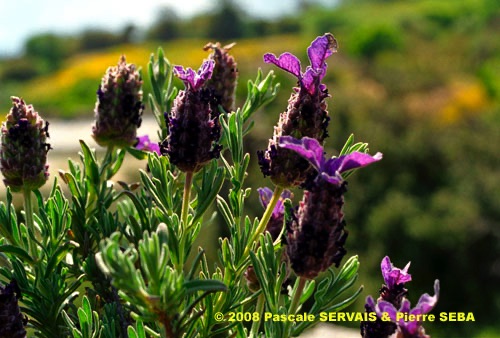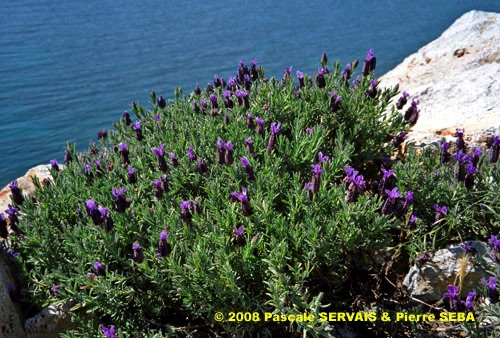 Étymologie / Etymology :
Lavandula : emprunt de l'italien lavanda (nom) = qui sert à laver
[ < lavo, -as, -are (verbe) = laver + -ulus (suffixe) = petit, un peu ],
en référence à son emploi pour parfumer l'eau du bain.
Stoechas : emprunt du grec ancien Στοιχάδες (νῆσοι) (nom)
= les îles Stéchades, ancien nom des îles d'Hyères (sud-est de
la France), en référence à la présence de la plante presque
exclusivement dans le bassin méditerranéen.
Lavandula : borrowed from Italian lavanda (noun) = which is used to
wash [ < lavo, -as, -are (verb) = to wash + -ulus (suffix) = small,
a little ], referring to its use to scent the water of the bath.
Stoechas : borrowed from Classical Greek Στοιχάδες (νῆσοι) (noun)
= the Stechades islands, ancient name of the islands of Hyères
(south-east France), referring to the presence of the plant almost
exclusively in the Mediterranean basin.
Synonymes / Synonyms :
Lavandula approximata Gand.
Lavandula corsica Gand.
Lavandula debeauxii Gand.
Lavandula incana Salisb.
Lavandula olbiensis Gand.
Stoechas officinarum Mill.
Noms vernaculaires / Common names :
Noms français / French names :
Lavande à toupet — Lavande stéchade.
Noms grecs / Greek names :
Αγριολεβάντα — Καλιγερικόχορτο — Λαβαντούλα η στοιχάς —
Λαμπρή — Λεβάντα — Λεβαντούλα — Μαυροκέφαλο — Μυροφόρα —
Χαμολίβανο.
Noms anglais / English names :
Butterfly lavender — French lavender — Fringed lavender —
Spanish lavender.
Noms allemands / German names :
Ährenförmiger Lavendel — Schopf-Lavendel — Schopflavendel.
Noms espagnols / Spanish names :
Cantahueso — Cantueso — Cantueso morisco.
Noms italiens / Italian names :
Lavanda di monte — Lavanda selvatica — Steca — Stecaole —
Stigadosso.
Habitat :
Forêts - Lieux pierreux.
Forests - Stony places.
Île / Island :
Patmos.
Hauteur / Height range :
De 50 cm à 1 m.
From 50 cm to 1 m.
Floraison / Flowering time :
De mars à juin.
From March to June.
Groupe / Classification :
Dicotylédones.
Dicotyledons.
Pérennité / Lifespan :
Vivace.
Perennial.
Description :
Photo 1 :
Localisation / Location : Patmos, Aghios Nikolaos (environs / surroundings)
Date : 27/04/2005
GPS : Lat. 37,36703° N / Long. 26,54459° E / Alt. 8 m
Type : Kodak Gold 200 ASA
Photo 2 :
Localisation / Location : Patmos, Kastelli
Date : 30/04/2003
GPS : —
Type : Kodak Gold 200 ASA
Photo 3 :
Localisation / Location : Patmos, Kokarina
Date : 30/04/2003
GPS : —
Type : Kodak Gold 200 ASA