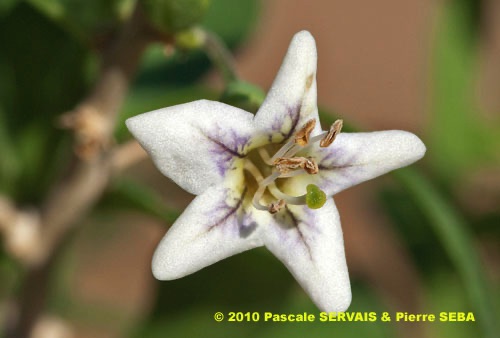 © Pascale SERVAIS & Pierre SEBA, 2018. Tilo Botanica: Flore de Tilos et du Dodécanèse / Flora of Tilos and of the Dodecanese
English translation by Brenda Bradbury, Howard Bradbury and Stéphane Léonard
Arbrisseau hermaphrodite, touffu, à rameaux rigides et à épines robustes.
Feuilles alternes à groupées, simples, elliptiques, de 20 à 50 mm de long, longuement atténuées à la base mais sans pétiole net, à une seule nervure nettement visible.
Fleurs à symétrie radiaire, blanches ou roses, solitaires ou réunies par 2 ou 3 à l'aisselle des feuilles. Corolle à 5 ou 6 pétales étalés, soudés en un tube étroit de 10 à 15 mm de long. Calice plus ou moins en cloche, à 5 sépales soudés à la base. 5 étamines subégales, saillantes, à filet soudé au tube de la corolle. Ovaire supère.
Fruits, baies globuleuses, rougeâtres.
___________________________
Shrub hermaphrodite, thick, with rigid branches and robust thorns.
Leaves alternate to grouped, simple, elliptic, from 20 to 50 mm long, lengthily attenuated at the base but without a conspicuous petiole, with only one vein definitely conspicuous.
Flowers radially symmetrical, white or pink, solitary or joined together by 2 or 3 at the axil of the leaves. Corolla with 5 or 6 spread out petals, fused in a narrow tube from 10 to 15 mm long. Calyx more or less bell-shaped, with 5 partly fused sepals. 5 subequal stamens, protruding, with a filament fused with the tube of the corolla. Ovary superior.
Fruits, globose, reddish berries.
Descripteurs / Identifying features: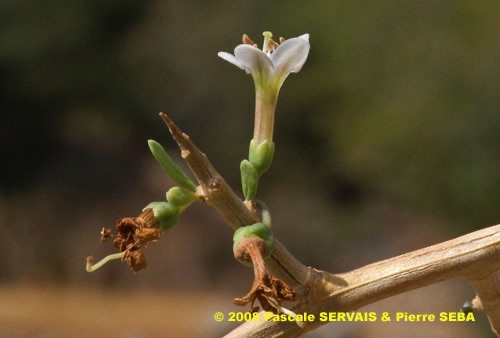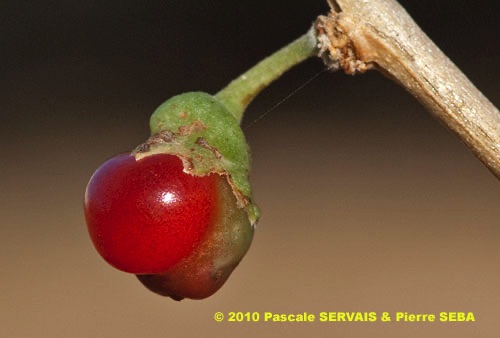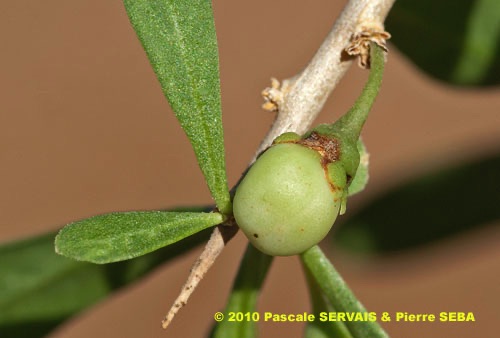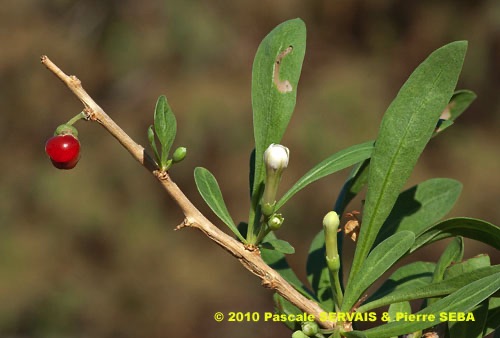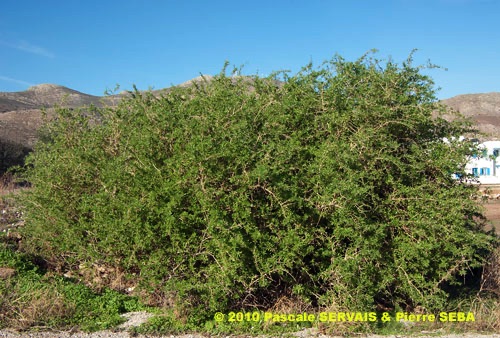 Étymologie / Etymology :
Lycium : emprunt du grec ancien λύκιον, -ου (nom) [ < Λυκία, -ας
(nom propre) = la Lycie, contrée d'Asie Mineure ] = le nerprun,
arbrisseau de Lycie, dont le suc était employé en médecine.
Europaeum : emprunt du latin europaeus, -a, -um (adj.) = d'Europe,
qui vient d'Europe, européen.
Lycium : borrowed from Classical Greek λύκιον, -ου (noun)
[ < Λυκία, -ας (proper noun) = Lycia, region of Asia Minor ] =
buckthorn, shrub of Lycia, whose juice was used in medicine.
Europaeum : borrowed from Latin europaeus, -a, -um (adj) = of or
from Europe, which comes from Europe, European.
Synonymes / Synonyms :
Lycium dumosum Salisb.
Lycium mediterraneum Dunal
Lycium orientale Miers
Lycium saevum Miers
Lycium salicifolium Mill.
Noms vernaculaires / Common names :
Noms français / French names :
Couronne du Christ — Jasmin bâtard — Lyciet d'Europe —
Lyciet européen.
Noms anglais / English names :
Bastard jasmine — Box thorn — Boxthorn —
European matrimony-vine — European tea tree —
Mediterranean tea-tree.
Nom allemand / German name :
Europäischer Bocksdorn.
Noms espagnols / Spanish names :
Cambrón — Espino blanco.
Nom italien / Italian name :
Spina-santa comune.
Habitat :
Lieux incultes - Chemins - Haies, fourrés, broussailles.
Waste ground - Waysides - Hedges, thickets.
Île / Island :
Tilos.
Hauteur / Height range :
De 1 m à 5 m.
From 1 m to 5 m.
Floraison / Flowering time :
De février à novembre.
From February to November.
Groupe / Classification :
Dicotylédones.
Dicotyledons.
Pérennité / Lifespan :
Vivace.
Perennial.
Description :
Photo 1 :
Localisation / Location : Tilos, Livadia
Date : 22/11/2010
GPS : Lat. 36,40996° N / Long. 27,39254° E / Alt. 9 m
Type : Photographie numérique / Digital Photograph (10 mégapixels)
Photo 2 :
Localisation / Location : Tilos, Livadia
Date : 23/09/2008
GPS : Lat. 36,40996° N / Long. 27,39254° E / Alt. 9 m
Type : Photographie numérique / Digital Photograph (10 mégapixels)
Photo 3 :
Localisation / Location : Tilos, Livadia
Date : 22/11/2010
GPS : Lat. 36,40996° N / Long. 27,39254° E / Alt. 9 m
Type : Photographie numérique / Digital Photograph (10 mégapixels)
Photo 4 :
Localisation / Location : Tilos, Livadia
Date : 22/11/2010
GPS : Lat. 36,40996° N / Long. 27,39254° E / Alt. 9 m
Type : Photographie numérique / Digital Photograph (10 mégapixels)
Photo 5 :
Localisation / Location : Tilos, Livadia
Date : 22/11/2010
GPS : Lat. 36,40996° N / Long. 27,39254° E / Alt. 9 m
Type : Photographie numérique / Digital Photograph (10 mégapixels)
Photo 6 :
Localisation / Location : Tilos, Livadia
Date : 22/11/2010
GPS : Lat. 36,40996° N / Long. 27,39254° E / Alt. 9 m
Type : Photographie numérique / Digital Photograph (10 mégapixels)