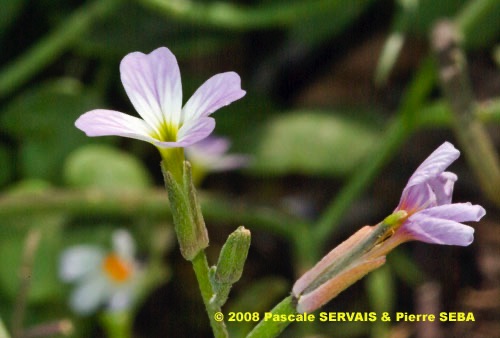 Malcolmia flexuosa (Sm.) Sm.
© Pascale SERVAIS & Pierre SEBA, 2018. Tilo Botanica: Flore de Tilos et du Dodécanèse / Flora of Tilos and of the Dodecanese
English translation by Brenda Bradbury, Howard Bradbury and Stéphane Léonard
Plante herbacée, hermaphrodite, toute couverte de courts poils blancs épars.
Feuilles alternes, simples, oblongues, poilues, charnues, luisantes, dentées ou non.
Fleurs à symétrie radiaire, roses à pourpres, à centre jaunâtre ou blanc, veinées de pourpre plus foncé, de 12 à 25 mm de diamètre. Corolle à 4 pétales libres, échancrés. Calice à 4 sépales, dont 2 prolongés en sac à la base. Ovaire supère.
Fruits, siliques cylindriques de 2 à 3 mm de diamètre, de même largeur que le pédoncule, de 35 à 80 mm de long.
___________________________
Plant herbaceous, hermaphrodite, entirely covered in short, scattered, white hairs.
Leaves alternate, simple, oblong, hairy, fleshy, shiny, toothed or not.
Flowers radially symmetrical, pink to purple, with a yellowish or white centre, veined of darker purple, from 12 to 25 mm in diameter. Corolla with 4 free, indented petals. Calyx with 4 sepals, including 2 prolonged by a bag at the base. Ovary superior.
Fruits, cylindrical siliquas, from 2 to 3 mm in diameter, as wide as the peduncle, from 35 to 80 mm long.
Descripteurs / Identifying features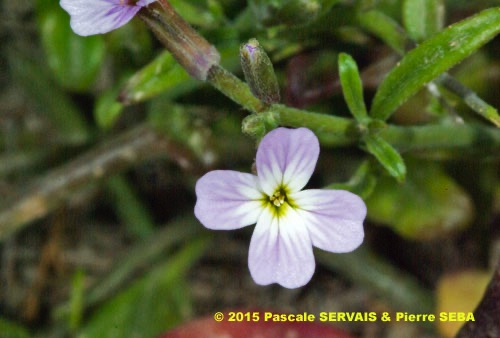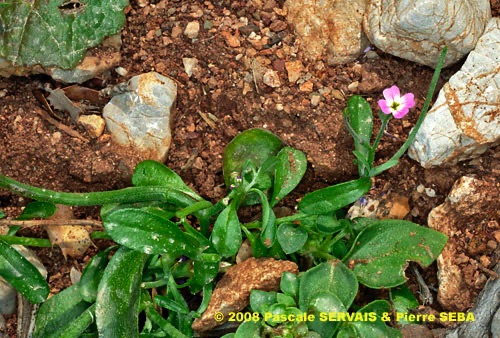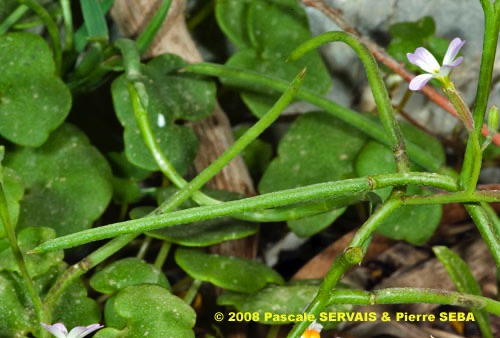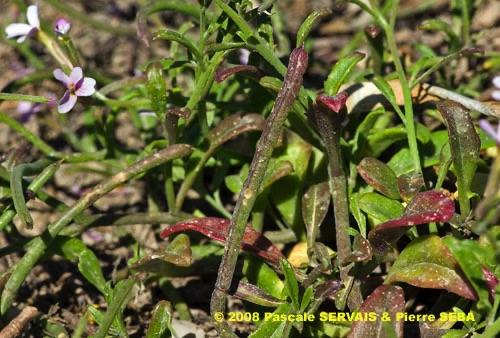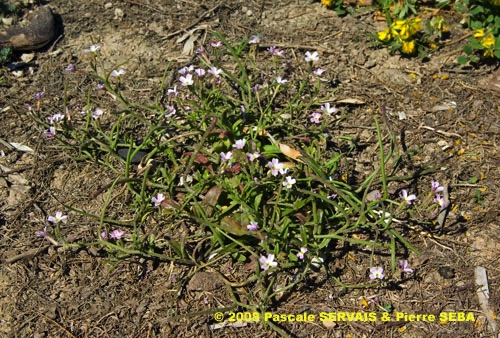 Étymologie / Etymology :
Malcolmia : nom donné en l'honneur de William Malcolm, horticulteur
anglais du 19ème siècle.
Flexuosa : emprunt du latin flexuosus, -a, -um (adj.) [ < flexus, -us (nom)
= la courbure, la sinuosité ] = courbe, sinueux.
Malcolmia : name given in honour of William Malcolm, English
horticulturist of the 19th century.
Flexuosa : borrowed from Latin flexuosus, -a, -um (adj)
[ < flexus, -us (noun) = curve, sinuosity ] = curved, bent, sinuous.
Synonymes / Synonyms :
Cheiranthus flexuosus Sibth. & Sm.
Malcolmia flexuosa subsp. flexuosa
Malcolmia naxensis Rech.f.
Wilckia flexuosa (Sibth. & Sm.) Halácsy
Wilckia maritima Samp.
Noms vernaculaires / Common names :
Nom français / French name :
Malcolmie flexueuse.
Nom grec / Greek name :
Μαλκολμία η εύκαμπτη.
Nom anglais / English name :
Nodding stock.
Noms allemands / German names :
Geschlängelte Malcolmie — Nickende Levkoje.
Nom italien / Italian name :
Malcolmia flessuosa.
Habitat :
Lieux pierreux - Lieux incultes - Sols sableux - Murs, rochers.
Stony places - Waste ground - Sandy soils - Walls, rocks.
Île / Island :
Tilos.
Hauteur / Height range :
De 5 cm à 30 cm.
From 5 cm to 30 cm.
Floraison / Flowering time :
De février à mai.
From February to May.
Groupe / Classification :
Dicotylédones.
Dicotyledons.
Pérennité / Lifespan :
Annuelle.
Annual.
Description :
Clés dichotomiques et descripteurs distinctifs des 2 espèces / Dichotomous keys and distinctive identifying features of the 2 species
Photo 1 :
Localisation / Location : Tilos, Aghios Andonis
Date : 16/04/2008
GPS : Lat. 36,45827° N / Long. 27,33308° E / Alt. 2 m
Type : Photographie numérique / Digital Photograph (10 mégapixels)
Photo 2 :
Localisation / Location : Tilos, Aghios Andonis
Date : 16/04/2008
GPS : Lat. 36,45827° N / Long. 27,33308° E / Alt. 2 m
Type : Photographie numérique / Digital Photograph (10 mégapixels)
Photo 3 :
Localisation / Location : Tilos, Aghia Anna
Date : 29/04/2006
GPS : Lat. 36,40720° N / Long. 27,38440° E / Alt. 120 m
Type : Kodak Gold 200 ASA
Photo 4 :
Localisation / Location : Tilos, Aghios Andonis
Date : 16/04/2008
GPS : Lat. 36,45827° N / Long. 27,33308° E / Alt. 2 m
Type : Photographie numérique / Digital Photograph (10 mégapixels)
Photo 5 :
Localisation / Location : Tilos, Aghios Andonis
Date : 16/04/2008
GPS : Lat. 36,45827° N / Long. 27,33308° E / Alt. 2 m
Type : Photographie numérique / Digital Photograph (10 mégapixels)
Photo 6 :
Localisation / Location : Tilos, Aghios Andonis
Date : 16/04/2008
GPS : Lat. 36,45827° N / Long. 27,33308° E / Alt. 2 m
Type : Photographie numérique / Digital Photograph (10 mégapixels)