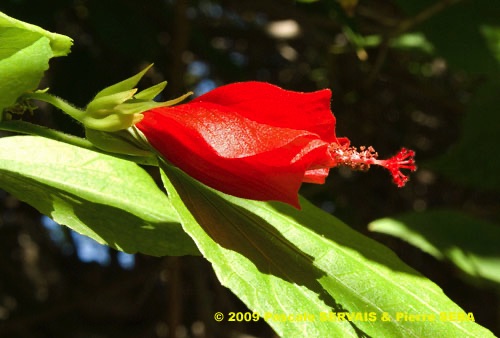 Malvaviscus penduliflorus DC.
© Pascale SERVAIS & Pierre SEBA, 2018. Tilo Botanica: Flore de Tilos et du Dodécanèse / Flora of Tilos and of the Dodecanese
English translation by Brenda Bradbury, Howard Bradbury and Stéphane Léonard
Arbrisseau hermaphrodite, originaire du Mexique et de l'Amérique centrale, à rameaux retombants, à poils disposés en lignes denses.
Feuilles alternes, simples, lancéolées, dentées, glabres, de 6 à 12 cm de long, pointues au sommet, membraneuses à coriaces. Stipules caduques, de 2 à 6 mm de long.
Fleurs à symétrie radiaire, rouges, pendantes, de 2 à 4 cm de diamètre, de 7 à 9 cm de long, portées par un court pédicelle velu, solitaires ou réunies en grappes de 10 à 12 cm de long. Corolle à 5 pétales libres, enroulés. Calice à 5 sépales jaune vert, soudés sur les 3 quarts de leur longueur. Calicule de 6 à 8 bractées spatulées, à bords ciliés, de 10 à 15 mm de long, de 2 à 3 mm de large, légèrement plus courtes que le calice. Étamines nombreuses, soudées autour de l'ovaire en tube d'environ 7 cm de long. 10 styles saillants, rouges, terminés en étoile. Ovaire supère.
Fruits divisés en 5 parties distinctes, rouges, charnus, mais le plus souvent inexistants.
___________________________
Shrub hermaphrodite, native to Mexico and Central America. Branches with hairs laid out in dense lines, often hanging down.
Leaves alternate, simple, lanceolate, toothed, glabrous, from 6 to 12 cm long, pointed at the top, membranous to tough. Stipules deciduous, from 2 to 6 mm long.
Flowers radially symmetrical, red, hanging, from 2 to 4 cm in diameter, from 7 to 9 cm long, carried by a short hairy pedicel, solitary or joined together in racemes from 10 to 12 cm long. Corolla with 5 free, rolled up petals. Calyx with 5 yellow green sepals, fused on 3 quarters of their length. Epicalyx with 6 to 8 spatulate bracts, with ciliate edges, from 10 to 15 mm long, from 2 to 3 mm across, slightly shorter than the calyx. Many stamens fused around the ovary in tube of approximately 7 cm long. 10 protruding red styles, finished in star. Ovary superior.
Fruits divided into 5 distinct parts, red, fleshy, but generally non-existent.
Descripteurs / Identifying features: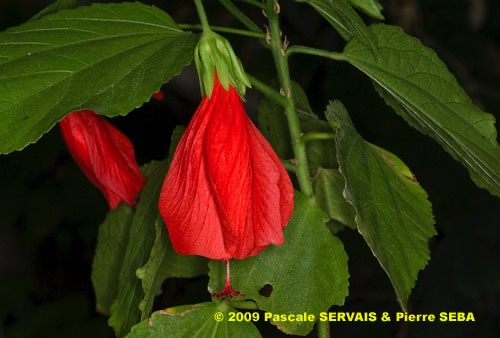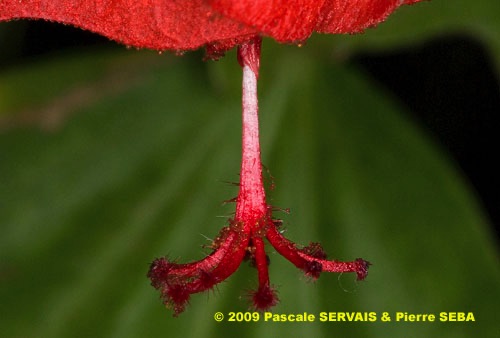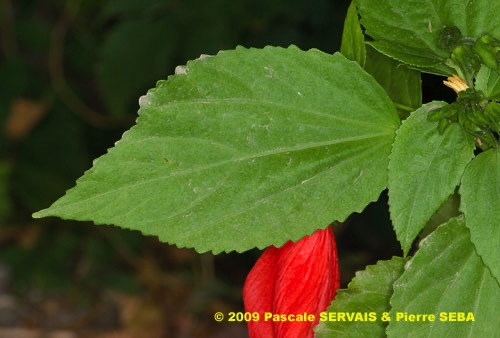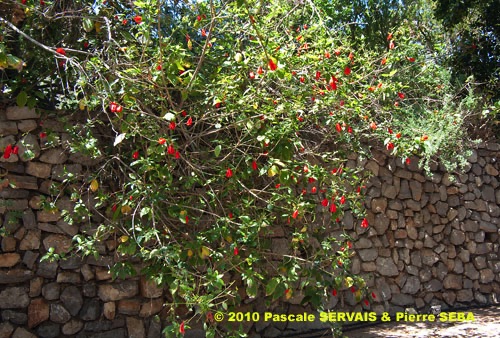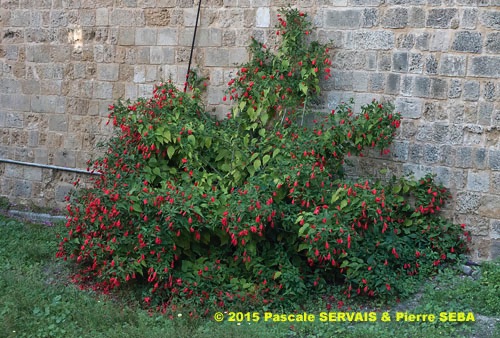 Étymologie / Etymology :
Malvaviscus : nom créé par les botanistes [ < malva, -ae (nom)
= la mauve + viscum, -i (nom) = le gui, la glu ] = la mauve visqueuse.
Penduliflorus : adjectif créé par les botanistes [ < pendulus, -a, -um (adj.)
= qui pend + flos, floris (nom) = la fleur ] = aux fleurs pendantes.
Malvaviscus : name created by botanists [ < malva, -ae (noun)
= mallow + viscum, -i (noun) = mistletoe, glue ] = sticky mallow.
Penduliflorus : adjective created by botanists
[ < pendulus, -a, -um (adj) = hanging, pendent + flos, floris (noun)
= flower ] = with hanging flowers.
Synonymes / Synonyms :
Malvaviscus arboreus var. penduliflorus (DC.) Schery
Malvaviscus longifolius Garcke
Noms vernaculaires / Common names :
Noms anglais / English names :
Cardinal's hat — Mazapan — Sleeping hibiscus — Turk's cap.
Noms espagnols / Spanish names :
Molinillo — Monacillo colorado — Quesito — Resucitado de monte —
Tulipán.
Habitat :
Jardins.
Gardens.
Îles / Islands :
Rhodos - Tilos.
Hauteur / Height range :
De 2 m à 3 m.
From 2 m to 3 m.
Floraison / Flowering time :
D'octobre à avril.
From October to April.
Groupe / Classification :
Dicotylédones.
Dicotyledons.
Pérennité / Lifespan :
Vivace.
Perennial.
Description :
Photo 1 :
Localisation / Location : Tilos, Megalochorio
Date : 13/10/2009
GPS : Lat. 36,45477° N / Long. 27,34598° E / Alt. 72 m
Type : Photographie numérique / Digital Photograph (10 mégapixels)
Photo 2 :
Localisation / Location : Tilos, Megalochorio
Date : 25/10/2009
GPS : Lat. 36,45477° N / Long. 27,34598° E / Alt. 72 m
Type : Photographie numérique / Digital Photograph (10 mégapixels)
Photo 3 :
Localisation / Location : Tilos, Megalochorio
Date : 25/10/2009
GPS : Lat. 36,45477° N / Long. 27,34598° E / Alt. 72 m
Type : Photographie numérique / Digital Photograph (10 mégapixels)
Photo 4 :
Localisation / Location : Tilos, Megalochorio
Date : 25/10/2009
GPS : Lat. 36,45477° N / Long. 27,34598° E / Alt. 72 m
Type : Photographie numérique / Digital Photograph (10 mégapixels)
Photo 5 :
Localisation / Location : Tilos, Megalochorio
Date : 28/04/2010
GPS : Lat. 36,45477° N / Long. 27,34598° E / Alt. 72 m
Type : Photographie numérique / Digital Photograph (10 mégapixels)
Photo 6 :
Localisation / Location : Rhodes, Rhodes
Date : 27/11/2015
GPS : Lat. 36,44666° N / Long. 28,22741° E / Alt. 4 m
Type : Photographie numérique / Digital Photograph (24 mégapixels)