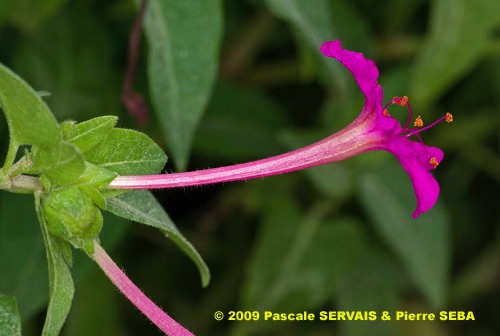 © Pascale SERVAIS & Pierre SEBA, 2018. Tilo Botanica: Flore de Tilos et du Dodécanèse / Flora of Tilos and of the Dodecanese
English translation by Brenda Bradbury, Howard Bradbury and Stéphane Léonard
Plante herbacée, hermaphrodite, à tiges ramifiées, généralement glabres.
Feuilles opposées, simples, elliptiques à cordiformes, poilues, de 15 cm de long au plus, à pétiole court.
Fleurs à symétrie radiaire, rouges, jaunes ou blanches. Corolle tubulaire de 30 mm de long, à 5 pétales soudés. Calice à 5 sépales soudés. Étamines saillantes. Ovaire supère.
Fruits, baies noires, de 10 mm de diamètre, en forme de petit citron.
___________________________
Plant herbaceous, hermaphrodite. Stems branched, generally glabrous.
Leaves opposite, simple, elliptic to cordate, hairy, 15 cm long at most, with a short petiole.
Flowers radially symmetrical, red, yellow or white. Corolla tubular, 30 mm long, with 5 fused petals. Calyx with 5 fused sepals. Protruding stamens. Ovary superior.
Fruits, black berries, 10 mm in diameter, in the shape of a small lemon.
Descripteurs / Identifying features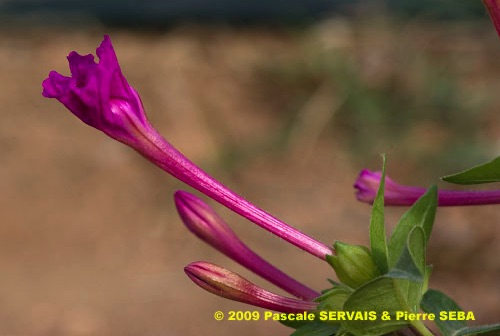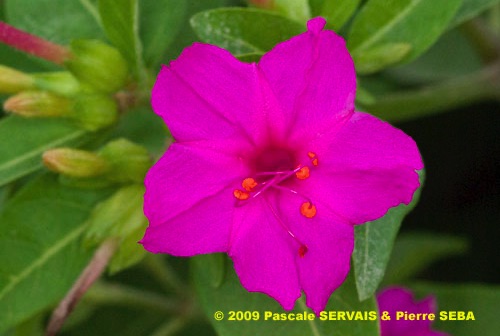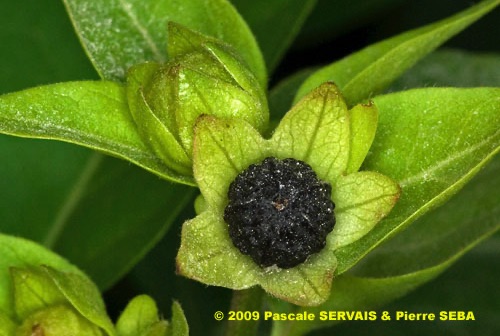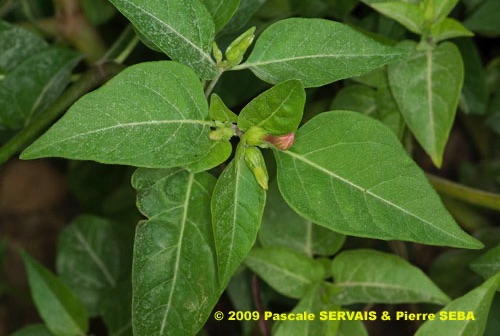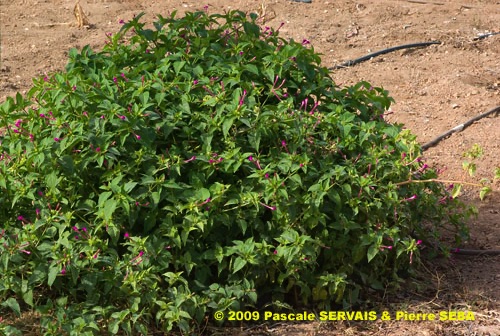 Étymologie / Etymology :
Mirabilis : emprunt du latin mirabilis, -is, -e (adj.) = admirable,
merveilleux, en référence aux fleurs qui peuvent être de couleurs
différentes sur la même plante.
Jalapa : nom d'une ville dans la province de Vera Cruz au Mexique,
probablement en raison de la similitude des tubercules de ce Mirabilis
avec ceux de Ipomea purga, plante originaire de cette région.
Mirabilis : borrowed from Latin mirabilis, -is, -e (adj) = wonderful,
marvellous, referring to the flowers which can be of different colours
on the same plant.
Jalapa : name of a city in the province of Vera Cruz, in Mexico, probably
because of the similarity of the tubers of this Mirabilis with those of
Ipomoea purga, a plant native to this area.
Synonymes / Synonyms :
Jalapa congesta Moench
Jalapa officinalis Crantz
Mirabilis dichotoma Gaterau
Mirabilis pubescens Zipp. ex Span.
Mirabilis xalapa Noronha
Nyctago jalapa (L.) DC.
Nyctago versicolor Salisb.
Noms vernaculaires / Common names :
Nom français / French name :
Belle-de-nuit.
Nom anglais / English name :
Marvel-of-Peru.
Nom allemand / German name :
Wunderblume.
Noms espagnols / Spanish names :
Bella de noche — Dondiego — Dondiego de noche — Falsa jalapa —
Maravilla — Maravilla de noche — Maravilla del Perú —
Periquitos — San Pedro — Sanpedros.
Nom italien / Italian name :
Bella-di-notte comune.
Habitat :
Cultures - Jardins.
Cultivated places - Gardens.
Île / Island :
Tilos.
Hauteur / Height range :
De 50 cm à 1 m.
From 50 cm to 1 m.
Floraison / Flowering time :
D'avril à novembre.
From April to November.
Groupe / Classification :
Dicotylédones.
Dicotyledons.
Pérennité / Lifespan :
Vivace.
Perennial.
Description :
Photo 1 :
Localisation / Location : Tilos, Plaine d'Erystos / Plain of Erystos
Date : 24/10/2009
GPS : Lat. 36,44143° N / Long. 27,35301° E / Alt. 24 m
Type : Photographie numérique / Digital Photograph (10 mégapixels)
Photo 2 :
Localisation / Location : Tilos, Plaine d'Erystos / Plain of Erystos
Date : 24/10/2009
GPS : Lat. 36,44143° N / Long. 27,35301° E / Alt. 24 m
Type : Photographie numérique / Digital Photograph (10 mégapixels)
Photo 3 :
Localisation / Location : Tilos, Plaine d'Erystos / Plain of Erystos
Date : 24/10/2009
GPS : Lat. 36,44143° N / Long. 27,35301° E / Alt. 24 m
Type : Photographie numérique / Digital Photograph (10 mégapixels)
Photo 4 :
Localisation / Location : Tilos, Plaine d'Erystos / Plain of Erystos
Date : 24/10/2009
GPS : Lat. 36,44143° N / Long. 27,35301° E / Alt. 24 m
Type : Photographie numérique / Digital Photograph (10 mégapixels)
Photo 5 :
Localisation / Location : Tilos, Plaine d'Erystos / Plain of Erystos
Date : 24/10/2009
GPS : Lat. 36,44143° N / Long. 27,35301° E / Alt. 24 m
Type : Photographie numérique / Digital Photograph (10 mégapixels)
Photo 6 :
Localisation / Location : Tilos, Plaine d'Erystos / Plain of Erystos
Date : 24/10/2009
GPS : Lat. 36,44143° N / Long. 27,35301° E / Alt. 24 m
Type : Photographie numérique / Digital Photograph (10 mégapixels)