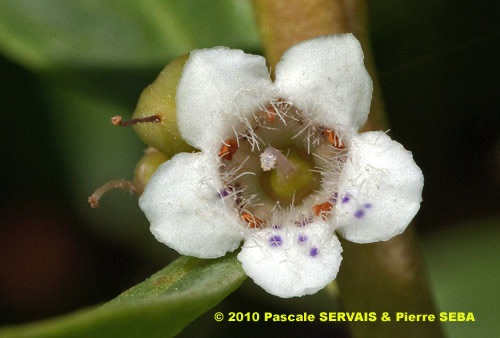 © Pascale SERVAIS & Pierre SEBA, 2018. Tilo Botanica: Flore de Tilos et du Dodécanèse / Flora of Tilos and of the Dodecanese
English translation by Brenda Bradbury, Howard Bradbury and Stéphane Léonard
Arbuste hermaphrodite, originaire d'Australie, à rameaux glabres.
Feuilles alternes, simples, entières, lancéolées à elliptiques, glabres, sessiles mais à base effilée ressemblant à un pétiole, un peu charnues, sans stipules.
Fleurs à symétrie radiaire, blanches à taches mauves, de 5 à 12 mm de diamètre, réunies par 2 à 6 en bouquets axillaires de 15 à 25 mm de large. Corolle à 5 pétales soudés en tube. Calice à 5 sépales verts soudés à la base. 5 étamines. Ovaire supère.
Fruits, drupes de 6 à 9 mm de diamètre, vertes puis mauves à maturité.
___________________________
Treelet hermaphrodite, native to Australia, with glabrous branches.
Leaves alternate, simple, entire, lanceolate to elliptic, glabrous, sessile but with a sharp base resembling a petiole, a little fleshy, without stipules.
Flowers radially symmetrical, white with mauve marks, from 5 to 12 mm in diameter, joined together by 2 to 6 in axillary clusters from 15 to 25 mm across. Corolla with 5 petals fused in tube. Calyx with 5 partly fused, green sepals. 5 stamens. Ovary superior.
Fruits, drupes from 6 to 9 mm in diameter, green then mauve at maturity.
Descripteurs / Identifying features: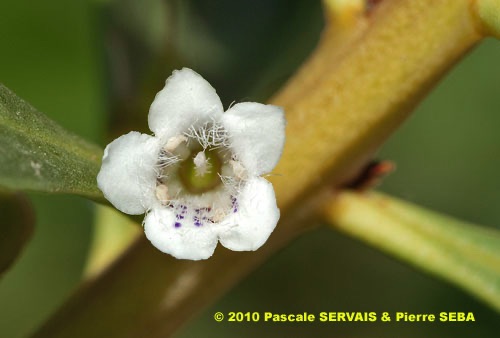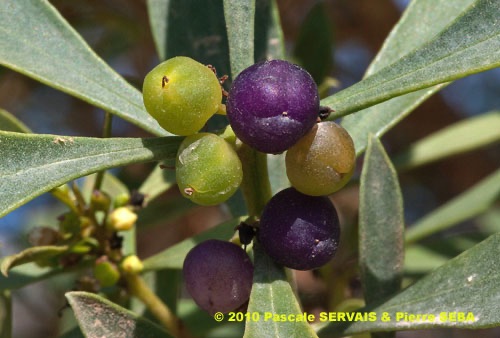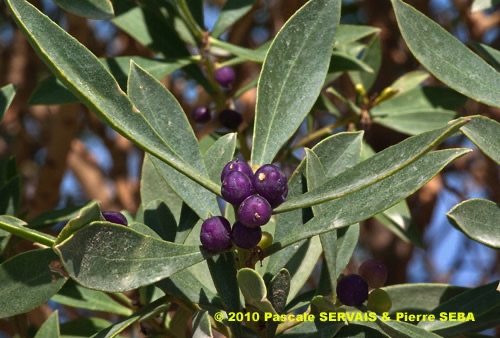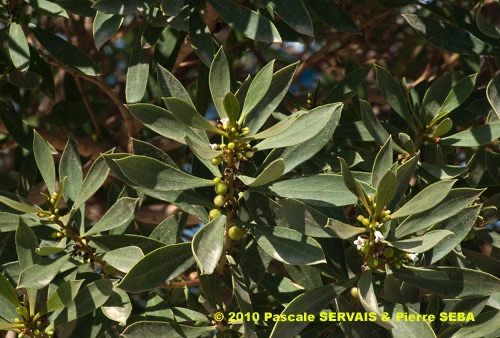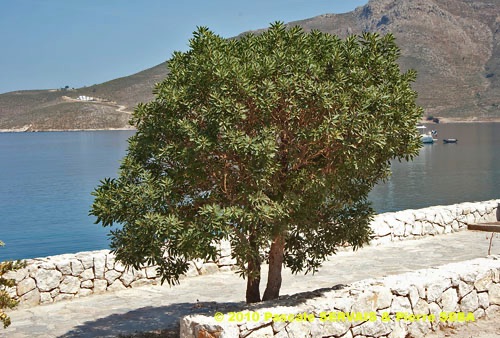 Étymologie / Etymology :
Myoporum : nom créé par les botanistes [ < μύω (verbe) = être fermé
+ πόρος, -ου (nom) = le passage, le conduit, le pore ] = qui a des
pores fermés, en référence aux petites glandes vésiculaires des
feuilles.
Laetum : emprunt du latin laetus, -a, -um (adj.)
[ < laetor, -aris, -ari (verbe) = se réjouir ] = joyeux, plaisant, agréable.
Myoporum : name created by botanists [ < μύω (verb) = to be
closed + πόρος, -ου (noun) = passage, conduit, pore ] = with closed
pores, referring to the small bladder-like glands of the leaves.
Laetum : borrowed from Latin laetus, -a, -um (adj)
[ < laetor, -aris, -ari (verb) = to be delighted ] = cheerful, pleasant,
agreeable.
Synonyme / Synonym :
Myoporum perforatum Hort.
Noms vernaculaires / Common names :
Nom français / French name :
Myoporum fertile.
Noms grecs / Greek names :
Μυόπορος γόνιμος — Μυόπορος ο γόνιμος.
Nom anglais / English name :
Ngaio tree.
Habitat :
Jardins.
Gardens.
Île / Island :
Tilos.
Hauteur / Height range :
De 2 m à 10 m.
From 2 m to 10 m.
Floraison / Flowering time :
De février à juin.
From February to June.
Groupe / Classification :
Dicotylédones.
Dicotyledons.
Pérennité / Lifespan :
Vivace.
Perennial.
Description :
Photo 1 :
Localisation / Location : Tilos, Livadia
Date : 03/05/2010
GPS : Lat. 36,41659° N / Long. 27,38551° E / Alt. 2 m
Type : Photographie numérique / Digital Photograph (10 mégapixels)
Photo 2 :
Localisation / Location : Tilos, Livadia
Date : 03/05/2010
GPS : Lat. 36,41659° N / Long. 27,38551° E / Alt. 2 m
Type : Photographie numérique / Digital Photograph (10 mégapixels)
Photo 3 :
Localisation / Location : Tilos, Livadia
Date : 05/05/2010
GPS : Lat. 36,41659° N / Long. 27,38551° E / Alt. 2 m
Type : Photographie numérique / Digital Photograph (10 mégapixels)
Photo 4 :
Localisation / Location : Tilos, Livadia
Date : 05/05/2010
GPS : Lat. 36,41659° N / Long. 27,38551° E / Alt. 2 m
Type : Photographie numérique / Digital Photograph (10 mégapixels)
Photo 5 :
Localisation / Location : Tilos, Livadia
Date : 05/05/2010
GPS : Lat. 36,41659° N / Long. 27,38551° E / Alt. 2 m
Type : Photographie numérique / Digital Photograph (10 mégapixels)
Photo 6 :
Localisation / Location : Tilos, Livadia
Date : 05/05/2010
GPS : Lat. 36,41659° N / Long. 27,38551° E / Alt. 2 m
Type : Photographie numérique / Digital Photograph (10 mégapixels)