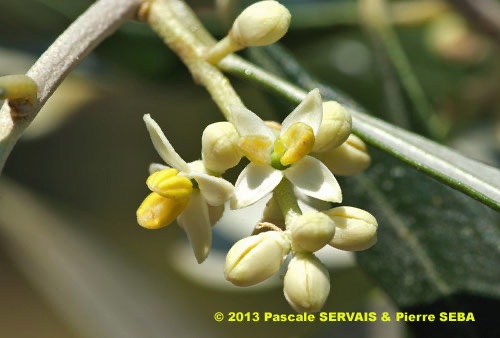 © Pascale SERVAIS & Pierre SEBA, 2018. Tilo Botanica: Flore de Tilos et du Dodécanèse / Flora of Tilos and of the Dodecanese
English translation by Brenda Bradbury, Howard Bradbury and Stéphane Léonard
Arbre hermaphrodite, très ramifié, à tronc et branches gris, à écorce crevassée.
Feuilles opposées, simples, lancéolées à oblongues, entières, gris vert, argentées dessous, de 40 à 80 mm de long, persistantes, coriaces, enroulées sur les bords, sans stipules, à pétiole court. Seule la nervure principale est apparente.
Fleurs à symétrie radiaire, blanchâtres à jaune crème, petites, discrètes, réunies en denses panicules dressées et situées à l'aisselle des feuilles. Corolle à 4 pétales étalés, soudés entre eux. Calice à 4 sépales soudés en coupe. 2 étamines dépassant le tube de la corolle. Ovaire supère.
Fruits, drupes oblongues ou ovoïdes, de 10 à 25 mm de long, vertes puis bleu noir à maturité.
___________________________
Tree hermaphrodite, very branched, with grey trunk and branches, with a cracked bark.
Leaves opposite, simple, lanceolate to oblong, entire, grey green, silver-coloured below, from 40 to 80 mm long, persistent, tough, coiled on the edges, without stipules, with a short petiole. Only the main vein is conspicuous.
Flowers radially symmetrical, whitish to cream-coloured yellow, small, inconspicuous, joined together in dense panicles erect and located at the axil of the leaves. Corolla with 4 spread out petals, fused with each other. Calyx with 4 cup-shaped fused sepals. 2 stamens exceeding the tube of the corolla. Ovary superior.
Fruits, oblong or ovoid drupes, from 10 to 25 mm long, green then blue black at maturity.
Descripteurs / Identifying features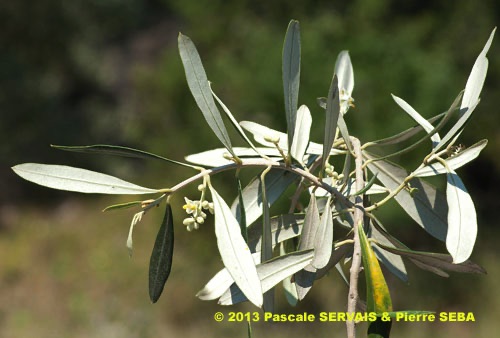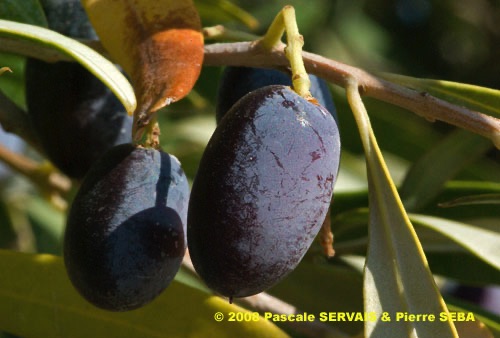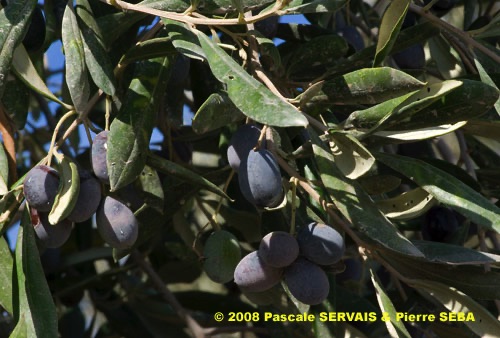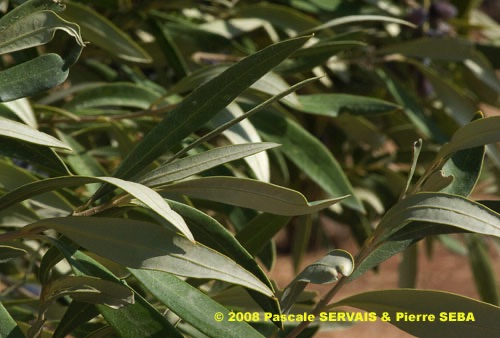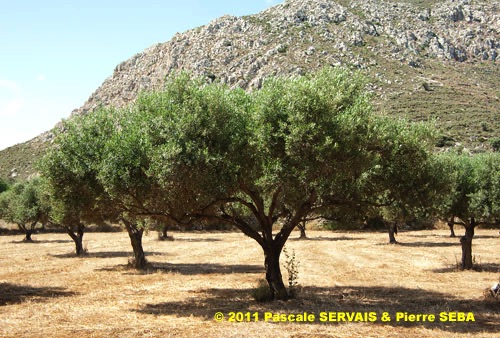 Étymologie / Etymology :
Olea : emprunt du latin olea, -ae (nom) = l'olivier, forme latinisée du
grec ancien ἐλαία, -ας (nom) = l'olivier, nom déjà employé par
Homère (8ème siècle av. J.-C.).
Europaea : emprunt du latin europaeus, -a, -um (adj.) = d'Europe,
qui vient d'Europe, européen.
Olea : borrowed from Latin olea, -ae (noun) = olive-tree, Latinized form
of the Classical Greek ἐλαία, -ας (noun) = olive-tree, name used
before by Homer (8th century BC).
Europaea : borrowed from Latin europaeus, -a, -um (adj) = of or
from Europe, which comes from Europe, European.
Synonymes / Synonyms :
Olea gallica Mill.
Olea hispanica Mill.
Noms vernaculaires / Common names :
Noms français / French names :
Olivier — Olivier commun — Olivier d'Europe.
Noms grecs / Greek names :
Αγριελιά — Ελαία — Ελαία η ευρωπαϊκή — Ελιά — Λαδολιά —
Χονδρολιά.
Noms anglais / English names :
Common olive — Olive — Olive tree.
Noms allemands / German names :
Echter Ölbaum — Ölbaum — Olive — Olivenbaum.
Noms espagnols / Spanish names :
Acebuche — Aceituna — Olivera — Olivo.
Noms italiens / Italian names :
Oliva — Olivo — Ulivo.
Habitat :
Forêts - Cultures - Lieux incultes.
Forests - Cultivated places - Waste ground.
Îles / Islands :
Patmos - Rhodos - Tilos.
Hauteur / Height range :
De 2 m à plus de 15 m.
From 2 m to 15 m and more.
Floraison / Flowering time :
D'avril à juin.
From April to June.
Groupe / Classification :
Dicotylédones.
Dicotyledons.
Pérennité / Lifespan :
Vivace.
Perennial.
Description :
Photo 1 :
Localisation / Location : Tilos, Aghios Stephanos
Date : 27/04/2013
GPS : Lat. 36,40806° N / Long. 27,39171° E / Alt. 30 m
Type : Photographie numérique / Digital Photograph (10 mégapixels)
Photo 2 :
Localisation / Location : Tilos, Aghios Stephanos
Date : 27/04/2013
GPS : Lat. 36,40806° N / Long. 27,39171° E / Alt. 30 m
Type : Photographie numérique / Digital Photograph (10 mégapixels)
Photo 3 :
Localisation / Location : Tilos, Livadia
Date : 01/10/2008
GPS : Lat. 36,41296° N / Long. 27,38593° E / Alt. 13 m
Type : Photographie numérique / Digital Photograph (10 mégapixels)
Photo 4 :
Localisation / Location : Tilos, Livadia
Date : 01/10/2008
GPS : Lat. 36,41296° N / Long. 27,38593° E / Alt. 13 m
Type : Photographie numérique / Digital Photograph (10 mégapixels)
Photo 5 :
Localisation / Location : Tilos, Livadia
Date : 01/10/2008
GPS : Lat. 36,41296° N / Long. 27,38593° E / Alt. 13 m
Type : Photographie numérique / Digital Photograph (10 mégapixels)
Photo 6 :
Localisation / Location : Tilos, Megalochorio (environs / surroundings)
Date : 27/05/2011
GPS : Lat. 36,45078° N / Long. 27,34075° E / Alt. 28 m
Type : Photographie numérique / Digital Photograph (10 mégapixels)