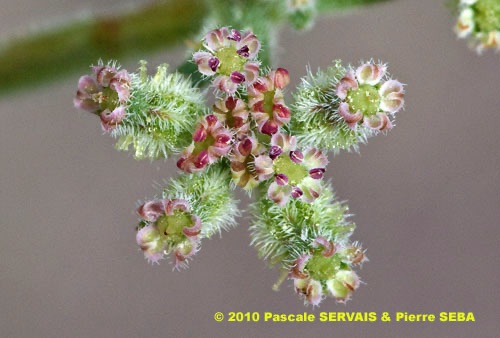 Pseudorlaya pumila (L.) Grande
© Pascale SERVAIS & Pierre SEBA, 2018. Tilo Botanica: Flore de Tilos et du Dodécanèse / Flora of Tilos and of the Dodecanese
English translation by Brenda Bradbury, Howard Bradbury and Stéphane Léonard
Plante herbacée, hermaphrodite, à tiges prostrées, ramifiées, couvertes de poils blancs courts.
Feuilles alternes, divisées pennatiséquées (semblant souvent composées bi- / tripennées), à segments ovales à lancéolés, toutes pétiolées, poilues, vert cendré.
Fleurs à symétrie radiaire, blanches ou rose pâle à pourprées, de 1,5 à 2,5 mm de diamètre, réunies en ombelles composées de 5 à 15 mm de diamètre, à 2 à 5 rayons principaux inégaux, avec 2 à 5 bractées linéaires ou trifides, foliacées, pointues. Corolle à 5 pétales libres, échancrés, recourbés, presque égaux. Ovaire infère.
Fruits, diakènes elliptiques, ridés (à 6 côtes), poilus, de 7 à 10 mm de long, de 6 à 7 mm de diamètre, avec des épines plates et crochues.
___________________________
Plant herbaceous, hermaphrodite. Stems prostrate, branched, covered in short white hairs.
Leaves alternate, dissected pinnatisect (seeming often compound bi-/tripinnately), with ovate to lanceolate segments, all petiolate, hairy, ash-green.
Flowers radially symmetrical, white or pale pink to purplish, from 1.5 to 2.5 mm in diameter, joined together in compound umbels from 5 to 15 mm in diameter, with 2 to 5 unequal main rays, with 2 to 5 linear or trifid, foliaceous, pointed bracts. Corolla with 5 free, indented, curved, almost equal petals. Ovary inferior.
Fruits, elliptic, wrinkled (with 6 ribs), hairy diachenes, from 7 to 10 mm long, from 6 to 7 mm in diameter, with flat and hooked thorns.
Descripteurs / Identifying features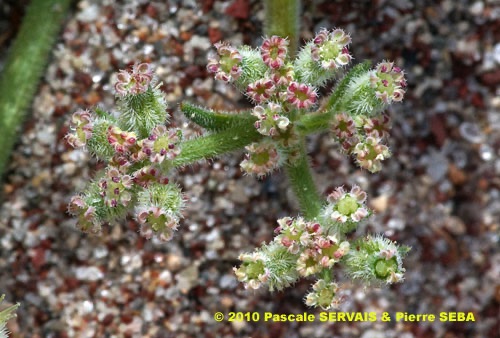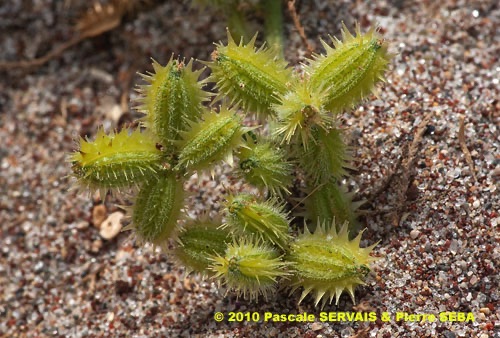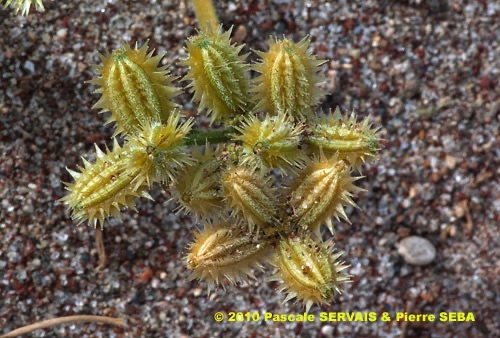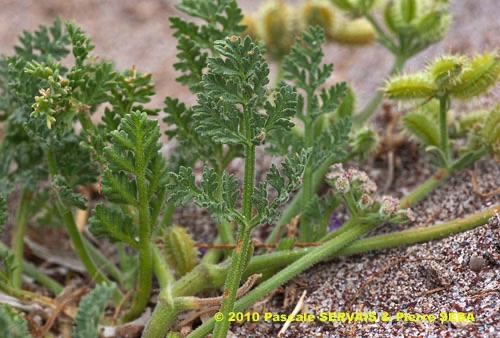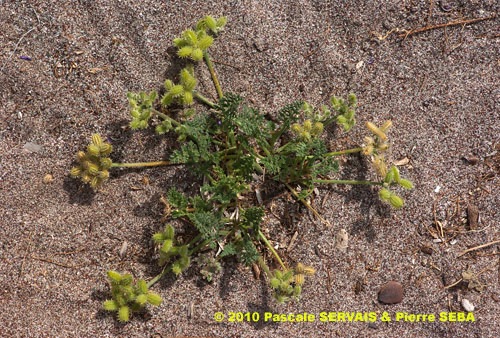 Étymologie / Etymology :
Pseudorlaya : emprunt du grec ancien ψευδο- (préfixe)
[ < ψεύδω (verbe) = tromper ] = trompeur, faux et du latin orlaya.
Pseudorlaya = fausse orlaya, qui ressemble à l'orlaya.
Pumila : emprunt du latin pumilus, -a, -um (adj.) = petit, nain.
Pseudorlaya : borrowed from Classical Greek ψευδο- (prefix)
[ < ψεύδω (verb) = to mislead ] = misleading, false and from Latin
orlaya. Pseudorlaya = false orlaya, resembling the orlaya.
Pumila : borrowed from Latin pumilus, -a, -um (adj) = small, dwarf.
Synonymes / Synonyms :
Orlaya pumila (L.) Halácsy
Caucalis maritima Gouan
Caucalis pumila L.
Daucus humilis Ball
Daucus maritimus (L.) Gaertn.
Daucus muricatus var. maritimus L.
Daucus pumilus (L.) Hoffmanns. & Link
Orlaya bubania Philippe
Orlaya maritima (L.) W.D.J.Koch
Orlaya maritima subsp. bubania (Philippe) Nyman
Pseudorlaya maritima Murb.
Noms vernaculaires / Common names :
Nom français / French name :
Fausse girouille des sables.
Nom grec / Greek name :
Καυκαλίδα.
Noms anglais / English names :
Dune carrot — Small carrot.
Nom allemand / German name :
Zwerg-Möhre.
Noms italiens / Italian names :
Carota delle spiagge — Lappola delle spiagge.
Habitat :
Sols sableux.
Sandy soils.
Île / Island :
Tilos.
Hauteur / Height range :
De 5 cm à 20 cm.
From 5 cm to 20 cm.
Floraison / Flowering time :
De mars à mai.
From March to May.
Groupe / Classification :
Dicotylédones.
Dicotyledons.
Pérennité / Lifespan :
Annuelle.
Annual.
Description :
Photo 1 :
Localisation / Location : Tilos, Erystos
Date : 06/05/2010
GPS : Lat. 36,43325° N / Long. 27,34963° E / Alt. 3 m
Type : Photographie numérique / Digital Photograph (10 mégapixels)
Photo 2 :
Localisation / Location : Tilos, Erystos
Date : 06/05/2010
GPS : Lat. 36,43325° N / Long. 27,34963° E / Alt. 3 m
Type : Photographie numérique / Digital Photograph (10 mégapixels)
Photo 3 :
Localisation / Location : Tilos, Erystos
Date : 06/05/2010
GPS : Lat. 36,43325° N / Long. 27,34963° E / Alt. 3 m
Type : Photographie numérique / Digital Photograph (10 mégapixels)
Photo 4 :
Localisation / Location : Tilos, Erystos
Date : 06/05/2010
GPS : Lat. 36,43325° N / Long. 27,34963° E / Alt. 3 m
Type : Photographie numérique / Digital Photograph (10 mégapixels)
Photo 5 :
Localisation / Location : Tilos, Erystos
Date : 06/05/2010
GPS : Lat. 36,43325° N / Long. 27,34963° E / Alt. 3 m
Type : Photographie numérique / Digital Photograph (10 mégapixels)
Photo 6 :
Localisation / Location : Tilos, Erystos
Date : 06/05/2010
GPS : Lat. 36,43325° N / Long. 27,34963° E / Alt. 3 m
Type : Photographie numérique / Digital Photograph (10 mégapixels)