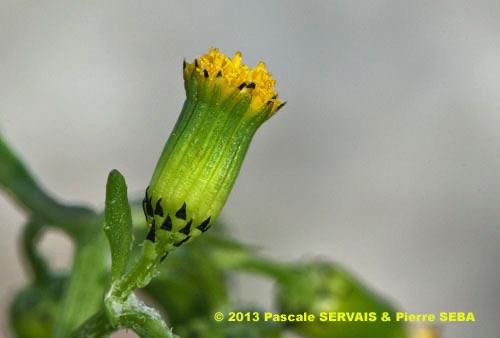 © Pascale SERVAIS & Pierre SEBA, 2018. Tilo Botanica: Flore de Tilos et du Dodécanèse / Flora of Tilos and of the Dodecanese
English translation by Brenda Bradbury, Howard Bradbury and Stéphane Léonard
Plante herbacée, hermaphrodite, à tiges érigées, poilues, ramifiées.
Feuilles alternes, divisées pennatipartites, à segments entiers, un peu épaisses, glabres, embrassant la tige par leur base, les inférieures pétiolées, les supérieures sessiles.
Fleurs réunies en capitules de 5 à 10 mm de diamètre. Fleurons tous tubulés, jaunes, dépassant à peine les bractées de l'involucre. Involucre cylindrique composé d'une rangée de grandes bractées souvent terminées par une pointe noire et qui sont 3 à 5 fois plus longues que les petites bractées situées à leur base. Ovaire infère.
Fruits, akènes à aigrette blanche.
___________________________
Plant herbaceous, hermaphrodite. Stems erect, hairy, branched.
Leaves alternate, dissected pinnatipartite, with entire segments, a little thick, glabrous, clasping the stem by their base, the lower ones petiolate, the higher ones sessile.
Flowers joined together in capitula from 5 to 10 mm in diameter. Only disk-florets, yellow, scarcely exceeding the bracts of the involucre. Involucre cylindrical, made up of a row of large bracts often finished by a black point, 3 to 5 times longer than the small bracts located at their base. Ovary inferior.
Fruits, achenes with a white pappus.
Descripteurs / Identifying features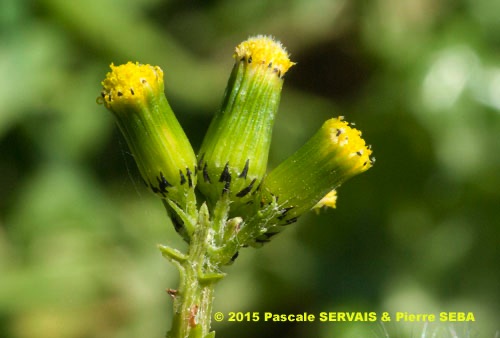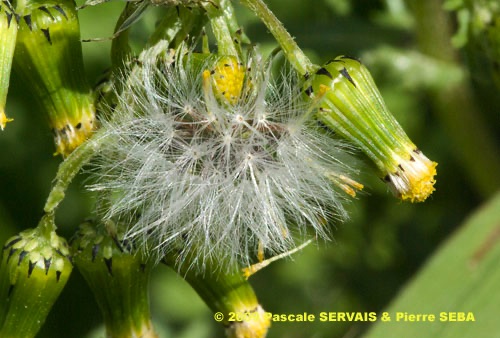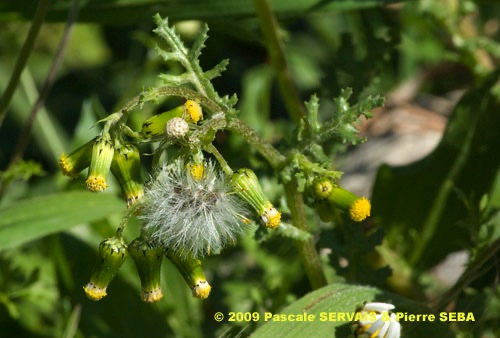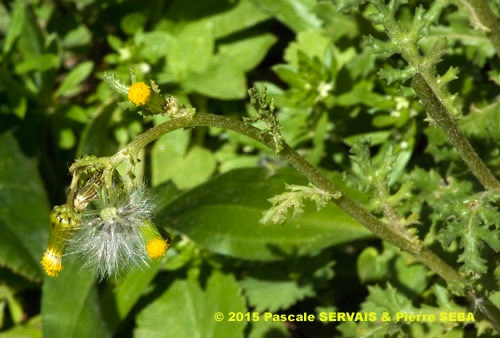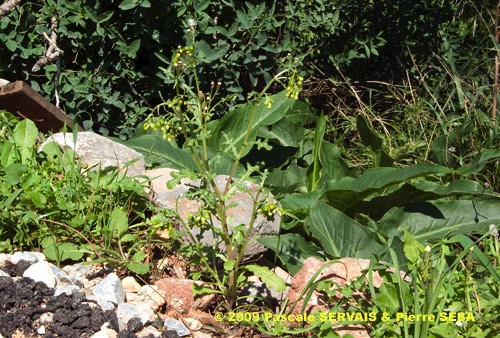 Étymologie / Etymology :
Senecio : emprunt du latin senecio, -onis (nom) [ < senex, -is (nom)
= le vieillard ] = le séneçon, nom donné à la plante par Pline,
naturaliste latin mort en 79 apr. J.-C., en référence aux pappus blancs
des akènes qui ressemblent à des cheveux de vieillards.
Vulgaris : emprunt du latin vulgaris, -is, -e (adj.)
[ < vulgus, -i (nom) = la foule, la multitude ] = ordinaire, commun,
banal.
Senecio : borrowed from Latin senecio, -onis (noun) [ < senex, -is (noun)
= old man ] = groundsel, name given to the plant by Plinius, Latin
naturalist died in 79 AD, referring to the white pappus of the achenes
resembling the hair of old men.
Vulgaris : borrowed from Latin vulgaris, -is, -e (adj)
[ < vulgus, -i (noun) = crowd, multitude ] = ordinary, common,
commonplace.
Synonyme / Synonym :
—
Noms vernaculaires / Common names :
Noms français / French names :
Herbe aux coitrons — Séneçon commun — Séneçon vulgaire.
Noms grecs / Greek names :
Μαρτιάκος — Μαρτιάτικο — Σενέτσιο κοινό — Σενέτσιο το κοινό.
Noms anglais / English names :
Common groundsel — Groundsel — Grundy swallow —
Old man in the spring — Ragwort groundsel.
Noms allemands / German names :
Gemeines Greiskraut — Gemeines Kreuzkraut —
Gewöhnliches Greiskraut — Gewöhnliches Kreuzkraut.
Nom espagnol / Spanish name :
Hierba cana.
Noms italiens / Italian names :
Calderaja — Calderina — Cardillo — Senecione comune.
Habitat :
Cultures - Jardins - Lieux pierreux - Lieux incultes - Sols sableux -
Chemins.
Cultivated places - Gardens - Stony places - Waste ground - Sandy soils -
Waysides.
Île / Island :
Rhodos - Tilos.
Hauteur / Height range :
De 10 cm à 50 cm.
From 10 cm to 50 cm.
Floraison / Flowering time :
De janvier à décembre.
From January to December.
Groupe / Classification :
Dicotylédones.
Dicotyledons.
Pérennité / Lifespan :
Annuelle.
Annual.
Description :
Clés dichotomiques et descripteurs distinctifs des 5 espèces / Dichotomous keys and distinctive identifying features of the 5 species
Photo 1 :
Localisation / Location : Tilos, Livadia
Date : 20/01/2013
GPS : Lat. 36,41466° N / Long. 27,38669° E / Alt. 1 m
Type : Photographie numérique / Digital Photograph (10 mégapixels)
Photo 2 :
Localisation / Location : Tilos, Livadia
Date : 16/03/2009
GPS : Lat. 36,41211° N / Long. 27,38567° E / Alt. 12 m
Type : Photographie numérique / Digital Photograph (10 mégapixels)
Photo 3 :
Localisation / Location : Tilos, Livadia
Date : 16/03/2009
GPS : Lat. 36,41211° N / Long. 27,38567° E / Alt. 12 m
Type : Photographie numérique / Digital Photograph (10 mégapixels)
Photo 4 :
Localisation / Location : Tilos, Livadia
Date : 16/03/2009
GPS : Lat. 36,41211° N / Long. 27,38567° E / Alt. 12 m
Type : Photographie numérique / Digital Photograph (10 mégapixels)
Photo 5 :
Localisation / Location : Tilos, Livadia
Date : 16/03/2009
GPS : Lat. 36,41211° N / Long. 27,38567° E / Alt. 12 m
Type : Photographie numérique / Digital Photograph (10 mégapixels)
Photo 6 :
Localisation / Location : Tilos, Livadia
Date : 16/03/2009
GPS : Lat. 36,41211° N / Long. 27,38567° E / Alt. 12 m
Type : Photographie numérique / Digital Photograph (10 mégapixels)