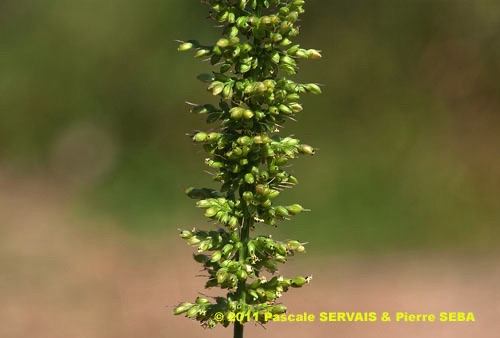 Setaria verticillata (L.) P.Beauv.
© Pascale SERVAIS & Pierre SEBA, 2018. Tilo Botanica: Flore de Tilos et du Dodécanèse / Flora of Tilos and of the Dodecanese
English translation by Brenda Bradbury, Howard Bradbury and Stéphane Léonard
Plante herbacée, hermaphrodite, à tiges étalées à érigées, glabres, à section plus ou moins triangulaire.
Feuilles alternes, simples, linéaires, embrassantes, entières, planes, souples, de 10 à 20 cm de long et de 4 à 14 mm de large, à poils rugueux et à cils très courts et rugueux, à ligule formée de poils.
Fleurs vert pâle veinées de vert foncé, réunies en denses panicules spiciformes de 5 à 8 cm de long. Épillets aplatis, à 2 fleurs (la supérieure hermaphrodite, l'inférieure stérile). Base de l'épillet entourée de soies jaunâtres plus longues que l'épillet et munies de petites dents raides dirigées vers le bas, ce qui rend l'inflorescence rugueuse quand on passe le doigt de bas en haut. 2 glumes inégales, non prolongées par une arête, la supérieure aussi longue que l'épillet, l'inférieure plus petite, ovale et embrassante. Ovaire supère.
Fruits, caryopses.
___________________________
Plant herbaceous, hermaphrodite. Stems spread out to erect, glabrous, with a more or less triangular section.
Leaves alternate, simple, linear, clasping the stem, entire, plane, supple, from 10 to 20 cm long and from 4 to 14 mm across, with rough hairs and with very short and rough lashes, with a ligule formed by hairs.
Flowers pale green with dark green veins, joined together in dense, spiciform panicles from 5 to 8 cm long. Spikelets flattened, with 2 flowers (the higher one hermaphrodite, the lower one sterile). Base of spikelet surrounded by yellowish bristles longer than the spikelet and provided with small, stiff teeth directed downwards, which makes the inflorescence rough when one passes the finger upwards. 2 unequal glumes not prolonged by an awn, the higher one as long as the spikelet, the lower one smaller, ovate and clasping. Ovary superior.
Fruits, caryopsis.
Descripteurs / Identifying features: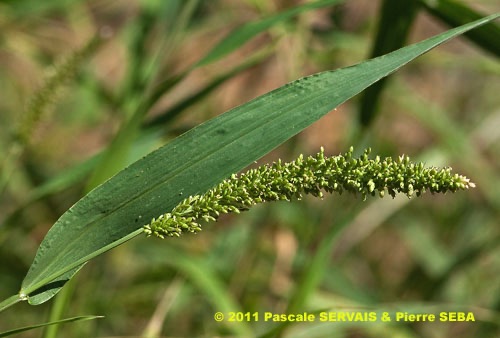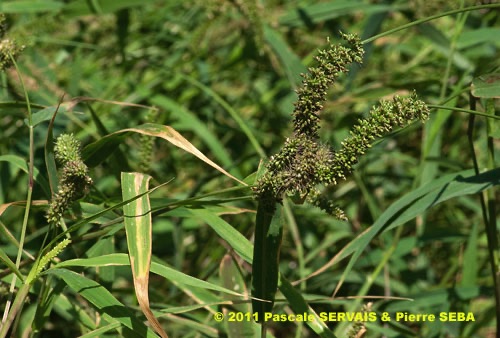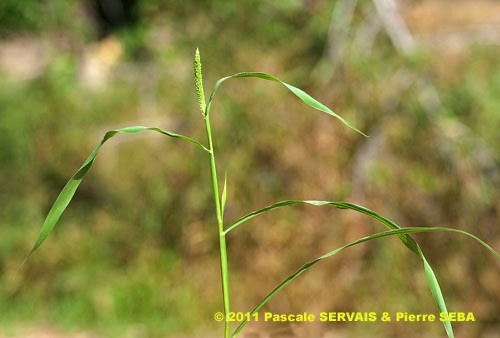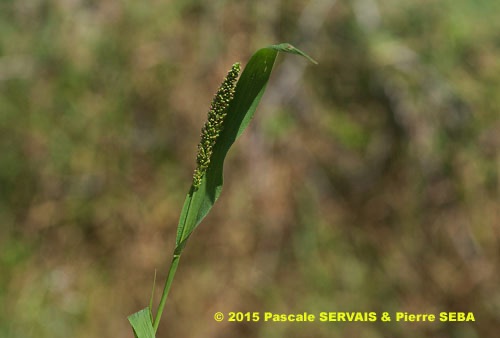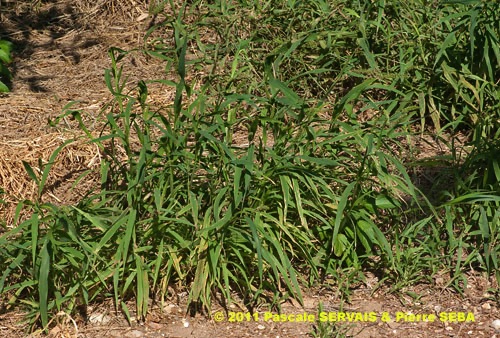 Étymologie / Etymology :
Setaria : nom créé par les botanistes [ < seta (saeta), -ae (nom)
= la soie de porc, le poil de bouc ] = la sétaire, en référence aux soies
saillantes des panicules de fleurs.
Verticillata : emprunt du latin médiéval verticillatus, -a, -um (adj.)
[ < verticillus, -i (nom) = le mouvement giratoire autour d'un axe ]
= verticillé, en référence aux épillets attachés en cercle autour de
la tige.
Setaria : name created by botanists [ < seta (saeta), -ae (noun)
= bristle of pig, hair of goat ] = bristle-grass, referring to the prominent
bristles of the flower panicles.
Verticillata : borrowed from medieval Latin verticillatus, -a, -um (adj)
[ < verticillus, -i (noun) = the whirl around an axis ] = whorled, referring
to the spikelets forming a ring around the stem.
Synonymes / Synonyms :
Cynosurus paniceus L.
Panicum verticillatum L.
Setaria gussonei Kerguélen
Noms vernaculaires / Common names :
Noms français / French names :
Panic rude — Panic verticillé — Sétaire verticillée.
Noms grecs / Greek names :
Κoλητσίδα — Σετάρια — Σετάρια σπονδυλωτή —
Σπονδυλωτή σετάρια.
Noms anglais / English names :
Bristly foxtail — Bur bristle grass — Hooked bristlegrass —
Rough bristle-grass — Rough panic grass.
Noms allemands / German names :
Quirlbluetiger Fennich — Quirlige Borstenhirse —
Wirtel-Borstenhirse.
Noms espagnols / Spanish names :
Almorejo verticilado — Amor de hortelano — Hierba mijera —
Lagartera — Panicillo.
Noms italiens / Italian names :
Fiend stellino — Pabbio verticillato — Panicastrella.
Habitat :
Cultures - Lieux incultes - Chemins.
Cultivated places - Waste ground - Waysides.
Île / Island :
Tilos.
Hauteur / Height range :
De 10 cm à 70 cm.
From 10 cm to 70 cm.
Floraison / Flowering time :
De juin à octobre.
From June to October.
Groupe / Classification :
Monocotylédones.
Monocotyledons.
Pérennité / Lifespan :
Annuelle.
Annual.
Description :
Photo 1 :
Localisation / Location : Tilos, Plaine d'Erystos / Plain of Erystos
Date : 06/10/2011
GPS : Lat. 36,44040° N / Long. 27,34962° E / Alt. 15 m
Type : Photographie numérique / Digital Photograph (10 mégapixels)
Photo 2 :
Localisation / Location : Tilos, Plaine d'Erystos / Plain of Erystos
Date : 06/10/2011
GPS : Lat. 36,44040° N / Long. 27,34962° E / Alt. 15 m
Type : Photographie numérique / Digital Photograph (10 mégapixels)
Photo 3 :
Localisation / Location : Tilos, Plaine d'Erystos / Plain of Erystos
Date : 06/10/2011
GPS : Lat. 36,44040° N / Long. 27,34962° E / Alt. 15 m
Type : Photographie numérique / Digital Photograph (10 mégapixels)
Photo 4 :
Localisation / Location : Tilos, Plaine d'Erystos / Plain of Erystos
Date : 06/10/2011
GPS : Lat. 36,44040° N / Long. 27,34962° E / Alt. 15 m
Type : Photographie numérique / Digital Photograph (10 mégapixels)
Photo 5 :
Localisation / Location : Tilos, Plaine d'Erystos / Plain of Erystos
Date : 06/10/2011
GPS : Lat. 36,44040° N / Long. 27,34962° E / Alt. 15 m
Type : Photographie numérique / Digital Photograph (10 mégapixels)
Photo 6 :
Localisation / Location : Tilos, Plaine d'Erystos / Plain of Erystos
Date : 06/10/2011
GPS : Lat. 36,44040° N / Long. 27,34962° E / Alt. 15 m
Type : Photographie numérique / Digital Photograph (10 mégapixels)