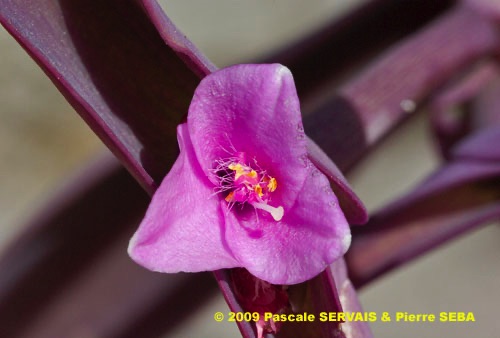 Tradescantia pallida (Rose) D.R.Hunt
© Pascale SERVAIS & Pierre SEBA, 2018. Tilo Botanica: Flore de Tilos et du Dodécanèse / Flora of Tilos and of the Dodecanese
English translation by Brenda Bradbury, Howard Bradbury and Stéphane Léonard
Plante herbacée, hermaphrodite, en touffe étalée à érigée, à tiges charnues, fragiles, violet pourpre, glabres. Plante originaire du Mexique.
Feuilles alternes, simples, lancéolées, persistantes, de 7 à 13 cm de long, pointues, entières, en gouttière, embrassantes, violet pourpre, glabres, ciliées.
Fleurs à symétrie radiaire, roses, de 15 à 20 mm de diamètre, ouvertes uniquement le matin, subsessiles, enfermées au sommet de la tige entre 2 bractées courbes, en forme de bateau, de la même couleur que les feuilles. Corolle à 3 pétales libres, unis. Calice à 3 sépales blanchâtres, libres. 6 étamines à filet hérissé de longs poils. Ovaire supère.
Fruits, capsules à 3 loges, gluantes, rouges, de 5 à 6 mm de diamètre.
___________________________
Plant herbaceous, hermaphrodite, in a spread out to erect tuft. Stems fleshy, flimsy, violet purple, glabrous. Plant native to Mexico.
Leaves alternate, simple, lanceolate, persistent, from 7 to 13 cm long, pointed, entire, in gutter, clasping, violet purple, glabrous, ciliate.
Flowers radially symmetrical, pink, from 15 to 20 mm in diameter, only open the morning, subsessile, enclosed at the top of the stem between 2 curved, boat-shaped bracts, the same colour as the leaves. Corolla with 3 free, self-coloured petals. Calyx with 3 whitish, free sepals. 6 stamens with a filament covered in long hairs. Ovary superior.
Fruits, capsules with 3 sticky, red loculi, from 5 to 6 mm in diameter.
Descripteurs / Identifying features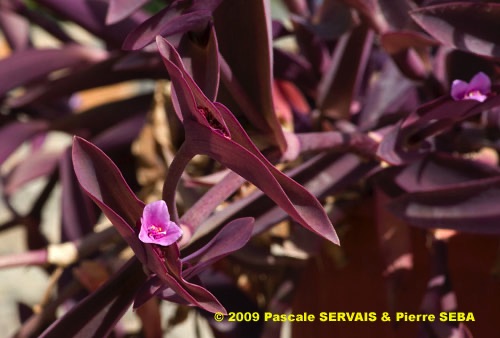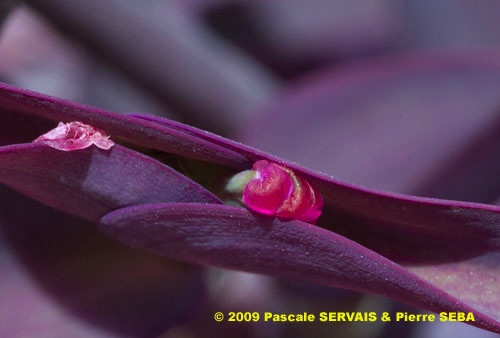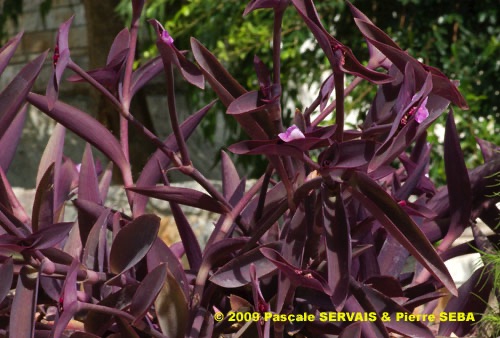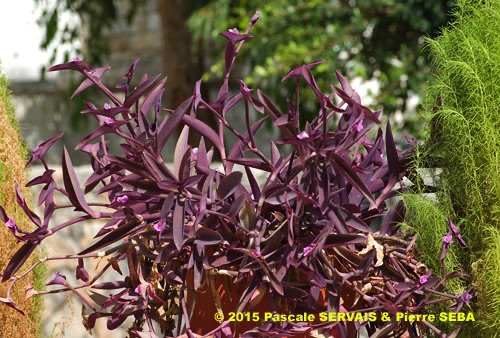 Étymologie / Etymology :
Tradescantia : nom donné en l'honneur de John Tradescant
(ca. 1570-1638), d'origine néerlandaise, jardinier à la Cour de Sa
Majesté britannique.
Pallida : emprunt du latin pallidus, -a, -um (adj.)
[ < palleo, -es, -ere (verbe) = être pâle, être terne ] = pâle, terne.
Tradescantia : name given in honour of John Tradescant (ca. 1570-1638),
of Dutch origin, gardener at the Court of His British Majesty.
Pallida : borrowed from Latin pallidus, -a, -um (adj)
[ < palleo, -es, -ere (verb) = to be pale, to be dull ] = pale, dull.
Synonymes / Synonyms :
Setcreasea pallida Rose
Setcreasea purpurea Boom
Noms vernaculaires / Common names :
Noms français / French names :
Misère pourpre — Setcreasée pâle — Tradescantie pâle.
Noms anglais / English names :
Purewell giant — Purple heart — Purple queen — Wandering jew.
Noms allemands / German names :
Dreimasterblume — Gottesauge — Rotblatt — Wasserranke.
Noms espagnols / Spanish names :
Amor de hombre — Purpurina.
Nom italien / Italian name :
Erba miseria.
Habitat :
Jardins.
Gardens.
Île / Island :
Tilos.
Hauteur / Height range :
De 10 cm à 50 cm.
From 10 cm to 50 cm.
Floraison / Flowering time :
De juin à octobre.
From June to October.
Groupe / Classification :
Monocotylédones.
Monocotyledons.
Pérennité / Lifespan :
Vivace.
Perennial.
Description :

Photo 1 :
Localisation / Location : Tilos, Megalochorio, Village
Date : 14/10/2009
GPS : Lat. 36,45402° N / Long. 27,34535° E / Alt. 70 m
Type : Photographie numérique / Digital Photograph (10 mégapixels)
Photo 2 :
Localisation / Location : Tilos, Megalochorio, Village
Date : 14/10/2009
GPS : Lat. 36,45402° N / Long. 27,34535° E / Alt. 70 m
Type : Photographie numérique / Digital Photograph (10 mégapixels)
Photo 3 :
Localisation / Location : Tilos, Megalochorio, Village
Date : 14/10/2009
GPS : Lat. 36,45402° N / Long. 27,34535° E / Alt. 70 m
Type : Photographie numérique / Digital Photograph (10 mégapixels)
Photo 4 :
Localisation / Location : Tilos, Megalochorio, Village
Date : 14/10/2009
GPS : Lat. 36,45402° N / Long. 27,34535° E / Alt. 70 m
Type : Photographie numérique / Digital Photograph (10 mégapixels)
Photo 5 :
Localisation / Location : Tilos, Megalochorio, Village
Date : 14/10/2009
GPS : Lat. 36,45402° N / Long. 27,34535° E / Alt. 70 m
Type : Photographie numérique / Digital Photograph (10 mégapixels)