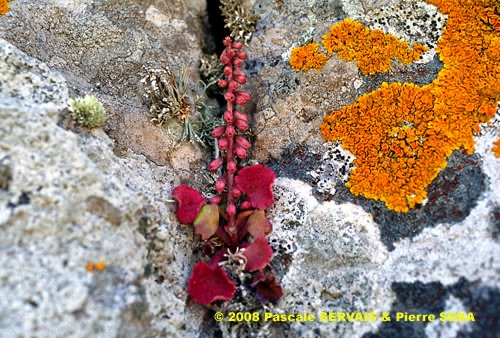 Umbilicus horizontalis (Guss.) DC.
© Pascale SERVAIS & Pierre SEBA, 2018. Tilo Botanica: Flore de Tilos et du Dodécanèse / Flora of Tilos and of the Dodecanese
English translation by Brenda Bradbury, Howard Bradbury and Stéphane Léonard
Plante herbacée, hermaphrodite, dressée, rougeâtre, à racine tubéreuse.
Feuilles à la base et alternes, simples, les basilaires orbiculaires peltées, à long pétiole inséré au centre du limbe, à bords souvent dentelés. Feuilles caulinaires supérieures petites, bractiformes.
Fleurs à symétrie radiaire, vert blanchâtre à jaune paille, parfois teintées de rose, de 7 à 10 mm de long, tubulées, sessiles, horizontales, réunies en grappes effilées égalant la moitié de la tige. Calice plus court que la moitié de la corolle. Ovaire supère.
Fruits, follicules constitués par des carpelles libres entre eux qui s'ouvrent par une fente à maturité.
___________________________
Plant herbaceous, hermaphrodite, erect, reddish, with a tuberose root.
Leaves at the base and alternate, simple, the basilar ones orbicular peltate, with a long petiole inserted into the centre of the blade, often with finely toothed edges. Higher stem-leaves small, bract-shaped.
Flowers radially symmetrical, whitish green to straw yellow, sometimes tinted of pink, from 7 to 10 mm long, tubular, sessile, horizontal, joined together in sharp racemes equalling half of the stem. Calyx shorter than half of the corolla. Ovary superior.
Fruits, follicles made up of carpels free between them which open by a slit at maturity.
Descripteurs / Identifying features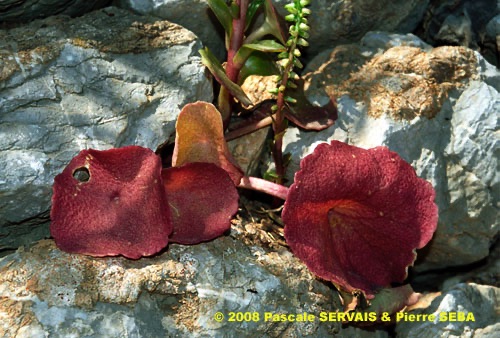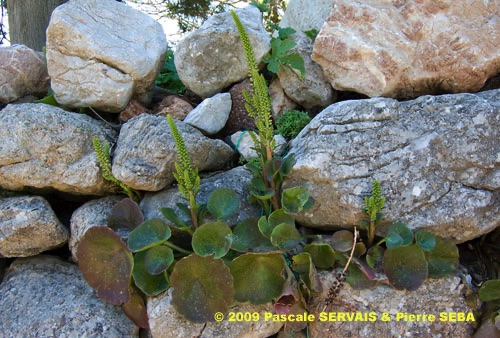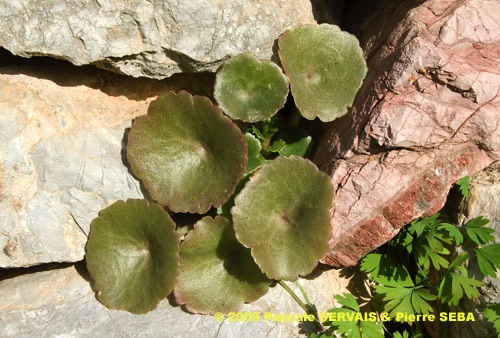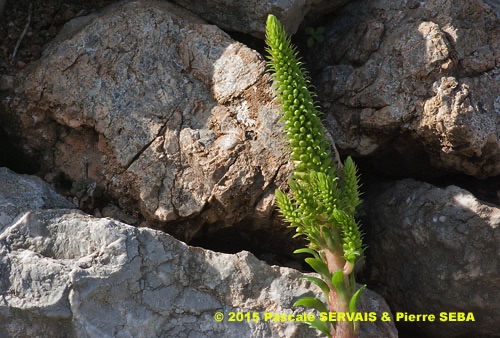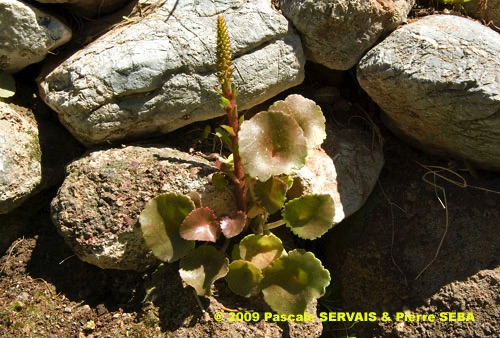 Étymologie / Etymology :
Umbilicus : emprunt du latin umbilicus, -i (nom) = le nombril,
en référence à la forme des feuilles qui ont une dépression en leur
centre.
Horizontalis : emprunt du latin médiéval horizontalis, -is, -e (adj.)
[ < horizon, -ontis (nom) = l'horizon ] = horizontal, en référence à la
position des fleurs sur la grappe.
Umbilicus : borrowed from Latin umbilicus, -i (noun) = navel, referring to
the shape of the leaves which are depressed at their centers.
Horizontalis : borrowed from medieval Latin horizontalis, -is, -e (adj)
[ < horizon, -ontis (noun) = horizon ] = horizontal, referring to the
position of the flowers on the cluster.
Synonymes / Synonyms :
Cotyledon horizontalis Guss.
Cotyledon umbilicus-veneris subsp. horizontalis (Guss.) Batt.
Cotyliphyllum horizontale (Guss.) Link
Umbilicus intermedius sensu Tutin
Umbilicus rupestris subsp. horizontalis (Guss.) O.Bolòs & Vigo
Noms vernaculaires / Common names :
Noms français / French names :
Écuelle — Nombril-de-Vénus.
Noms grecs / Greek names :
Ουμπίλικος ο οριζόντιος — Τραγανός — Χελωνοβότανο.
Noms anglais / English names :
Horizontal navelwort — Narrow navelwort.
Noms allemands / German names :
Waagerechtes Nabelkraut — Waagrechter Venusnabel.
Noms espagnols / Spanish names :
Ombligo de Venus — Oreja de abad — Sombrerillos — Vasillos.
Nom italien / Italian name :
Ombelico di Venere minore.
Habitat :
Lieux pierreux.
Stony places.
Îles / Islands :
Patmos - Tilos.
Hauteur / Height range :
De 10 cm à 70 cm.
From 10 cm to 70 cm.
Floraison / Flowering time :
D'avril à août.
From April to August.
Groupe / Classification :
Dicotylédones.
Dicotyledons.
Pérennité / Lifespan :
Vivace.
Perennial.
Description :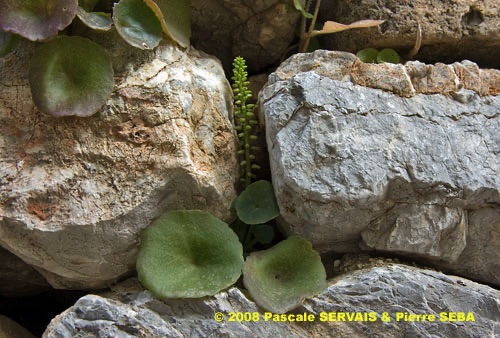 Photo 1 :
Localisation / Location : Patmos, Kastelli
Date : 30/04/2003
GPS : —
Type : Kodak Gold 200 ASA
Photo 2 :
Localisation / Location : Tilos, Livadia
Date : 25/04/2006
GPS : Lat. 36,41090° N / Long. 27,38684° E / Alt. 19 m
Type : Kodak Gold 200 ASA
Photo 3 :
Localisation / Location : Tilos, Chemin de Skafi / Path to Skafi
Date : 27/03/2009
GPS : Lat. 36,45453° N / Long. 27,34984° E / Alt. 52 m
Type : Photographie numérique / Digital Photograph (10 mégapixels)
Photo 4 :
Localisation / Location : Tilos, Chemin de Skafi / Path to Skafi
Date : 21/03/2009
GPS : Lat. 36,45453° N / Long. 27,34984° E / Alt. 52 m
Type : Photographie numérique / Digital Photograph (10 mégapixels)
Photo 5 :
Localisation / Location : Tilos, Livadia
Date : 11/03/2015
GPS : Lat. 36,41084° N / Long. 27,38698° E / Alt. 23 m
Type : Photographie numérique / Digital Photograph (10 mégapixels)
Photo 6 :
Localisation / Location : Tilos, Chemin de Skafi / Path to Skafi
Date : 27/03/2009
GPS : Lat. 36,45453° N / Long. 27,34984° E / Alt. 52 m
Type : Photographie numérique / Digital Photograph (10 mégapixels)
Photo 7 :
Localisation / Location : Tilos, Megalochorio
Date : 14/04/2008
GPS : Lat. 36,45544° N / Long. 27,34592° E / Alt. 87 m
Type : Photographie numérique / Digital Photograph (10 mégapixels)