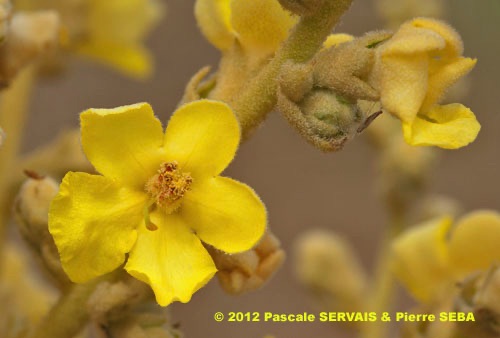 Verbascum glomeratum Boiss.
© Pascale SERVAIS & Pierre SEBA, 2018. Tilo Botanica: Flore de Tilos et du Dodécanèse / Flora of Tilos and of the Dodecanese
English translation by Brenda Bradbury, Howard Bradbury and Stéphane Léonard
Plante herbacée, hermaphrodite, à souche ligneuse, à poils étalés jaunâtres, à grande tige florifère cylindrique de 12 à 15 mm de diamètre, à nombreuses ramifications ascendantes.
Feuilles en rosette basale ou alternes, vert jaunâtre, simples, lancéolées, couvertes de poils feutrés, à bords sinués. Feuilles basales de 15 à 30 cm de long, de 8 à 9 cm de large, couvertes de poils étoilés jaunâtres, à pétiole de 7 à 8 cm de long. Feuilles caulinaires sessiles, légèrement embrassantes, pointues, de 10 à 12 cm de long, de 4 à 6 cm de large. Bractées acuminées, de 10 à 13 mm de long, glabres dessus, poilues dessous.
Fleurs à symétrie radiaire, jaune vif, de 15 à 20 mm de diamètre, sessiles, réunies par 4 à 9 en groupes de 25 à 30 mm de large, rapprochés, sur une hampe florale de 30 à 70 cm de long. Corolle à 5 pétales soudés à la base en tube d'environ 3 mm de long. Calice à 5 sépales soudés à la base, couverts de poils vert jaunâtre. 5 étamines inégales à filet orange, velu; poils des filets blancs. 1 style et 1 stigmate. Ovaire supère.
Fruits, capsules globuleuses à ovoïdes, à nombreuses graines, dépassant à peine le calice persistant.
___________________________
Plant herbaceous, hermaphrodite, with a woody stock, with yellowish spread out hairs. Floriferous stem large, cylindrical, from 12 to 15 mm in diameter, with numerous ascending ramifications.
Leaves in a rosette at the base or alternate, yellowish green, simple, lanceolate, covered in felted hairs, with sinuate edges. Lower leaves from 15 to 30 cm long, from 8 to 9 cm across, covered in yellowish stellate hairs, with a petiole from 7 to 8 cm long. Upper leaves sessile, slightly clasping, pointed, from 10 to 12 cm long, from 4 to 6 cm across. Bracts acuminate, from 10 to 13 mm long, glabrous above, hairy below.
Flowers radially symmetrical, bright yellow, from 15 to 20 mm in diameter, stalkless, joined together by 4 to 9 in groups from 25 to 30 mm across, close to each other, on a floral pole from 30 to 70 cm long. Corolla with 5 petals partly fused in tube approximately 3 mm long. Calyx with 5 partly fused sepals, covered in yellowish green hairs. 5 unequal stamens with a very hairy, orange filament; hairs of the filaments white. 1 style and 1 stigma. Ovary superior.
Fruits, globose to ovoid capsules, with numerous seeds, scarcely exceeding the persistent calyx.
Descripteurs / Identifying features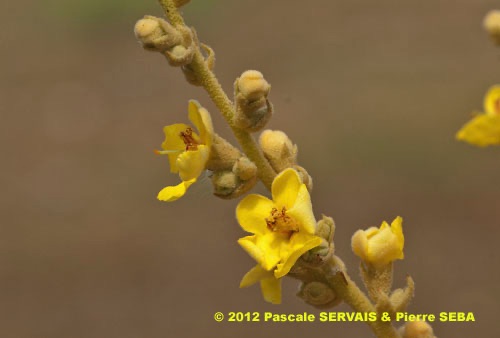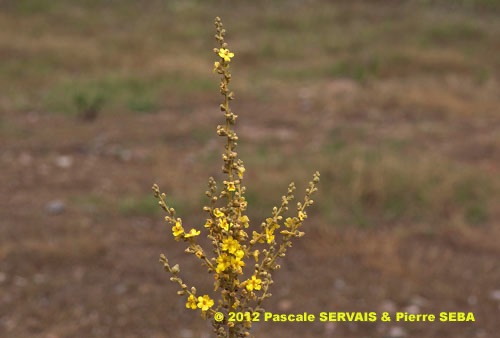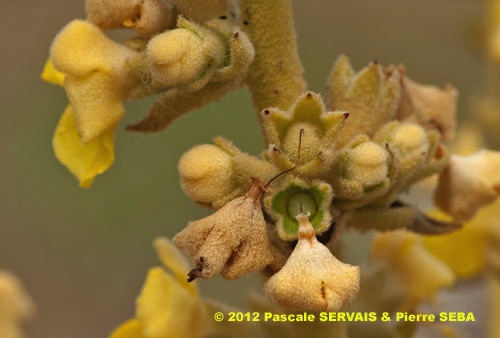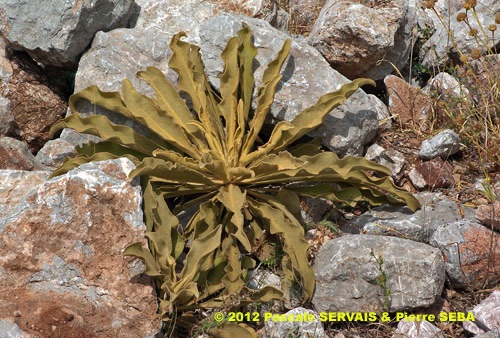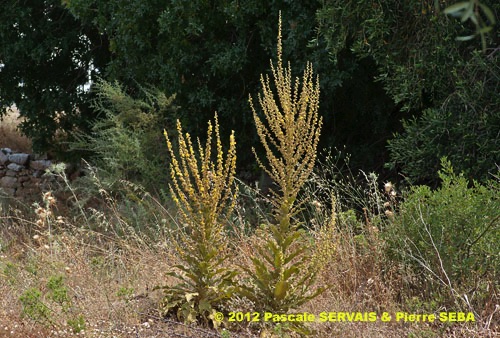 Étymologie / Etymology :
Verbascum : emprunt du latin verbascum, -i (nom) = la molène,
nom donné à la plante par Pline, naturaliste latin mort en 79 apr. J.-C.
Glomeratum : emprunt du latin glomeratus, -a, -um (part. passé)
[ < glomero, -as, -are (verbe) = mettre en pelote, grouper en tête
arrondie ] = en forme de tête arrondie, en référence à la forme
de l'inflorescence.
Verbascum : borrowed from Latin verbascum, -i (noun) = mullein,
name given to the plant by Plinius, Latin naturalist died in 79 AD.
Glomeratum : borrowed from Latin glomeratus, -a, -um (past participle)
[ < glomero, -as, -are (verb) = to gather into a ball, to form into
a round head ] = in the shape of round head, referring to the shape
of the inflorescence.
Synonyme / Synonym :
Verbascum cotoneum Delile ex Godr.
Noms vernaculaires / Common names :
Nom français / French name :
Molène agglomérée.
Noms grecs / Greek names :
Βερμπάσκο — Γλώσσα.
Habitat :
Lieux pierreux - Lieux incultes - Sols sableux - Chemins.
Stony places - Waste ground - Sandy soils - Waysides.
Île / Island :
Tilos.
Hauteur / Height range :
De 70 cm à 2 m.
From 70 cm to 2 m.
Floraison / Flowering time :
De mai à juin.
From May to June.
Groupe / Classification :
Dicotylédones.
Dicotyledons.
Pérennité / Lifespan :
Annuelle ou bisannuelle.
Annual or biennial.
Description :
Clés dichotomiques et descripteurs distinctifs des 3 espèces / Dichotomous keys and distinctive identifying features of the 3 species
Photo 1 :
Localisation / Location : Tilos, Aghios Stephanos
Date : 02/06/2012
GPS : Lat. 36,40998° N / Long. 27,39449° E / Alt. 2 m
Type : Photographie numérique / Digital Photograph (10 mégapixels)
Photo 2 :
Localisation / Location : Tilos, Aghios Stephanos
Date : 02/06/2012
GPS : Lat. 36,40998° N / Long. 27,39449° E / Alt. 2 m
Type : Photographie numérique / Digital Photograph (10 mégapixels)
Photo 3 :
Localisation / Location : Tilos, Aghios Stephanos
Date : 02/06/2012
GPS : Lat. 36,40998° N / Long. 27,39449° E / Alt. 2 m
Type : Photographie numérique / Digital Photograph (10 mégapixels)
Photo 4 :
Localisation / Location : Tilos, Aghios Stephanos
Date : 02/06/2012
GPS : Lat. 36,40998° N / Long. 27,39449° E / Alt. 2 m
Type : Photographie numérique / Digital Photograph (10 mégapixels)
Photo 5 :
Localisation / Location : Tilos, Aghios Stephanos
Date : 02/06/2012
GPS : Lat. 36,40902° N / Long. 27,39466° E / Alt. 4 m
Type : Photographie numérique / Digital Photograph (10 mégapixels)
Photo 6 :
Localisation / Location : Tilos, Aghios Stephanos
Date : 02/06/2012
GPS : Lat. 36,40902° N / Long. 27,39466° E / Alt. 4 m
Type : Photographie numérique / Digital Photograph (10 mégapixels)