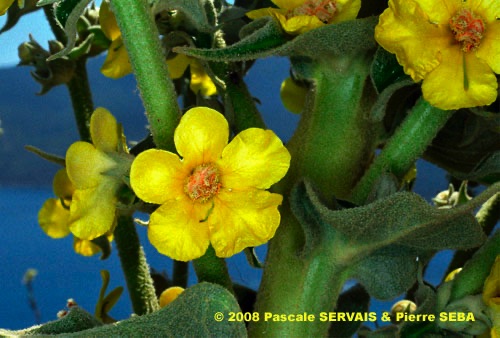 © Pascale SERVAIS & Pierre SEBA, 2018. Tilo Botanica: Flore de Tilos et du Dodécanèse / Flora of Tilos and of the Dodecanese
English translation by Brenda Bradbury, Howard Bradbury and Stéphane Léonard
Plante herbacée, hermaphrodite, très poilue, à souche ligneuse, à grandes tiges florifères non ramifiées émergeant d'une grande rosette de feuilles.
Feuilles en rosette basale ou alternes, simples ou divisées pennatifides, densément couvertes de poils laineux blancs, gris ou jaunes, oblongues, de 10 à 20 cm de long, pétiolées, à bords lobés et très ondulés. Feuilles supérieures sessiles, à base atténuée, parfois sans ondulations. Bractées foliacées, entières, à base tronquée.
Fleurs à symétrie radiaire, jaune vif, de 15 à 50 mm de diamètre, réunies par 2 à 5 en plusieurs petits bouquets espacés formant un épi. Corolle à 5 pétales un peu inégaux, soudés en tube court. Calice à 5 sépales soudés. 5 étamines inégales à filet velu; poils des filets blancs. 1 style et 1 stigmate. Ovaire supère.
Fruits, capsules elliptiques, à nombreuses graines, de 4 à 6 mm de long.
___________________________
Plant herbaceous, hermaphrodite, very hairy, with a woody stock. Floriferous stems large, unbranched, emerging from a large rosette of leaves.
Leaves in a rosette at the base or alternate, simple or dissected pinnatifid, densely covered in white, grey or yellow, woolly hairs, oblong, from 10 to 20 cm long, petiolate, with lobed and very wavy edges. Upper leaves sessile, with an attenuated base, sometimes without undulations. Bracts foliaceous, entire, with a truncate base.
Flowers radially symmetrical, bright yellow, from 15 to 50 mm in diameter, joined together by 2 to 5 in several small, spaced clusters forming a spike. Corolla with 5 petals a little unequal, fused in a short tube. Calyx with 5 fused sepals. 5 unequal stamens with a very hairy filament; hairs of the filaments white. 1 style and 1 stigma. Ovary superior.
Fruits, elliptic capsules, with numerous seeds, from 4 to 6 mm long.
Descripteurs / Identifying features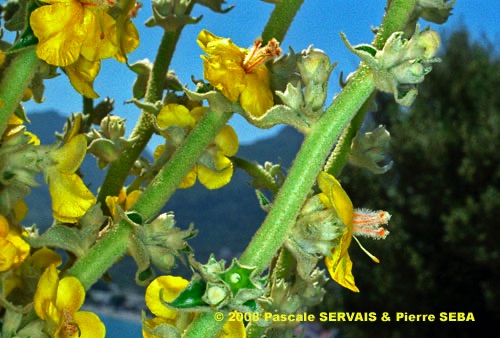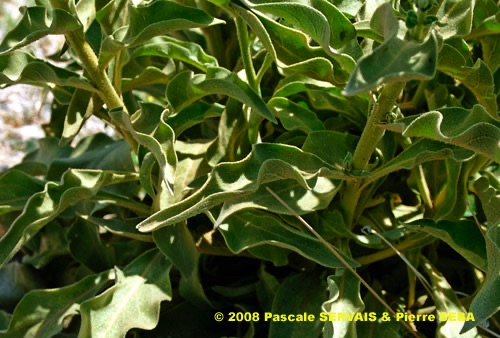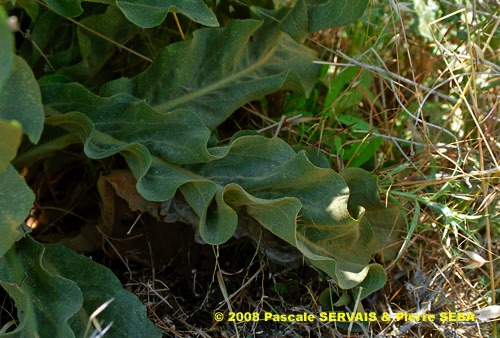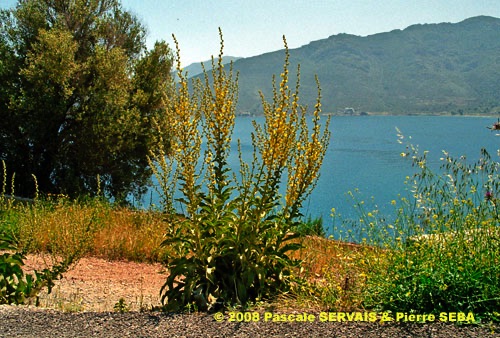 Étymologie / Etymology :
Verbascum : emprunt du latin verbascum, -i (nom) = la molène,
nom donné à la plante par Pline, naturaliste latin mort en 79 apr. J.-C.
Undulatum : emprunt du latin undulatus, -a, -um (adj.)
[ < undula, -ae (nom) = la petite vague, la légère ondulation ]
= ondulé, à bord ondulé.
Verbascum : borrowed from Latin verbascum, -i (noun) = mullein,
name given to the plant by Plinius, Latin naturalist died in 79 AD.
Undulatum : borrowed from Latin undulatus, -a, -um (adj)
[ < undula, -ae (noun) = small wave, slight undulation ]
= undulated, corrugated, wavy-margined.
Synonyme / Synonym :
—
Noms vernaculaires / Common names :
Nom français / French name :
Molène ondulée.
Noms grecs / Greek names :
Βερμπάσκο — Βερμπάσκο το κυματόφυλλο — Γλώσσα —
Μελίσσανδρος — Σπλόνος — Φλομόχορτο.
Noms anglais / English names :
Mullein — Wavy-leafed mullein.
Habitat :
Lieux pierreux - Lieux incultes - Sols sableux - Chemins.
Stony places - Waste ground - Sandy soils - Waysides.
Îles / Islands :
Patmos - Tilos.
Hauteur / Height range :
De 30 cm à 2 m.
From 30 cm to 2 m.
Floraison / Flowering time :
De mars à août.
From March to August.
Groupe / Classification :
Dicotylédones.
Dicotyledons.
Pérennité / Lifespan :
Bisannuelle ou vivace.
Biennial or perennial.
Description :
Clés dichotomiques et descripteurs distinctifs des 3 espèces / Dichotomous keys and distinctive identifying features of the 3 species
Photo 1 :
Localisation / Location : Tilos, Livadia, Village
Date : 26/04/2006
GPS : Lat. 36,41800° N / Long. 27,38530° E / Alt. 25 m
Type : Kodak Gold 200 ASA
Photo 2 :
Localisation / Location : Tilos, Livadia, Village
Date : 26/04/2006
GPS : Lat. 36,41800° N / Long. 27,38530° E / Alt. 25 m
Type : Kodak Gold 200 ASA
Photo 3 :
Localisation / Location : Tilos, Livadia, Village
Date : 26/04/2006
GPS : Lat. 36,41800° N / Long. 27,38530° E / Alt. 25 m
Type : Kodak Gold 200 ASA
Photo 4 :
Localisation / Location : Tilos, Livadia, Village
Date : 26/04/2006
GPS : Lat. 36,41800° N / Long. 27,38530° E / Alt. 25 m
Type : Kodak Gold 200 ASA
Photo 5 :
Localisation / Location : Tilos, Livadia, Village
Date : 26/04/2006
GPS : Lat. 36,41800° N / Long. 27,38530° E / Alt. 25 m
Type : Kodak Gold 200 ASA