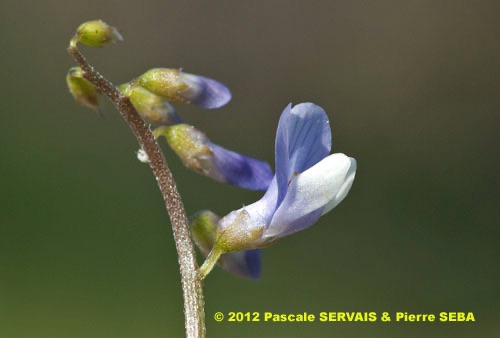 © Pascale SERVAIS & Pierre SEBA, 2018. Tilo Botanica: Flore de Tilos et du Dodécanèse / Flora of Tilos and of the Dodecanese
English translation by Brenda Bradbury, Howard Bradbury and Stéphane Léonard
Plante herbacée, hermaphrodite, grimpante, à tiges anguleuses, non ramifiées, à poils épars.
Feuilles alternes, composées paripennées, à 12 à 20 folioles, à vrille ramifiée. Folioles linéaires, presque glabres, de 5 à 10 mm de long et de 1 mm de large, terminées par 1 courte pointe. Stipules entières, petites, de 2 mm de long, linéaires, poilues.
Fleurs à symétrie bilatérale, bleu mauve pâle, de 4 à 7 mm de long, réunies en grappes lâches, de 15 à 40 mm de long, portées par un pédoncule souvent plus court que la feuille sous-jacente. Corolle papilionacée, à étendard et carène bleus, veinés de mauve foncé, à ailes blanches. Calice à 5 dents égales, soudées, vert pâle, légèrement poilues. Ovaire supère.
Fruits, gousses droites, aplaties, glabres, de 18 à 25 mm de long et de 8 à 10 mm de large, vertes puis brun pâle à maturité.
___________________________
Plant herbaceous, hermaphrodite, climbing. Stems angular, unbranched, with scattered hairs.
Leaves alternate, compound paripinnate, with 12 to 20 leaflets, with a branched tendril. Leaflets linear, almost glabrous, from 5 to 10 mm long and 1 mm across, finished by 1 short point. Stipules entire, small, 2 mm long, linear, hairy.
Flowers bilaterally symmetrical, pale mauve blue, from 4 to 7 mm long, joined together in loose racemes, from 15 to 40 mm long, carried by a peduncle often shorter than the underlying leaf. Corolla papilionaceous, with blue standard and keel, with dark mauve veins, with white wings. Calyx with 5 equal, fused, pale green, slightly hairy teeth. Ovary superior.
Fruits, straight, flattened, glabrous pods, from 18 to 25 mm long and from 8 to 10 mm across, green then pale brown at maturity.
Descripteurs / Identifying features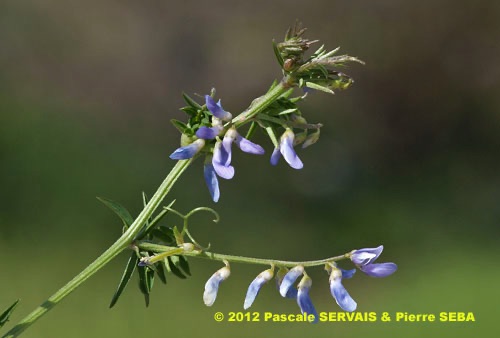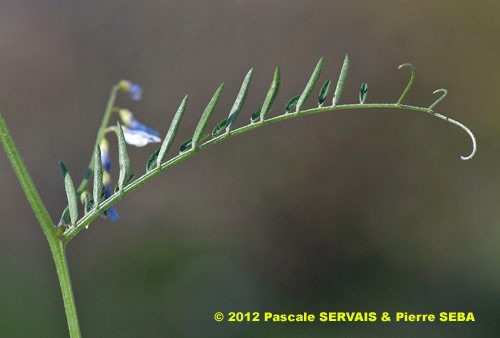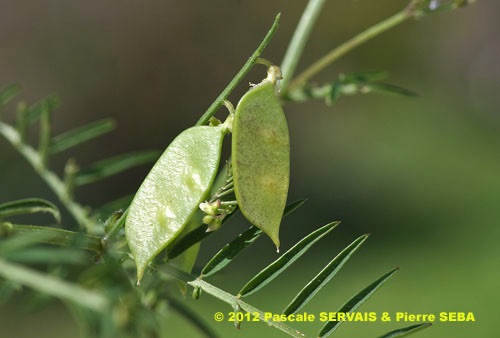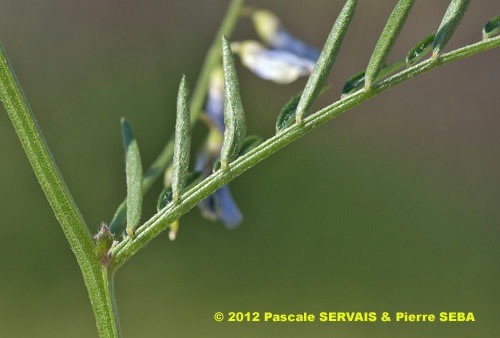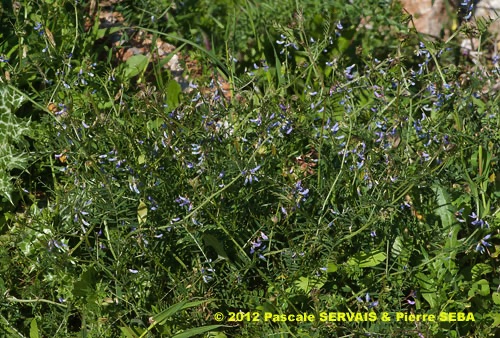 Étymologie / Etymology :
Vicia : emprunt du latin vicia, -ae (nom) = la vesce, nom donné à
la plante par Pline, naturaliste latin mort en 79 apr. J.-C., forme
latinisée du grec ancien βικία, -ας (nom) = la vesce.
Palaestina : emprunt du latin palaestinus, -a, -um (adj.) = de Palestine,
qui provient de Palestine.
Vicia : borrowed from Latin vicia, -ae (noun) = vetch, name given to
the plant by Plinius, Latin naturalist died in 79 AD, Latinized form of
the Classical Greek βικία, -ας (noun) = vetch.
Palaestina : borrowed from Latin palaestinus, -a, -um (adj)
= of or from Palestine.
Synonyme / Synonym :
—
Noms vernaculaires / Common names :
Nom français / French name :
Vesce de Palestine.
Nom grec / Greek name :
Αγριόβικος.
Noms anglais / English names :
Palestine vetch — Palestinian vetch.
Nom allemand / German name :
Palästina-Wicke.
Habitat :
Lieux pierreux - Lieux incultes - Chemins.
Stony places - Waste ground - Waysides.
Île / Island :
Tilos.
Hauteur / Height range :
De 10 cm à 50 cm.
From 10 cm to 50 cm.
Floraison / Flowering time :
De février à mai.
From February to May.
Groupe / Classification :
Dicotylédones.
Dicotyledons.
Pérennité / Lifespan :
Annuelle.
Annual.
Description :
Clés dichotomiques et descripteurs distinctifs des 11 espèces / Dichotomous keys and distinctive identifying features of the 11 species
Photo 1 :
Localisation / Location : Tilos, Livadia
Date : 20/03/2012
GPS : Lat. 36,41083° N / Long. 27,38764° E / Alt. 18 m
Type : Photographie numérique / Digital Photograph (10 mégapixels)
Photo 2 :
Localisation / Location : Tilos, Livadia
Date : 20/03/2012
GPS : Lat. 36,41083° N / Long. 27,38764° E / Alt. 18 m
Type : Photographie numérique / Digital Photograph (10 mégapixels)
Photo 3 :
Localisation / Location : Tilos, Livadia
Date : 20/03/2012
GPS : Lat. 36,41083° N / Long. 27,38764° E / Alt. 18 m
Type : Photographie numérique / Digital Photograph (10 mégapixels)
Photo 4 :
Localisation / Location : Tilos, Livadia
Date : 20/03/2012
GPS : Lat. 36,41083° N / Long. 27,38764° E / Alt. 18 m
Type : Photographie numérique / Digital Photograph (10 mégapixels)
Photo 5 :
Localisation / Location : Tilos, Livadia
Date : 20/03/2012
GPS : Lat. 36,41083° N / Long. 27,38764° E / Alt. 18 m
Type : Photographie numérique / Digital Photograph (10 mégapixels)
Photo 6 :
Localisation / Location : Tilos, Livadia
Date : 20/03/2012
GPS : Lat. 36,41083° N / Long. 27,38764° E / Alt. 18 m
Type : Photographie numérique / Digital Photograph (10 mégapixels)