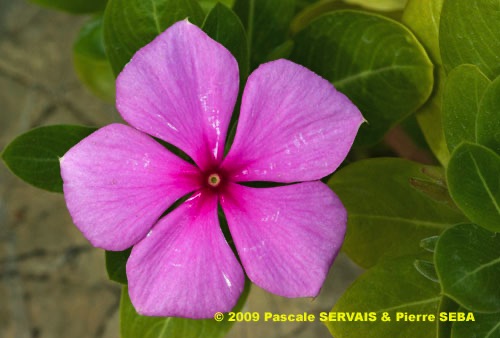 © Pascale SERVAIS & Pierre SEBA, 2018. Tilo Botanica: Flore de Tilos et du Dodécanèse / Flora of Tilos and of the Dodecanese
English translation by Brenda Bradbury, Howard Bradbury and Stéphane Léonard
Plante herbacée, à base ligneuse, hermaphrodite, à tiges étalées à érigées, poilues, originaire de l'Inde et de Madagascar.
Feuilles opposées, simples, elliptiques, vert brillant, entières, persistantes, de 25 à 90 mm de long, poilues et ciliées, à nervure médiane pâle, à pétiole court, sans stipules.
Fleurs à symétrie radiaire, roses, à centre rose vif, de 25 à 50 mm de diamètre, réunies en bouquets de 6 à 8 cm de large. Corolle à 5 pétales soudés à la base, en tube de 25 mm de long. Calice à 5 sépales soudés à la base, verts. 5 étamines soudées au tube de la corolle. Ovaire supère.
Fruits, une paire de follicules, de 20 à 40 mm de long, de 3 mm de large, vert clair, velus.
___________________________
Plant herbaceous, woody at the base, hermaphrodite. Stems spread out to erect, hairy. Plant native to India and Madagascar.
Leaves opposite, simple, elliptic, bright green, entire, persistent, from 25 to 90 mm long, hairy and ciliate, with a pale median vein, with a short petiole, without stipules.
Flowers radially symmetrical, pink, with a bright pink centre, from 25 to 50 mm in diameter, joined together in clusters from 6 to 8 cm across. Corolla with 5 petals partly fused in tube of 25 mm long. Calyx with 5 partly fused, green sepals. 5 stamens fused with the tube of the corolla. Ovary superior.
Fruits, a pair of pale green, hairy follicles, from 20 to 40 mm long, 3 mm across.
Descripteurs / Identifying features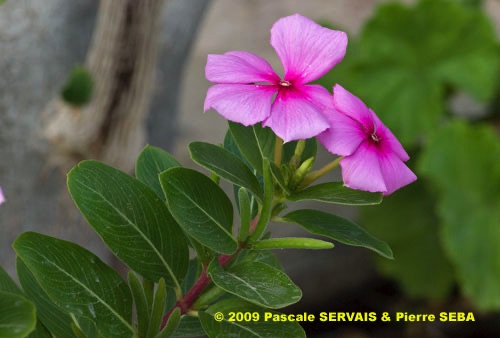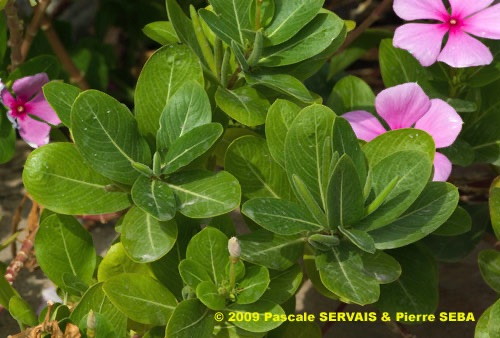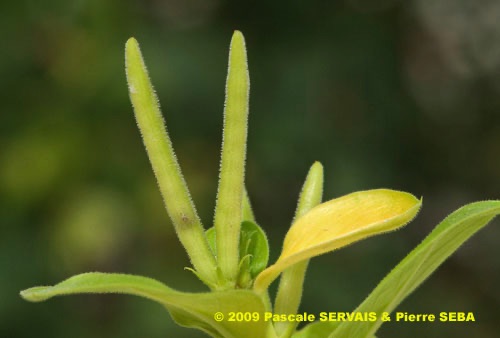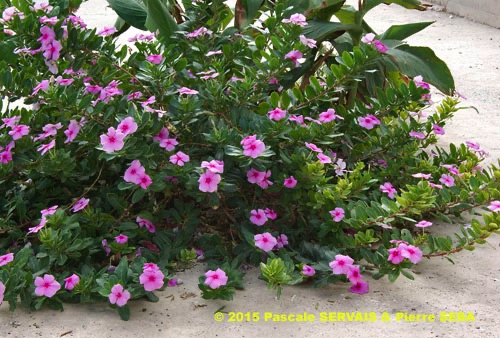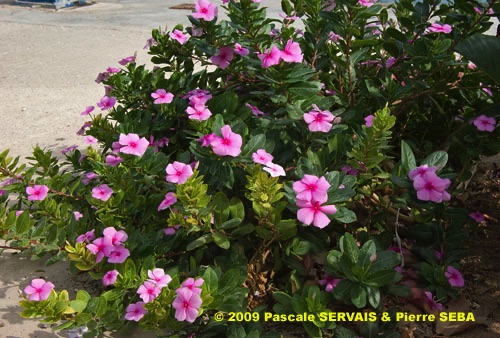 Étymologie / Etymology :
Vinca : emprunt du latin vinca (pervinca), -ae (nom)
[ < (?) vincio, -is, -ire (verbe) = lier, attacher ] = la pervenche, nom
donné à la plante par Pline, naturaliste latin mort en 79 apr. J.-C., en
référence aux nombreux stolons qui fixent certaines espèces de
pervenche.
Rosea : emprunt du latin roseus, -a, -um (adj.)
[ < rosa, -ae (nom) = la rose ] = qui a l'apparence de la rose, qui a la
couleur de la rose.
Vinca : borrowed from Latin vinca (pervinca), -ae (noun)
[ < (?) vincio, -is, -ire (verb) = to bind, to tie ] = periwinkle, name given
to the plant by Plinius, Latin naturalist died in 79 AD, referring to the
numerous offsets which fix some species of periwinkle.
Rosea : borrowed from Latin roseus, -a, - um (adj)
[ < rosa, -ae (noun) = rose ] = which has the appearance of the
rose, rose colored, rosy.
Synonymes / Synonyms :
Catharanthus roseus (L.) G.Don
Ammocallis rosea (L.) Small
Lochnera rosea (L.) Rchb. ex Spach
Noms vernaculaires / Common names :
Nom français / French name :
Pervenche de Madagascar.
Nom grec / Greek name :
Βίγκα η ρόδινος.
Noms anglais / English names :
Cape periwinkle — Cayenne jasmine — Madagascar periwinkle —
Old-maid — Periwinkle — Red sadabahar — Rose periwinkle —
Rosy periwinkle — Sadabahar.
Noms espagnols / Spanish names :
Pervinca de Madagascar — Vinca del Cabo — Vinca rosa —
Vinca rosada.
Nom italien / Italian name :
Pervinca rosea.
Habitat :
Jardins.
Gardens.
Île / Island :
Tilos.
Hauteur / Height range :
De 20 cm à 70 cm.
From 20 cm to 70 cm.
Floraison / Flowering time :
De janvier à décembre.
From January to December.
Groupe / Classification :
Dicotylédones.
Dicotyledons.
Pérennité / Lifespan :
Vivace.
Perennial.
Description :
Photo 1 :
Localisation / Location : Tilos, Livadia
Date : 15/10/2009
GPS : Lat. 36,41705° N / Long. 27,38557° E / Alt. 2 m
Type : Photographie numérique / Digital Photograph (10 mégapixels)
Photo 2 :
Localisation / Location : Tilos, Livadia
Date : 15/10/2009
GPS : Lat. 36,41705° N / Long. 27,38557° E / Alt. 2 m
Type : Photographie numérique / Digital Photograph (10 mégapixels)
Photo 3 :
Localisation / Location : Tilos, Livadia
Date : 15/10/2009
GPS : Lat. 36,41705° N / Long. 27,38557° E / Alt. 2 m
Type : Photographie numérique / Digital Photograph (10 mégapixels)
Photo 4 :
Localisation / Location : Tilos, Livadia
Date : 15/10/2009
GPS : Lat. 36,41705° N / Long. 27,38557° E / Alt. 2 m
Type : Photographie numérique / Digital Photograph (10 mégapixels)
Photo 5 :
Localisation / Location : Tilos, Livadia
Date : 15/10/2009
GPS : Lat. 36,41705° N / Long. 27,38557° E / Alt. 2 m
Type : Photographie numérique / Digital Photograph (10 mégapixels)
Photo 6 :
Localisation / Location : Tilos, Livadia
Date : 15/10/2009
GPS : Lat. 36,41705° N / Long. 27,38557° E / Alt. 2 m
Type : Photographie numérique / Digital Photograph (10 mégapixels)