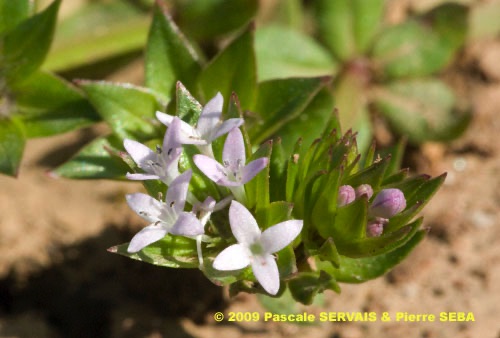 © Pascale SERVAIS & Pierre SEBA, 2018. Tilo Botanica: Flore de Tilos et du Dodécanèse / Flora of Tilos and of the Dodecanese
English translation by Brenda Bradbury, Howard Bradbury and Stéphane Léonard
Plante herbacée, hermaphrodite, à tiges étalées à érigées, quadrangulaires, glabres.
Feuilles verticillées par 6 à 8, simples, linéaires à lancéolées, poilues sur la face supérieure.
Fleurs à symétrie radiaire, bleues, lilas ou roses, de 4 mm de diamètre, réunies en bouquets de 10 à 15 mm de large, entourés d'une collerette de bractées foliacées, longuement ciliées, aussi longues ou plus longues que les fleurs. Corolle à 4 pétales soudés en un tube plus long que les lobes. Ovaire infère.
Fruits, capsules lisses, brunes, de 2 à 3 mm de diamètre, sans calice persistant au sommet.
___________________________
Plant herbaceous, hermaphrodite. Stems spread out to erect, quadrangular, glabrous.
Leaves verticillate by 6 to 8, simple, linear to lanceolate, hairy on the upper surface.
Flowers radially symmetrical, blue, lilac or pink, 4 mm in diameter, joined together in clusters from 10 to 15 mm across, surrounded by a collar of foliaceous and lengthily ciliate bracts, as long as or longer than the flowers. Corolla with 4 petals fused in a tube longer than the lobes. Ovary inferior.
Fruits, capsules smooth, brown, from 2 to 3 mm in diameter, without a persistent calyx at the top.
Descripteurs / Identifying features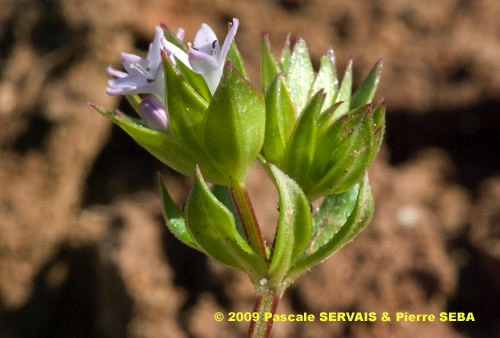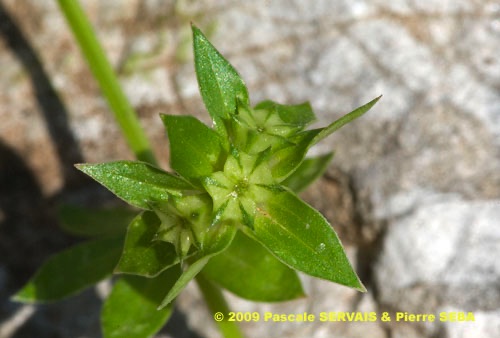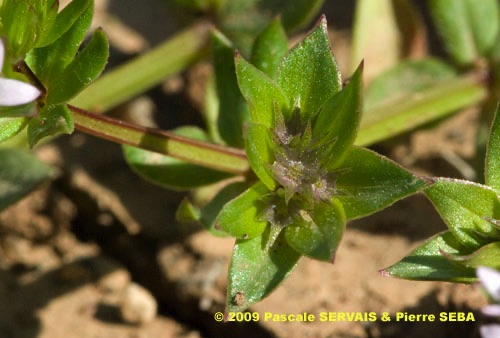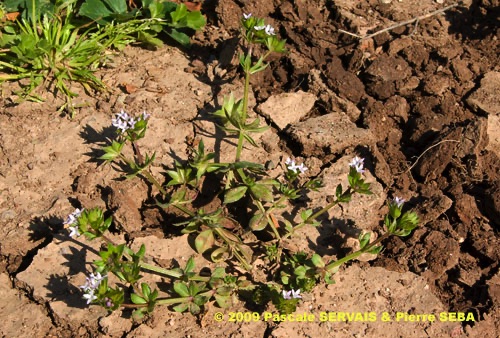 Étymologie / Etymology :
Asperula : nom créé par les botanistes [ < asper, -era, -erum (adj.)
= rugueux, rude + -ulus (suffixe) = petit, un peu ] = qui est un peu
rugueux, en référence aux bords des feuilles.
Arvensis : adjectif créé par les botanistes [ < arvum, -i (nom)
= le champ cultivé ] = qui pousse dans les champs cultivés.
Asperula : name created by botanists [ < asper, -era, -erum (adj)
= rough, hard + -ulus (suffix) = small, a little ] = a little rough,
referring to the edges of the leaves.
Arvensis : adjective created by botanists [ < arvum, -i (noun)
= field, cultivated land ] = which grows in cultivated fields.
Synonymes / Synonyms :
Asperula caerulea Bubani
Asperula ciliata Moench
Noms vernaculaires / Common names :
Noms français / French names :
Aspérule bleue — Aspérule des champs — Petite râpette.
Nom anglais / English name :
Blue woodruff.
Noms allemands / German names :
Acker-Meier — Acker-Meister — Acker-Waldmeister.
Nom espagnol / Spanish name :
Rabula.
Nom italien / Italian name :
Stellina dei campi.
Habitat :
Cultures - Lieux pierreux - Lieux incultes.
Cultivated places - Stony places - Waste ground.
Île / Island :
Tilos.
Hauteur / Height range :
De 10 cm à 30 cm.
From 10 cm to 30 cm.
Floraison / Flowering time :
De février à juin.
From February to June.
Groupe / Classification :
Dicotylédones.
Dicotyledons.
Pérennité / Lifespan :
Annuelle.
Annual.
Description :
Photo 1 :
Localisation / Location : Tilos, Livadia, Village
Date : 21/03/2009
GPS : Lat. 36,41174° N / Long. 27,38776° E / Alt. 5 m
Type : Photographie numérique / Digital Photograph (10 mégapixels)
Photo 2 :
Localisation / Location : Tilos, Livadia, Village
Date : 21/03/2009
GPS : Lat. 36,41174° N / Long. 27,38776° E / Alt. 5 m
Type : Photographie numérique / Digital Photograph (10 mégapixels)
Photo 3 :
Localisation / Location : Tilos, Megalochorio, Chemin de Skafi
Date : 02/04/2009
GPS : Lat. 36,45496° N / Long. 27,34960° E / Alt. 55 m
Type : Photographie numérique / Digital Photograph (10 mégapixels)
Photo 4 :
Localisation / Location : Tilos, Livadia, Village
Date : 21/03/2009
GPS : Lat. 36,41174° N / Long. 27,38776° E / Alt. 5 m
Type : Photographie numérique / Digital Photograph (10 mégapixels)
Photo 5 :
Localisation / Location : Tilos, Livadia, Village
Date : 21/03/2009
GPS : Lat. 36,41174° N / Long. 27,38776° E / Alt. 5 m
Type : Photographie numérique / Digital Photograph (10 mégapixels)