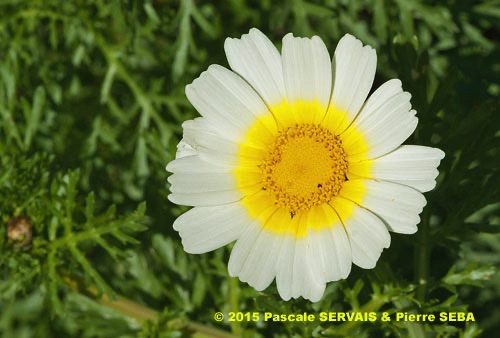 Glebionis coronaria (L.) Cass. ex Spach
© Pascale SERVAIS & Pierre SEBA, 2018. Tilo Botanica: Flore de Tilos et du Dodécanèse / Flora of Tilos and of the Dodecanese
English translation by Brenda Bradbury, Howard Bradbury and Stéphane Léonard
Plante herbacée, hermaphrodite, à tiges dressées à ascendantes, parfois un peu poilues.
Feuilles alternes, divisées pennatifides à pennatipartites, dentées, embrassantes.
Fleurs à fleurons tubulés jaunes et à fleurons ligulés soit entièrement jaune pâle, soit jaunes à la base des ligules et blanches à la périphérie, réunies en capitules de 30 à 60 mm de diamètre. Pédoncules épaissis sous le capitule. Ovaire infère.
Fruits, akènes sans touffe de poils.
___________________________
Plant herbaceous, hermaphrodite. Stems erect to ascending, sometimes a little hairy.
Leaves alternate, dissected pinnatifid to pinnatipartite, toothed, clasping.
Flowers with yellow disk-florets and with ray-florets either entirely pale yellow, or yellow at the base of the ligules and white at the periphery, joined together in capitula from 30 to 60 mm in diameter. Peduncles thickened under the capitulum. Ovary inferior.
Fruits, achenes without a tuft of hairs.
Descripteurs / Identifying features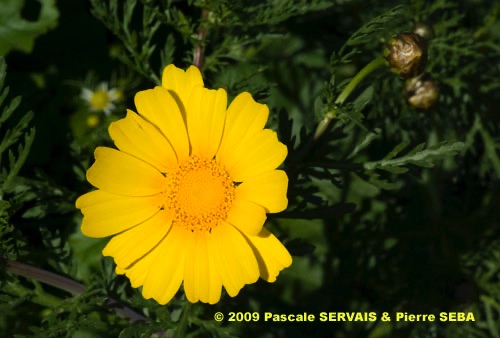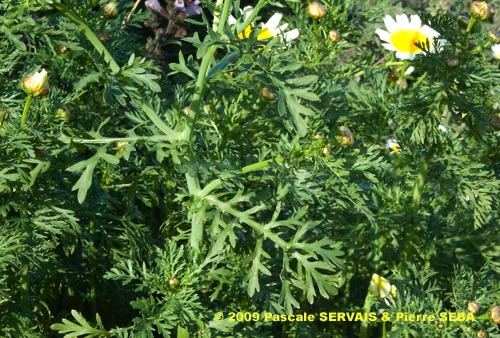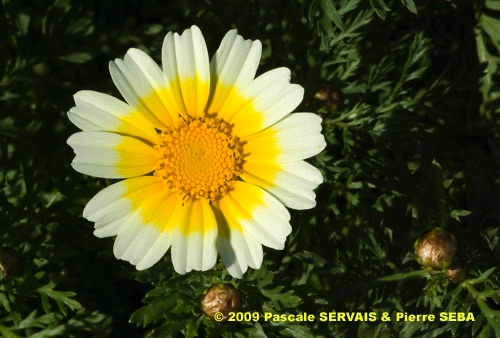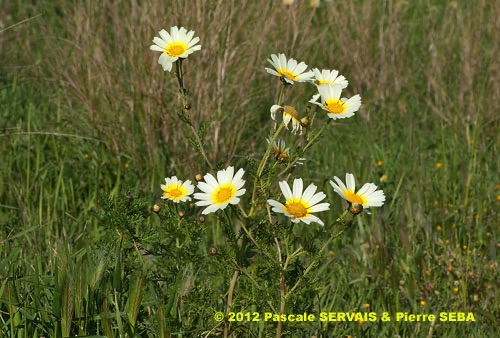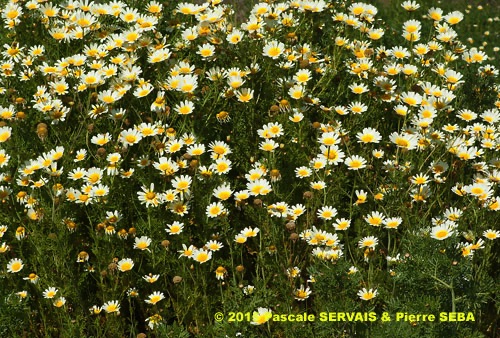 Étymologie / Etymology :
Glebionis : nom créé en 1826 par Alexandre Henri Gabriel de Cassini,
emprunt du latin gleba, -ae (nom) = la glèbe, le sol, le terrain cultivé,
en référence à sa présence jadis abondante en bordure des champs.
Coronaria : emprunt du latin coronarius, -a, -um (adj.) = dont on fait
des couronnes, en forme de couronne.
Glebionis : name created in 1826 by Alexandre Henri Gabriel de Cassini,
borrowed from Latin gleba, -ae (noun) = soil, cultivated land,
referring to its formerly abundant presence at the edge of fields.
Coronaria : borrowed from Latin coronarius, -a, -um (adj) = used for
wreathes or garlands, wreath-shaped.
Synonymes / Synonyms :
Chrysanthemum coronarium L.
Buphthalmum oleraceum Lour.
Chamaemelum coronarium (L.) E.H.L.Krause
Chrysanthemum roxburghii (Desf.) DC.
Glebionis coronaria (L.) Tzvelev
Glebionis roxburghii (Desf.) Tzvelev
Matricaria coronaria (L.) Desr.
Pinardia coronaria (L.) Less.
Pinardia roxburghii Fisch. & C.A.Mey.
Pyrethrum breviradiatum Ledeb.
Xanthophtalmum coronarium (L.) Trehame ex Cullen
Noms vernaculaires / Common names :
Noms français / French names :
Chrysanthème à couronnes — Chrysanthème couronné —
Chrysanthème des jardins.
Noms grecs / Greek names :
Άγριο χρυσάνθεμο — Μαντηλίδα — Μαντηλίδα μαργαρίτα —
Μαντρηλίδα — Μαργαρίτα — Μαργαρίτα κιτρίνη —
Μαργαρίτα μεγάλη — Μεγάλη κίτρινη — Τζιτζιμπόλα —
Τσιτσιμίδα — Χρυσάνθεμο — Χρυσάνθεμο το στεφανωματικό.
Noms anglais / English names :
Chop-suey greens — Crown daisy — Crowndaisy.
Noms allemands / German names :
Goldblume — Kronen-Saatwucherblume — Kronen-Wucherblume —
Kronenmargerite — Kronenwucherblume.
Noms espagnols / Spanish names :
Antimano — Antimonia — Manzanilla de flor dorada — Margaritón —
Mirabeles — Ojo de buey.
Noms italiens / Italian names :
Crisantemo giallo — Fior d'oro — Margherita coronata.
Habitat :
Cultures - Lieux incultes - Chemins.
Cultivated places - Waste ground - Waysides.
Îles / Islands :
Agathonissi - Patmos - Rhodos - Tilos.
Hauteur / Height range :
De 20 cm à 1 m.
From 20 cm to 1 m.
Floraison / Flowering time :
De janvier à novembre.
From January to November.
Groupe / Classification :
Dicotylédones.
Dicotyledons.
Pérennité / Lifespan :
Annuelle.
Annual.
Description :
Clés dichotomiques et descripteurs distinctifs des 2 espèces / Dichotomous keys and distinctive identifying features of the 2 species
Photo 1 :
Localisation / Location : Tilos, Megalochorio, Erystos
Date : 16/03/2015
GPS : Lat. 36,43391° N / Long. 27,34896° E / Alt. 7 m
Type : Photographie numérique / Digital Photograph (10 mégapixels)
Photo 2 :
Localisation / Location : Tilos, Livadia, Village
Date : 16/03/2009
GPS : Lat. 36,41228° N / Long. 27,38522° E / Alt. 12 m
Type : Photographie numérique / Digital Photograph (10 mégapixels)
Photo 3 :
Localisation / Location : Tilos, Livadia, Village
Date : 14/03/2009
GPS : Lat. 36,41228° N / Long. 27,38522° E / Alt. 12 m
Type : Photographie numérique / Digital Photograph (10 mégapixels)
Photo 4 :
Localisation / Location : Tilos, Livadia, Village
Date : 14/03/2009
GPS : Lat. 36,41228° N / Long. 27,38522° E / Alt. 12 m
Type : Photographie numérique / Digital Photograph (10 mégapixels)
Photo 5 :
Localisation / Location : Tilos, Megalochorio, Environs
Date : 08/03/2012
GPS : Lat. 36,44968° N / Long. 27,34566° E / Alt. 32 m
Type : Photographie numérique / Digital Photograph (10 mégapixels)
Photo 6 :
Localisation / Location : Tilos, Megalochorio, Erystos
Date : 16/03/2015
GPS : Lat. 36,43391° N / Long. 27,34896° E / Alt. 7 m
Type : Photographie numérique / Digital Photograph (10 mégapixels)