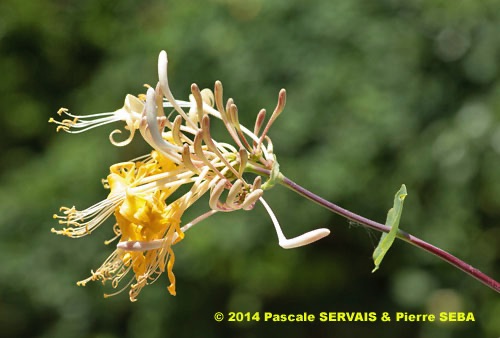 © Pascale SERVAIS & Pierre SEBA, 2018. Tilo Botanica: Flore de Tilos et du Dodécanèse / Flora of Tilos and of the Dodecanese
English translation by Brenda Bradbury, Howard Bradbury and Stéphane Léonard
Plante à souche ligneuse, hermaphrodite, grimpante, volubile ou s'étalant sur la végétation environnante, à rameaux glabres.
Feuilles opposées, simples, oblongues ou ovales à elliptiques, vert blanchâtre à vert bleuâtre, 80 mm de long au plus, caduques, un peu coriaces, à pétiole court, en général à poils fins dessous. Feuilles supérieures en général sessiles et connées.
Fleurs à symétrie bilatérale, jaune blanchâtre, teintées de pourpre, très parfumées, de 35 à 45 mm de long, réunies par 6 à 20 en bouquets terminaux pédonculés. Corolle bilabiée, en tube étroit et allongé à la base, glabre, à lèvre supérieure à 4 lobes. Calice très court, à dents un peu aiguës dans leur partie supérieure. Ovaire infère.
Fruits, baies rouges, de 6 à 10 mm de diamètre.
___________________________
Plant with a woody stock, hermaphrodite, climbing, twining or spread out over the surrounding vegetation. Branches glabrous.
Leaves opposite, simple, oblong or ovate to elliptic, whitish green to bluish green, 80 mm long at most, deciduous, a little tough, with a short petiole, generally with thin hairs on the lower side. Upper leaves generally sessile and connate.
Flowers bilaterally symmetrical, yellow whitish with purple marks, very fragrant, from 35 to 45 mm long, joined together by 6 to 20 in stalked terminal clusters. Corolla two-lipped, with a narrow tube, lengthened at the base, glabrous. Upper lip with 4 lobes. Calyx very short, with teeth a little acute in their upper part. Ovary inferior.
Fruits, red berries, from 6 to 10 mm in diameter.
Descripteurs / Identifying features: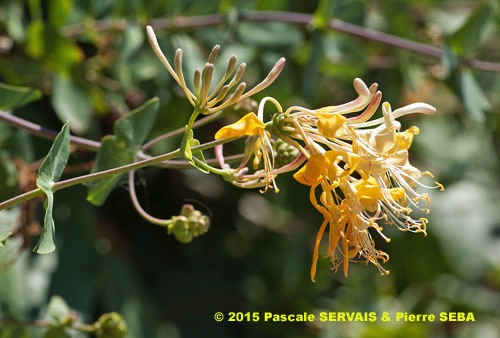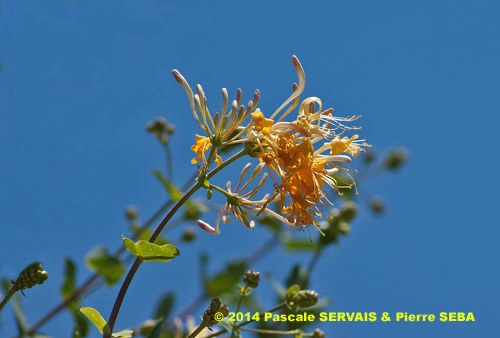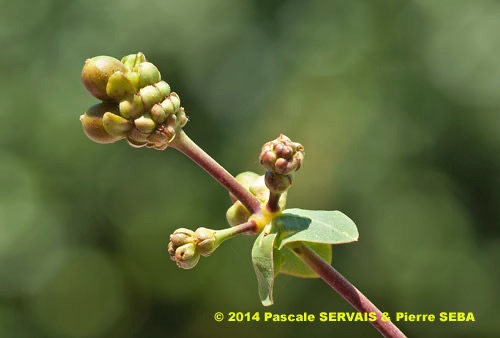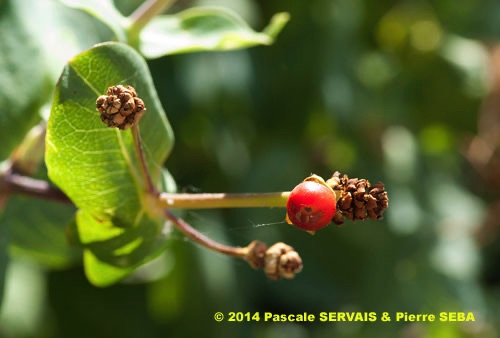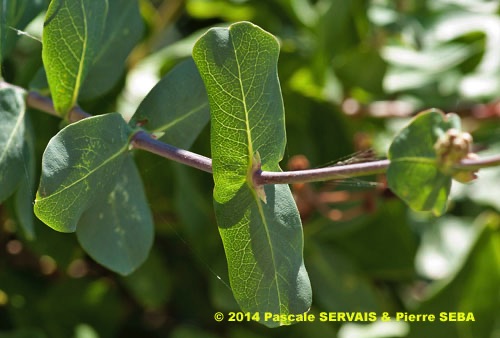 Étymologie / Etymology :
Lonicera : nom donné par Linné en l'honneur de Adam Lonitzer
(Lonicerus ), botaniste et mathématicien allemand (1528-1586).
Etrusca : emprunt du latin etruscus, -a, -um (adj.) = étrusque,
d'Étrurie (province d'Italie, aujourd'hui la Toscane).
Lonicera : name given by Linné in honour of Adam Lonitzer
(Lonicerus ), German botanist and mathematician (1528-1586).
Etrusca : borrowed from Latin etruscus, -a, -um (adj) = of or from
Etruria (province of Italy, today Tuscany).
Synonymes / Synonyms :
Caprifolium dimorphum (Tausch) Kuntze
Caprifolium etruscum (Santi) Schult.
Lonicera adenocarpa Guss.
Lonicera celtiberica Pau
Lonicera cyrenaica Viv.
Lonicera dimorpha Tausch
Lonicera etrusca var. glabra Lowe
Lonicera etrusca var. parviflora Vayr.
Lonicera etrusca var. pubescens Dippel
Lonicera etrusca var. rotundifolia Cariot & St.-Lag.
Lonicera glabra (Lowe) Pau
Lonicera implexa subsp. adenocarpa (Guss.) Arcang.
Lonicera perfoliata Edwards
Lonicera saxatilis Mazziari
Noms vernaculaires / Common names :
Noms français / French names :
Chèvrefeuille d'Étrurie — Chèvrefeuille de Toscane.
Noms grecs / Greek names :
Αγιόφυλλο — Αγριοαγιόκλημα — Αγριόκλημα — Αιγόκλημα —
Αιγόκλυμα — Καπερφόλιο — Λονίκερα η ετρούσκη —
Λονίκερα το αιγόφυλλο — Μπιρμπιλιά —
Της Παναγούδας τα χερούδια.
Nom anglais / English name :
Etruscan honeysuckle.
Noms allemands / German names :
Etrurische Heckenkirsche — Etrurisches Geißblatt —
Toskanisches Geißblatt.
Noms espagnols / Spanish names :
Madreselva — Matahombres.
Noms italiens / Italian names :
Caprifoglio etrusco — Caprifoglio toscano.
Habitat :
Forêts - Lieux incultes - Chemins - Haies, fourrés, broussailles.
Forests - Waste ground - Waysides - Hedges, thickets.
Île / Island :
Tilos.
Hauteur / Height range :
De 1 m à 2,50 m.
From 1 m to 2.50 m.
Floraison / Flowering time :
De mai à juillet.
From May to July.
Groupe / Classification :
Dicotylédones.
Dicotyledons.
Pérennité / Lifespan :
Vivace.
Perennial.
Description :
Descripteurs distinctifs des 3 espèces / Distinctive identifying features of the 3 species
Photo 1 :
Localisation / Location : Tilos, Livadia
Date : 22/05/2014
GPS : Lat. 36,41475° N / Long. 27,38634° E / Alt. 3 m
Type : Photographie numérique / Digital Photograph (10 mégapixels)
Photo 2 :
Localisation / Location : Tilos, Livadia
Date : 22/05/2014
GPS : Lat. 36,41475° N / Long. 27,38634° E / Alt. 3 m
Type : Photographie numérique / Digital Photograph (10 mégapixels)
Photo 3 :
Localisation / Location : Tilos, Livadia
Date : 22/05/2014
GPS : Lat. 36,41475° N / Long. 27,38634° E / Alt. 3 m
Type : Photographie numérique / Digital Photograph (10 mégapixels)
Photo 4 :
Localisation / Location : Tilos, Livadia
Date : 22/05/2014
GPS : Lat. 36,41475° N / Long. 27,38634° E / Alt. 3 m
Type : Photographie numérique / Digital Photograph (10 mégapixels)
Photo 5 :
Localisation / Location : Tilos, Livadia
Date : 22/05/2014
GPS : Lat. 36,41475° N / Long. 27,38634° E / Alt. 3 m
Type : Photographie numérique / Digital Photograph (10 mégapixels)
Photo 6 :
Localisation / Location : Tilos, Livadia
Date : 22/05/2014
GPS : Lat. 36,41475° N / Long. 27,38634° E / Alt. 3 m
Type : Photographie numérique / Digital Photograph (10 mégapixels)