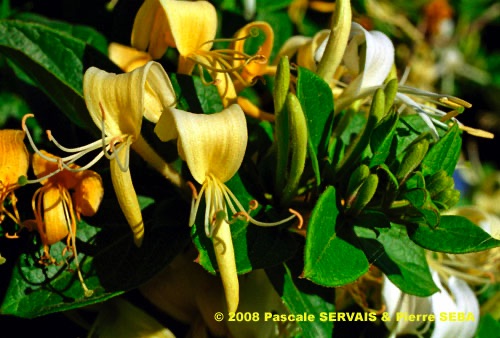 © Pascale SERVAIS & Pierre SEBA, 2018. Tilo Botanica: Flore de Tilos et du Dodécanèse / Flora of Tilos and of the Dodecanese
English translation by Brenda Bradbury, Howard Bradbury and Stéphane Léonard
Plante à souche ligneuse, hermaphrodite, grimpante, à rameaux glabres, volubile ou s'étalant sur la végétation environnante.
Feuilles opposées, simples, oblongues ou ovales, vert grisâtre au revers, de 80 mm de long au plus, persistantes, très coriaces, glabres, entourées d'une étroite bordure transparente. Feuilles supérieures en général sessiles et connées.
Fleurs à symétrie bilatérale, jaune orangé à rosâtres, de 45 mm de long, parfumées, réunies par 2 à 6 en bouquets sessiles entourés de feuilles. Corolle bilabiée, glabre, à tube plus long que le limbe. Calice très court à dents obtuses. Ovaire infère.
Fruits, baies ovoïdes, rouge écarlate, de 8 à 10 mm de diamètre, en groupes entourés de feuilles.
___________________________
Plant with a woody stock, hermaphrodite, climbing, twining or spread out over the surrounding vegetation. Branches glabrous.
Leaves opposite, simple, oblong or ovate, greyish green on the reverse, 80 mm long at most, persistent, very tough, glabrous, surrounded by a narrow transparent edge. Upper leaves generally sessile and connate.
Flowers bilaterally symmetrical, orange yellow to pinkish, 45 mm long, fragrant, joined together by 2 to 6 in sessile clusters surrounded by leaves. Corolla two-lipped, glabrous, with a tube longer than the limb. Calyx very short with blunt teeth. Ovary inferior.
Fruits, scarlet red, ovoid berries, from 8 to 10 mm in diameter, in groups surrounded by leaves.
Descripteurs / Identifying features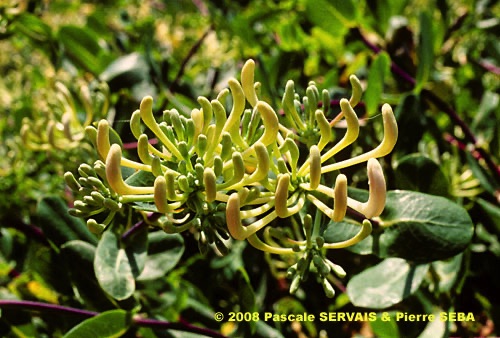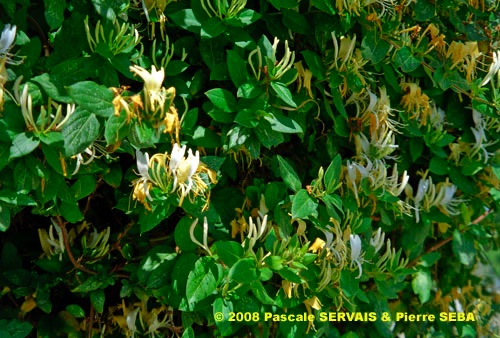 Étymologie / Etymology :
Lonicera : nom donné par Linné en l'honneur de Adam Lonitzer
(Lonicerus ), botaniste et mathématicien allemand (1528-1586).
Implexa : emprunt du latin implexus, -a, -um (part. passé)
[ < implecto, -is, -ere (verbe) = mêler, entrelacer ] = mêlé, entrelacé,
en référence à ses tiges entrelacées.
Lonicera : name given by Linné in honour of Adam Lonitzer
(Lonicerus ), German botanist and mathematician (1528-1586).
Implexa : borrowed from Latin implexus, -a, -um (past participle)
[ < implecto, -is, -ere (verb) = to interweave, to entwine ] = interwoven,
entwined, referring to its entwined stems.
Synonymes / Synonyms :
Caprifolium balearicum Dum.Cours.
Caprifolium implexum (Aiton) Dum.Cours.
Lonicera adenocarpa Guss.
Lonicera balearica (Dum.Cours.) DC.
Lonicera caprifolium subsp. implexa (Aiton) Bonnier & Layens
Noms vernaculaires / Common names :
Noms français / French names :
Chèvrefeuille des Baléares — Chèvrefeuille entrelacé.
Noms anglais / English names :
Evergreen honeysuckle — Mediterranean honeysuckle —
Minorca honeysuckle.
Noms allemands / German names :
Geschlungenes Geißblatt — Macchien-Geißblatt —
Schlingheckenkirsche — WindendesbGeissblatt.
Nom espagnol / Spanish name :
Madreselva.
Noms italiens / Italian names :
Caprifoglio mediterraneo — Madreselva mediterranea.
Habitat :
Forêts - Lieux incultes - Chemins - Haies, fourrés, broussailles.
Forests - Waste ground - Waysides - Hedges, thickets.
Îles / Islands :
Kalymnos - Patmos.
Hauteur / Height range :
De 70 cm à 2 m.
From 70 cm to 2 m.
Floraison / Flowering time :
D'avril à juillet.
From April to July.
Groupe / Classification :
Dicotylédones.
Dicotyledons.
Pérennité / Lifespan :
Vivace.
Perennial.
Description :
Clés dichotomiques et descripteurs distinctifs des 3 espèces / Dichotomous keys and distinctive identifying features of the 3 species
Photo 1 :
Localisation / Location : Patmos, Skala, Village
Date : 04/05/2002
GPS : —
Type : Kodak Gold 200 ASA
Photo 2 :
Localisation / Location : Patmos, Kambos, Environs
Date : 29/04/2002
GPS : —
Type : Kodak Gold 200 ASA
Photo 3 :
Localisation / Location : Kalymnos, Vathy, Village
Date : 14/05/2001
GPS : —
Type : Kodak Gold 200 ASA