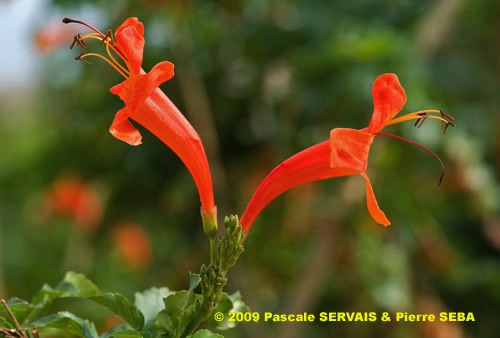 Tecomaria capensis (Thunb.) Spach
© Pascale SERVAIS & Pierre SEBA, 2019. Tilo Botanica: Flore de Tilos et du Dodécanèse / Flora of Tilos and of the Dodecanese
English translation by Brenda Bradbury, Howard Bradbury and Stéphane Léonard
Plante hermaphrodite, grimpante, sarmenteuse, à tiges glabres.
Feuilles opposées, composées imparipennées, à 5 à 9 folioles dentées, glabres.
Fleurs à symétrie bilatérale, à 2 lèvres, orange écarlate, de 45 à 50 mm de long, réunies en grappes terminales. Corolle courbée, en trompette, à 5 pétales soudés, à 4 étamines et style saillants. Ovaire supère.
Fruits, capsules en forme de gousse s'ouvrant longitudinalement en 2 valves égales.
___________________________
Plant hermaphrodite, climbing, sarmentous, with glabrous stems.
Leaves opposite, compound imparipinnate, with 5 to 9 toothed, glabrous leaflets.
Flowers bilaterally symmetrical, two-lipped, scarlet orange, from 45 to 50 mm long, joined together in terminal racemes. Corolla curved, trumpet-shaped, with 5 fused petals, with 4 protruding stamens and style. Ovary superior.
Fruits, capsules in the shape of a pod opening longitudinally in 2 equal valves.
Descripteurs / Identifying features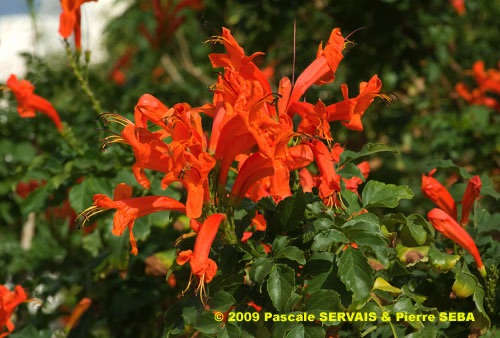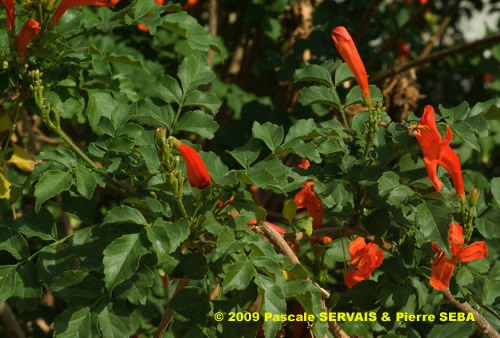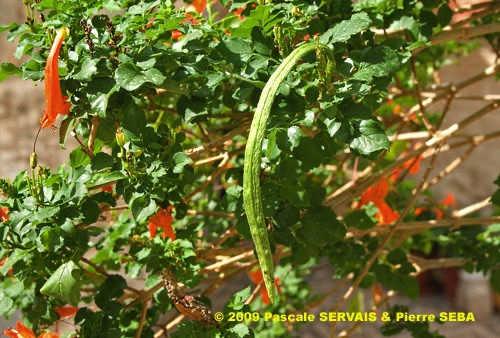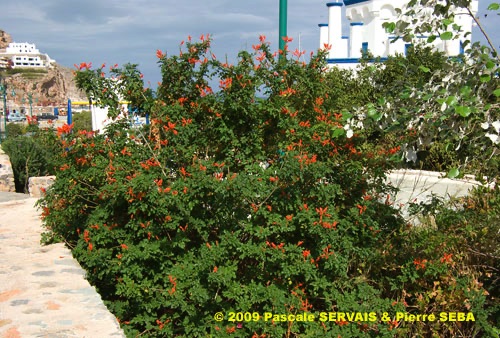 Étymologie / Etymology :
Tecomaria : emprunt de l'aztèque Tecomaxochitl, nom donné par les
populations indigènes du Mexique à plusieurs espèces de plantes à
fleurs tubulaires.
Capensis : emprunt du latin médiéval capensis, -is, -e (adj.)
[ < Caput Bonae Spei = le Cap de Bonne Espérance ] = du Cap de
Bonne Espérance, qui vient d'Afrique du Sud.
Tecomaria : borrowed from Aztec Tecomaxochitl, name given by the
indigenous peoples of Mexico to several species of plants with
tubular flowers.
Capensis : borrowed from medieval Latin capensis, -is, -e (adj)
[ < Caput Bonae Spei = Cape of Good Hope ] = of or from Cape of
Good Hope, which comes from South Africa.
Synonymes / Synonyms :
Bignonia capensis Thunb.
Tecoma capensis (Thunb.) Lindl.
Noms vernaculaires / Common names :
Nom français / French name :
Chèvrefeuille du Cap.
Noms grecs / Greek names :
Βιγνόνια καπένσις — Βιγνώνια αειθαλής —
Τέκομα ή Ακρωτηριανή — Τεκόμα καπένσις.
Nom anglais / English name :
Cape honeysuckle.
Noms espagnols / Spanish names :
Bignonia — Chupamieles del Cabo — Enredadera de trompeta —
Tecomaca del Cabo.
Nom italien / Italian name :
Tecomaria del Capo.
Habitat :
Cultures - Jardins - Murs, rochers.
Cultivated places - Gardens - Walls, rocks.
Île / Island :
Tilos.
Hauteur / Height range :
De 70 cm à 2 m.
From 70 cm to 2 m.
Floraison / Flowering time :
D'août à février.
From August to February.
Groupe / Classification :
Dicotylédones.
Dicotyledons.
Pérennité / Lifespan :
Vivace.
Perennial.
Description :

Photo 1 :
Localisation / Location : Tilos, Livadia
Date : 15/10/2009
GPS : Lat. 36,41614° N / Long. 27,38531° E / Alt. 7 m
Type : Photographie numérique / Digital Photograph (10 mégapixels)
Photo 2 :
Localisation / Location : Tilos, Livadia
Date : 15/10/2009
GPS : Lat. 36,41614° N / Long. 27,38531° E / Alt. 7 m
Type : Photographie numérique / Digital Photograph (10 mégapixels)
Photo 3 :
Localisation / Location : Tilos, Livadia
Date : 15/10/2009
GPS : Lat. 36,41614° N / Long. 27,38531° E / Alt. 7 m
Type : Photographie numérique / Digital Photograph (10 mégapixels)
Photo 4 :
Localisation / Location : Tilos, Aghios Pandeleimonas
Date : 21/10/2009
GPS : Lat. 36,44795° N / Long. 27,30549° E / Alt. 272 m
Type : Photographie numérique / Digital Photograph (10 mégapixels)
Photo 5 :
Localisation / Location : Tilos, Livadia
Date : 15/10/2009
GPS : Lat. 36,41614° N / Long. 27,38531° E / Alt. 7 m
Type : Photographie numérique / Digital Photograph (10 mégapixels)