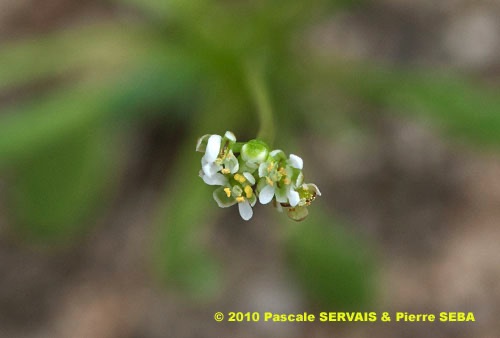 Teesdalia coronopifolia (J.P.Bergeret) Thell.
© Pascale SERVAIS & Pierre SEBA, 2018. Tilo Botanica: Flore de Tilos et du Dodécanèse / Flora of Tilos and of the Dodecanese
English translation by Brenda Bradbury, Howard Bradbury and Stéphane Léonard
Plante herbacée, hermaphrodite, à tiges érigées, glabres.
Feuilles à la base, rarement alternes (tout au plus 1 à 3 feuilles sur les tiges latérales), soit simples, linéaires à lancéolées, dentées, soit divisées pennatipartites, de 10 à 15 mm de long, glabres. Feuilles basales entières ou à segment terminal en triangle nettement plus long que large.
Fleurs à symétrie radiaire, blanches, minuscules, de 1 mm de diamètre, réunies en grappes de 8 à 12 mm de long. Corolle à 4 pétales libres. Calice à 4 sépales verts, libres, caducs. Seulement 4 étamines. Style nul. Ovaire supère.
Fruits, silicules de moins de 3 mm de long, vertes bordées de pourpre, en forme de cuiller, plates dessus et arrondies dessous, ailées et crantées au sommet.
___________________________
Plant herbaceous, hermaphrodite. Stems erect, glabrous.
Leaves at the base, seldom alternate (at most 1 to 3 leaves on the lateral stems), either simple, linear to lanceolate, toothed, or dissected pinnatipartite, from 10 to 15 mm long, glabrous. Basal leaves entire or with a terminal segment triangular and definitely longer than wide.
Flowers radially symmetrical, white, tiny, 1 mm in diameter, joined together in racemes from 8 to 12 mm long. Corolla with 4 free petals. Calyx with 4 green, free, deciduous sepals. Only 4 stamens. Style null. Ovary superior.
Fruits, siliculas less than 3 mm long, green fringed with purple, spoon-shaped, flat above, rounded below, winged and notched at the top.
Descripteurs / Identifying features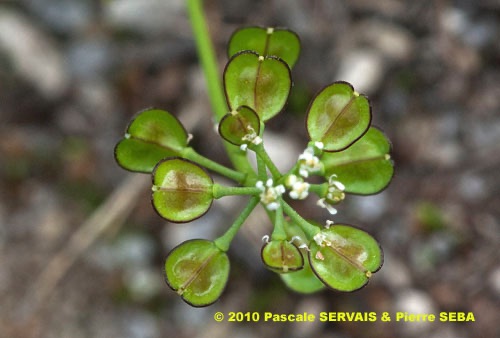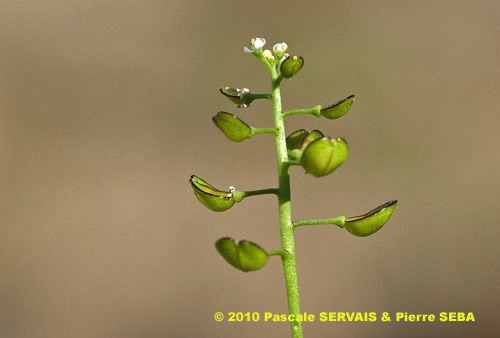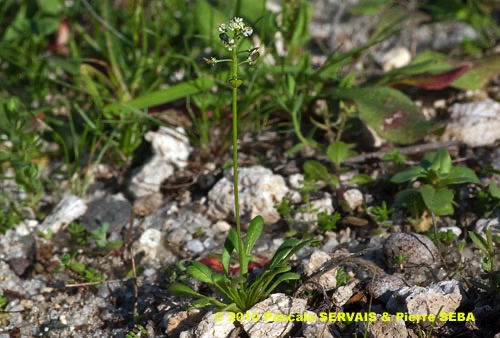 Étymologie / Etymology :
Teesdalia : nom donné en l'honneur de Robert Teesdale (ca 1740-1804),
botaniste et horticulteur anglais.
Coronopifolia : adjectif créé par les botanistes [ < coronopus, -odis (nom)
= le plantain corne de cerf + folium, -i (nom) = la feuille ] = à feuilles de
plantain, qui a des feuilles semblables à celles du plantain.
Teesdalia : name given in honour of Robert Teesdale (ca 1740-1804),
English botanist and horticulturist.
Coronopifolia : adjective created by botanists
[ < coronopus, -odis (noun) = buck's-horn plantain + folium, -i (noun)
= leaf ] = with plantain-like leaves, which has leaves similar to those
of the plantain.
Synonymes / Synonyms :
Teesdalia lepidium DC.
Guepinia lepidium DC.
Lepidium nudicaule L.
Teesdalia falciformis Merino
Teesdalia regularis Sm.
Thlaspi coronopifolium J.P.Bergeret
Thlaspi nudicaule (L.) Desf. ex DC.
Thlaspi nudicaule (L.) Desf.
Noms vernaculaires / Common names :
Noms français / French names :
Téesdalie à feuilles en corne de cerf —
Téesdalie corne-de-cerf.
Nom anglais / English name :
Lesser shepherdscress.
Noms italiens / Italian names :
Teesdalia a foglie di coronopus — Teesdalia a foglie di lappolina.
Habitat :
Lieux pierreux - Lieux incultes - Murs, rochers.
Stony places - Waste ground - Walls, rocks.
Île / Island :
Tilos.
Hauteur / Height range :
De 2 cm à 10 cm.
From 2 cm to 10 cm.
Floraison / Flowering time :
De décembre à mai.
From December to May.
Groupe / Classification :
Dicotylédones.
Dicotyledons.
Pérennité / Lifespan :
Annuelle.
Annual.
Description :

Photo 1 :
Localisation / Location : Tilos, Megalochorio, Gorges de Megalochorio
Date : 08/12/2010
GPS : Lat. 36,44368° N / Long. 27,36040° E / Alt. 56 m
Type : Photographie numérique / Digital Photograph (10 mégapixels)
Photo 2 :
Localisation / Location : Tilos, Megalochorio, Gorges de Megalochorio
Date : 08/12/2010
GPS : Lat. 36,44368° N / Long. 27,36040° E / Alt. 56 m
Type : Photographie numérique / Digital Photograph (10 mégapixels)
Photo 3 :
Localisation / Location : Tilos, Megalochorio, Gorges de Megalochorio
Date : 07/12/2010
GPS : Lat. 36,44368° N / Long. 27,36040° E / Alt. 56 m
Type : Photographie numérique / Digital Photograph (10 mégapixels)
Photo 4 :
Localisation / Location : Tilos, Megalochorio, Gorges de Megalochorio
Date : 07/12/2010
GPS : Lat. 36,44368° N / Long. 27,36040° E / Alt. 56 m
Type : Photographie numérique / Digital Photograph (10 mégapixels)